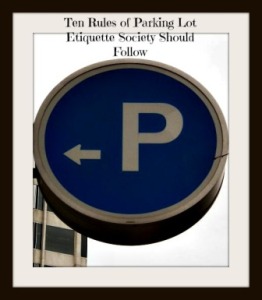 Parking a car is a simple process. Although anyone can park a car, people are constantly getting into altercations in parking lots with other drivers. Why is this? To be blunt, it is usually because someone is being rude or selfish. Calm, rational people rarely duke it out verbally or physically in a parking lot. Still, crazy things happen when you put lots of people in a confined area and expect them to get along. If everyone would follow some simple rules for parking, we would all have a place to park and no road rage incidents to worry about.
Here are my top ten parking lot etiquette rules to follow:
1. Leave the Ferrari at home if you are going to double park – Most people don't double park so the ones that do really stick out like a sore thumb. If you have a car that is so valuable that you feel the need to double park, then leave it at home when you visit the Piggly Wiggly.
2. Don't block traffic for a great spot to open up – Sitting and blocking an entire lane of the parking lot while you wait on someone to leave the store that parked on the front row is obnoxious. If someone is actually backing out, that is fine. Otherwise, you are not being very thoughtful by dominating the entire lane.
3. Observe the fire zones/loading zones – Pull into virtually any parking lot of any size and check out the loading/fire zones. They will almost always have a car or truck parked there that doesn't belong. This includes cars sitting and idling. All it takes is one fire or emergency to understand why it is a big deal.
4. Handicap parking is for handicapped people – Duh!
5. Don't squeeze it in just because you can – We all know someone that does this. They pull into a parking lot and find the tightest possible spot for their SUV just so they can brag about how they got it in there. Don't be that person.
6. Let pedestrians pass – Pedestrians in a parking lot are always going to be in the right if you run them over. Give them plenty of room and be prepared to let them cross when you pass the front of the store. That brings me to...
7. Move slowly – There is absolutely no reason at all to drive fast in a parking lot. Only bad things can happen when you do this, so slow down and take it easy.
8. Keep kids beside you and not pushing the cart – If you are planning on letting your small children push your shopping cart, at least wait until you are in the store and they can only knock over wine displays and banana stands. As horrible as that may be, it is better than denting that Cadillac. Keep kids right by your side for their safety as well.
9. Put your cart back – When you do come out with your shopping cart and you are ready to climb back in the car, for Heaven's sake put the cart back in the shopping bin. Don't leave it out there for other cars to attempt to dodge.
10. Put your finger down – Road rage is an ugly thing. Keep your wits, calm down and don't even think about showing your finger to anyone over a parking spot. People do it all the time and it needs to stop in a civilized society!
What tips would you add to this list of parking lot etiquette? Sound off in the comments below!