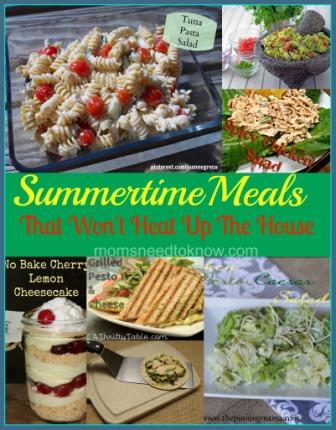 Summer is here and so is the heat! I don't know about you but I don't like to warm up my house more than I have to. I already feel like my A/C is working on overdrive. I've put together a list of recipe that will keep you full and your house cool!
10 Summertime Recipe to Keep Your House Cool
1. Chicken Pesto Caesar Salad - This salad is loaded with fresh chicken making it the perfect meal for hot summer days!
2. World Famous Tuna Pasta Salad - Tuna is a very healthy option and it is so diverse. You can create a number of healthy recipes with tuna and this post gives you a great recipe.
3. Grilled Pesto & Cheese Sandwich - If you want a healthy and filling dinner or lunch try out this recipe! If you are up against a hot summer day you can still cook this without heating up your house. You can easily use the toaster or George Forman Grill to toast the bread.
4. Marinated Shrimp Salad Recipe - This recipe is very quick and easy to make! The best part is you can serve this dish on the hottest of summer days!
5. No Bake Cherry Lemon Cheesecake - Let's face it just because it is summertime doesn't mean we don't crave tasty desserts. The problem is most desserts require some sort of baking. This recipe is a no bake recipe that will cure any sweets craving you might have.
6. Tuna Avocado Soft Tostadas - This recipe is perfect for the summer months because it requires very minimal oven use. In fact you could skip the five minutes in the oven and just heat the cheese up in the microwave or on the stove top. This recipe will not heat up your home at all!
7. Easy Guacamole - When you need a crowd pleasing appetizer this recipe should be on your go-to list. Best part is it only takes minutes to make and you don't have to use the oven at all!
8. Spicy Chicken Salad - If you like your food with a little spice this is the perfect recipe for you! This recipe calls for chicken but you can buy pre-cooked chicken at the store and keep your house cool.
9. Buffalo Chicken Wraps - This recipe looks like the perfect no bake recipe to cook on a hot summer day. You could serve this for lunch or dinner. It would also be great for a family party or picnic.
10. Strawberry Trifle - Another great dessert that doesn't require any baking! You can throw this recipe together in just minutes.
What is your go-to recipe for those hot summer days?