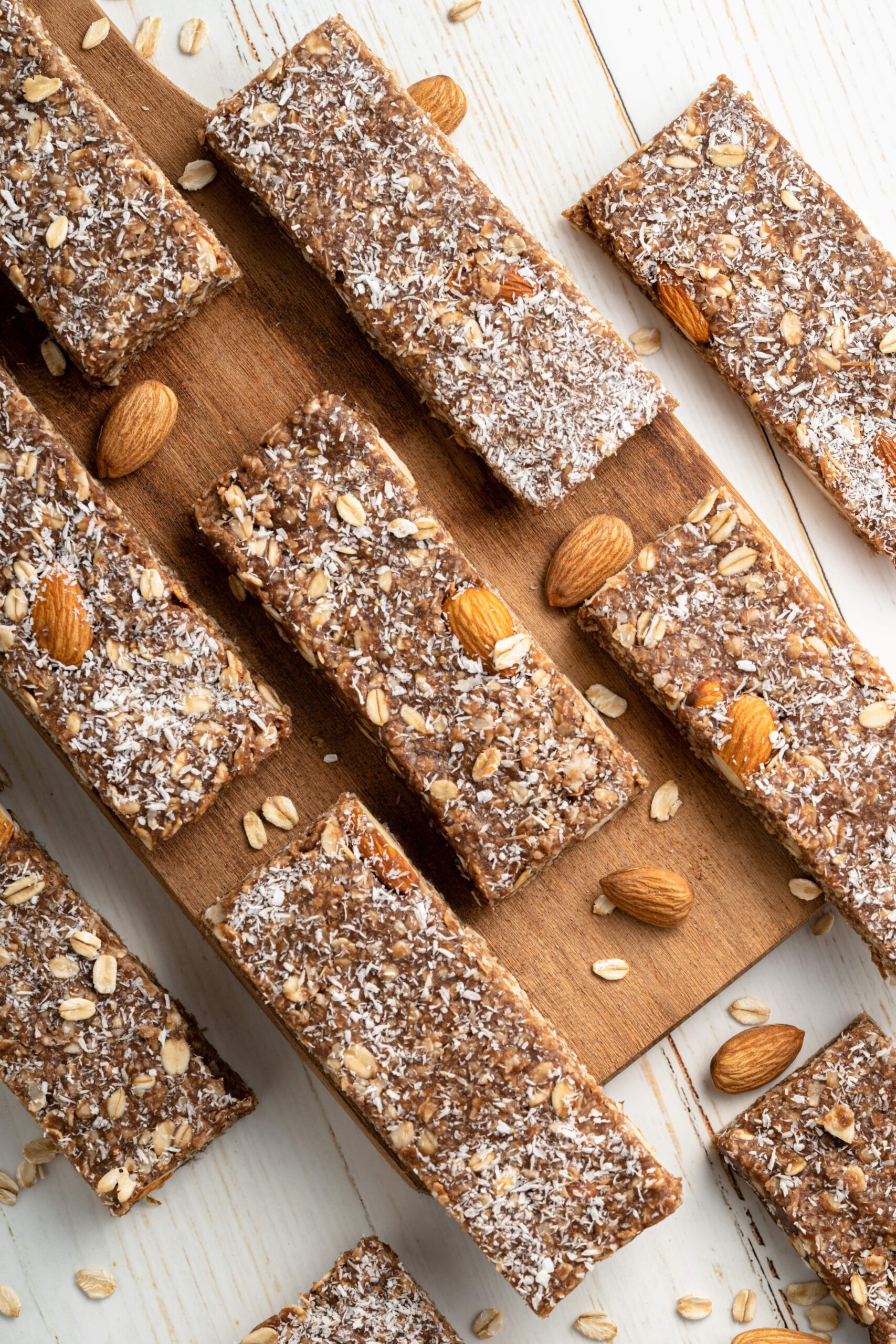 These no-bake chocolate granola are chewy and sweet with a bit of crunch and a touch of peanut butter. No need to heat up the oven - Just 30 minutes to make and packed with flavor!
Jump to:
Are chocolate granola bars healthy?
Let's be honest - between the chocolate chips, the syrup, the nut butter and the almonds, this granola bar recipe is neither low sugar or low fat. They certainly aren't low in calories!
But I guess if you need your chocolate fix, this is a much healthier choice than my homemade crunch bar or anything you can buy at the grocery store.
On the other hand, the almonds and nut butter do make this a higher protein granola bar than many. The oats even add some fiber.
You can always make it as healthy as possible by using natural nut butters, pure maple syrup, etc.
Watch the video
Are these granola bars vegan? Gluten-Free?
If you stick to maple syrup as your sweetener, they are vegan.
As long as you use gluten free oats, they are gluten free. While most oats are gluten free, many brands can't guarantee that there won't be some traces due to cross contamination.
Ingredients
maple syrup
peanut butter, almond butter or cashew butter
coconut oil
vanilla extract
salt
cinnamon
rolled oats and quick oats
shredded coconut
mini chocolate chips
whole almonds
Rolled oats or quick oats?
I used both in this recipe because the rolled oats give these granola bars some chewiness. If you don't have both kinds of oats in your home then you can easily just use 2 cups of quick oats.
I don't think that I would recommend 2 cups of rolled oats because that would probably make them TOO chewy!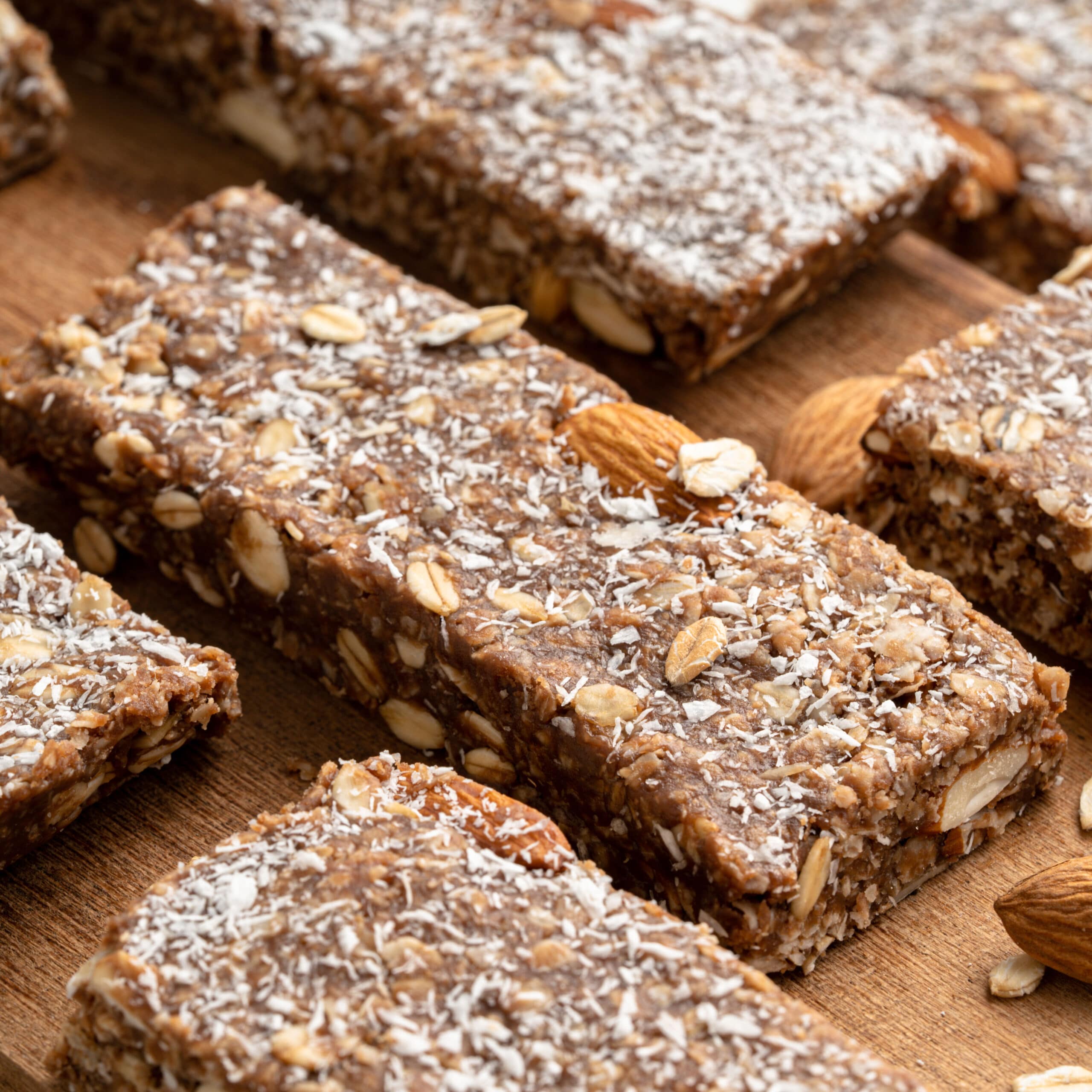 What kind of syrup should I use?
I strongly suggest that you use pure maple syrup, not pancake syrup. In most cases, pancake syrup is nothing more than high-fructose corn syrup mixed with flavoring and color.
If you decide to use pancake syrup, you may need to use more, to taste. Pure maple syrup is sweeter than pancake syrup...and this chocolate granola bar recipe uses pure maple syrup.
If pure maple syrup is too expensive, or you just don't care about the maple flavor, you can always substitute in a half cup honey for the syrup.
How to Store Them
Your chocolate granola bars will keep in an airtight container on the kitchen counter for about 3 days.
You can also wrap them individually in plastic wrap and store them in the freezer for up to six months.
Try these variations!
Cranberry Chocolate Almond: swap out the maple syrup for honey and add 1/2 cup dried cranberries
Apricot Almond Granola Bars: omit the chocolate chips, use honey instead of maple syrup and add 1/2 cup chopped dried apricots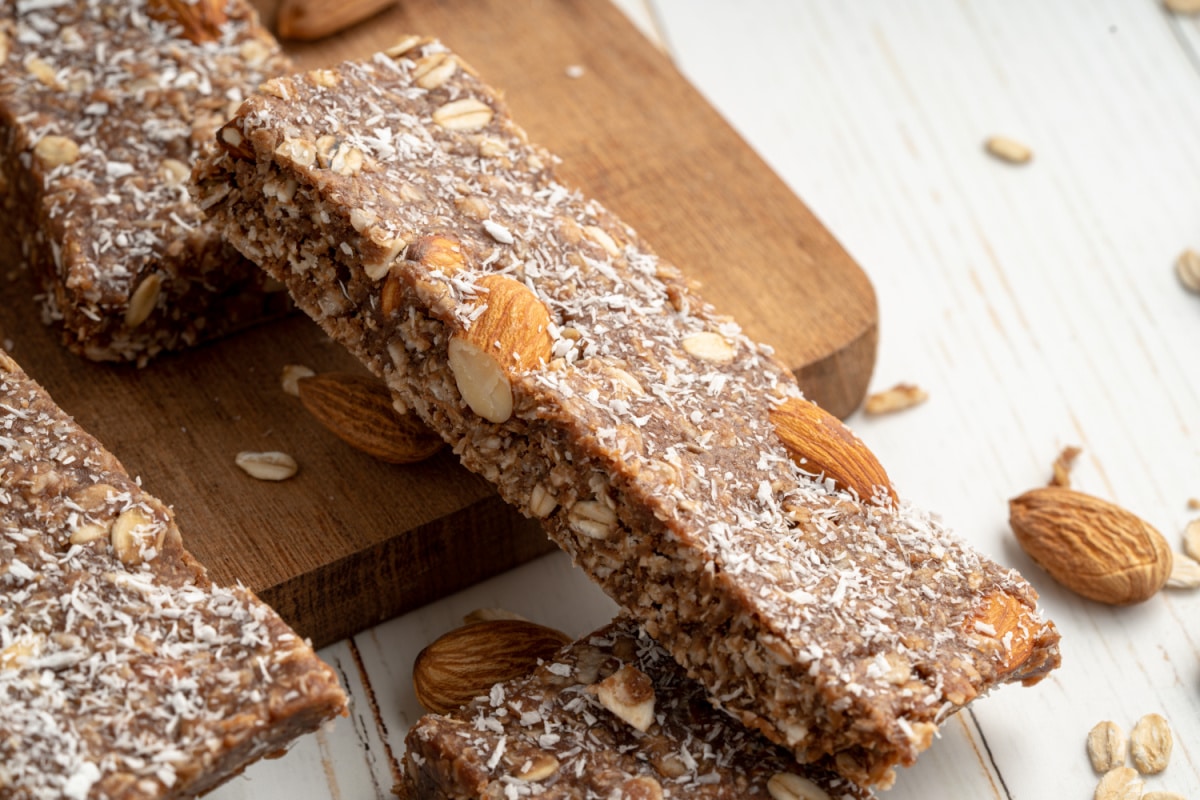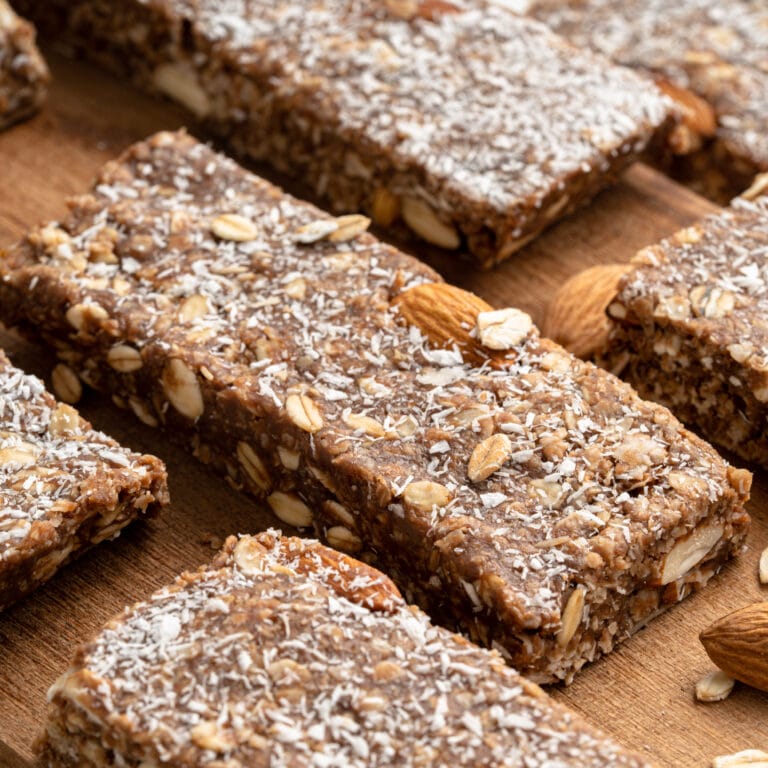 No Bake Chocolate Granola Bars
These no-bake chocolate granola are chewy and sweet with a bit of crunch. They take about 30 minutes to make and are packed with flavor!
Print
Pin
Ingredients
1/2

cup

maple syrup

1/2

cup

peanut, almond or cashew butter

1

tbsp

coconut oil

1

tsp

vanilla extract

1/4

tsp

salt

1/2

tsp

ground cinnamon

1/2

cup

rolled oats

1 1/2

cup

quick oats

1/3

cup

shredded coconut

+ more for topping

1/3

cup

semi-sweet chocolate chips

1/3

cup

almonds
Instructions
Line an 8" square baking pan with parchment paper or aluminum foil

In a medium saucepan (preferably non-stick), combine maple syrup, coconut oil and nut butter. Heat over medium heat until it is well combined

1/2 cup maple syrup,

1 tbsp coconut oil,

1/2 cup peanut, almond or cashew butter

Remove the pan from the heat

Add the chocolate chips and stir until melted and well-combined

1/3 cup semi-sweet chocolate chips

Add the coconut, vanilla extract, salt, cinnamon and almonds. Stir to combine.

1 tsp vanilla extract,

1/4 tsp salt,

1/2 tsp ground cinnamon,

1/3 cup almonds,

1/3 cup shredded coconut

Add the oats and stir until well mixed.

1/2 cup rolled oats,

1 1/2 cup quick oats

Spread the mixture in to the prepared pan (Hint: use another piece of parchment paper to press the mixture to the edges and level it)

Sprinkle shredded coconut on top and refrigerate for 30 minutes or until hardened

Cut the chocolate granola bars in to 10 equal portions
Video