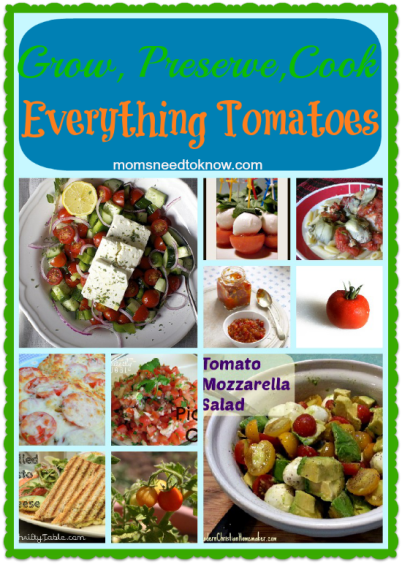 Tomatoes are an easy fruit to grow and there are so many ways to use fresh tomatoes! If you're not ready to start a garden that's okay, you can find some amazing sale prices on tomatoes. When you do find sale prices on tomatoes, I just you stock up! You can easily preserve tomatoes for a later date. Below you will find some great links to cooking, preserving and growing tomatoes!
10 Great Ways to Use Tomatoes
1. Fabulous Tomato Cheese Bread – Who doesn't love fresh bread? I know I love fresh bread and this one uses tomatoes! Next time I have a bunch of tomatoes on hand this will be on the menu.
2. Tomato Mozzarella Salad – There really isn't anything better than a fresh salad. Most of the ingredients in this recipe you could easily grow in your own garden.
3. Pico de Gallo – Chips and salsa is a favorite snack around my home. The store-bought stuff is okay, but fresh is always best! This would be great served on a game day, family BBQ or as a topping on your favorite tacos.
4. Caprese Salad On A Stick – What a unique recipe! I could really see having this out as an appetizer, your guests would definitely be impressed.
5. How to Make Your Own Tomato Sauce – Making your own tomato sauce isn't as hard as you might think. This post gives you step-by-step instructions to making your own sauce. This is a must have resource when you have more tomatoes then you know what to do with.
6. Greek Salad – Another great salad recipe! You really can never have to many salad recipes. Salads are great as a quick-lunch, a first course before dinner and a great dish to bring to a party.
7. 5 Ways to Preserve Tomatoes – Whether you grow your own tomatoes or stock-up when you find a great price, you will want to preserve them. This post gives you 5 ways to make sure your tomatoes stay fresh and usable.
8. Pesto & Tomato Grilled Sandwich – Pesto and tomatoes go great together! Put them on a grilled sandwich and you have the ultimate lunch.
9. How to Grow Your Own Tomatoes – So maybe after reading these first 8 posts your intrigued and what to start your own tomato garden. This post gives you all the information you need to start your own tomato garden.
10. Tomato Artichoke Chicken – If you love artichokes then this will be a must read recipe! It might even be a creative way to get the children eating some fresh vegetables.
Do you have a go-to tomato recipe? If so I'd love for you to share it in the comments or leave a link to your recipe!
[inlinkz_linkup id=286058]