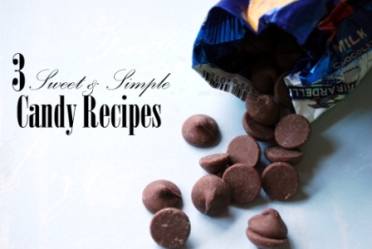 3 Sweet and Simple Candy Recipes
Need some sweet treats for upcoming bake sales or holiday goodies? Here are some super simple candy recipes that you can make with every day ingredients for any occasion!
Easy Peppermint Bark
Ingredients:
2 bags of white chocolate chips
1 cup semisweet chocolate chips
1 cup peppermint candies
Line a baking sheet with waxed paper or aluminum foil. Start by melting the semisweet chocolate chips and spreading them over the bottom of the pan. Warm up and melt the white chocolate chips and pour over the top of the semisweet chocolate layer. Crush the peppermint candies with a rolling pin (inside a freezer bag) and sprinkle over the top. Place the baking sheet in the fridge or freezer and let it harden for at least an hour.
Peanut Butter Cups
Ingredients:
2 cups semisweet chocolate chips
1 cup smooth peanut butter
1 teaspoon vanilla
Mini candy liners
Start by melting the chocolate chips. Add in the vanilla and set aside for a minute. Put the mini candy liners into a mini muffin pan or on a baking sheet. Drop chocolate into the liners for the bottom of the cups. Microwave the peanut butter for a few seconds to it's easy to use. Drop small amounts into the chocolate. Top with another layer of chocolate so the peanut butter is covered. Refrigerate or freeze for at least one hour before sampling.
Gumdrops
Ingredients:
1 ounce unflavored gelatin powder
2 ½ cups white sugar
1 1/3 cups fruit juice
2 cups jam (any flavors you wish!)
Combine 2/3 cup of the juice with the gelatin powder. Stir and let it set up for a few minutes. Heat the rest of the juice and 1 ½ cups of sugar on the stovetop until the sugar dissolves. Stir in the jam and cook the mixture until it thickens. Add in the gelatin mixture and cook a bit more until it's all integrated. Pour into an 8x8 pan and let it set up. Once it's set up, cut into small pieces and roll in the remaining sugar.
What are your favorite simple candy recipes?