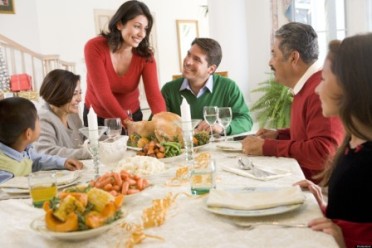 The disadvantages of visiting family for the holidays instead of staying at home are rather obvious and plenty of people are quick to point that out. Be it your parents treating you like a child, having to listen to your drunk Uncle rant about politics or STILL being stuck at the kids table. It's the stuff of jokes and funny Tweets!
What many people miss out on are the advantages of celebrating away from the homestead. Going to another's home for the holidays can actually be quite liberating. Here are five great reasons why you should give it a try:
It takes off all the stress - The moment you realize that you are not going to have to host the holidays is a blessed one from a stress standpoint. It is great fun to do so, but you certainly don't mind the break when it comes.
You don't have to worry about deep cleaning - Most hosts go nuts cleaning the home when they know company is coming. This season, you will be at someone else's house. They will be the ones scrambling for your arrival.
You come home to a clean house after the holidays - Anyone that has seen their home torn apart during a holiday visit from family can appreciate this. Knowing your home is waiting for you and sparkling is a good feeling indeed.
You will likely get a new viewpoint on the holidays - Holidays can become typical to a degree when you celebrate them in the same place every single year. That tradition is nice, but it is also cool to see it from a different angle on occasion. Families should rotate the locations from year to year for a true holiday experience.
You can get new ideas for coming holiday seasons - Everyone hosts differently and it is always interesting to see how others celebrate the seasons. From decorations to food and everything in between, the holiday season can feel fresh with new ideas and excitement.
Visiting family around the holidays is usually a good time and you can be sure that you are making memories for them as well. The important thing is to be together. Where you spend it should not really matter.