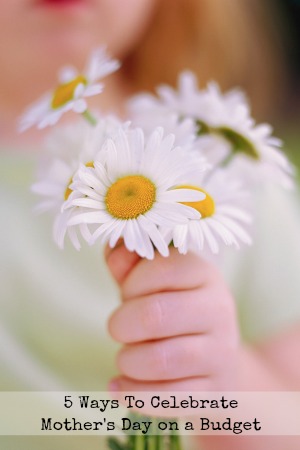 Mother's Day is your chance to show the mom in your life just how much she means to you and the kids, and these five ways to celebrate Mother's Day on a budget can help. You won't have to spend a fortune, and she will know just how much her family cares. Try one—or more—of these ideas this year for Mother's Day.
Breakfast in Bed
Breakfast in bed is a tried and true favorite. Cook up a delicious meal full of her favorites (you might want to check out some of my breakfast recipes for some easy ideas), and include a beautiful flower to create a stunning visual for her to wake up to in the morning. The kids may also want to deliver their Mother's Day cards along with the meal.
Clean the House
If there is one thing that moms appreciate more than anything, it's help with the housework. Let her curl up with a favorite book or watch her favorite movies while you and the kids clean the house. She will love that you took the initiative and understand just how much she does every day.
Have a Picnic
Picnics are fun and affordable, and as long as Mom doesn't have to do any of the work, it's a great way to spend Mother's Day. Pack some sandwiches and snacks, along with some juice boxes and a few sodas, and head to the nearest park or beach. A relaxing day in the sun surrounded by nature may be just what she needs to feel loved and appreciated.
Make a Scrapbook
This project takes a little bit of work, but the kids will love doing it. Have some of your favorite family photos printed at the drug store, and let the kids use them to make a scrapbook. They can use construction paper, wrapping paper, magazine clippings, and glitter to create a handmade treasure that Mom is sure to keep for years to come.
Do the Cooking for a Week
Mother's Day doesn't have to be just one day. Let mom have a week of rest by cooking all the meals for the week. The kids can help with simple dishes like spaghetti or pizzas, and Mom will love seeing her kids helping in the kitchen. You can start on Sunday by making her favorite dish. At the start of the meal, present her with a handmade menu for the week made by the kids. She will be able to see everything you have in store for the rest of the week-long celebration.
Of course, these five ways to celebrate Mother's Day on a budget aren't the only ways to show Mom how much she is loved, but they are a great start. Use these ideas and incorporate a few of your own for a celebration she won't soon forget.