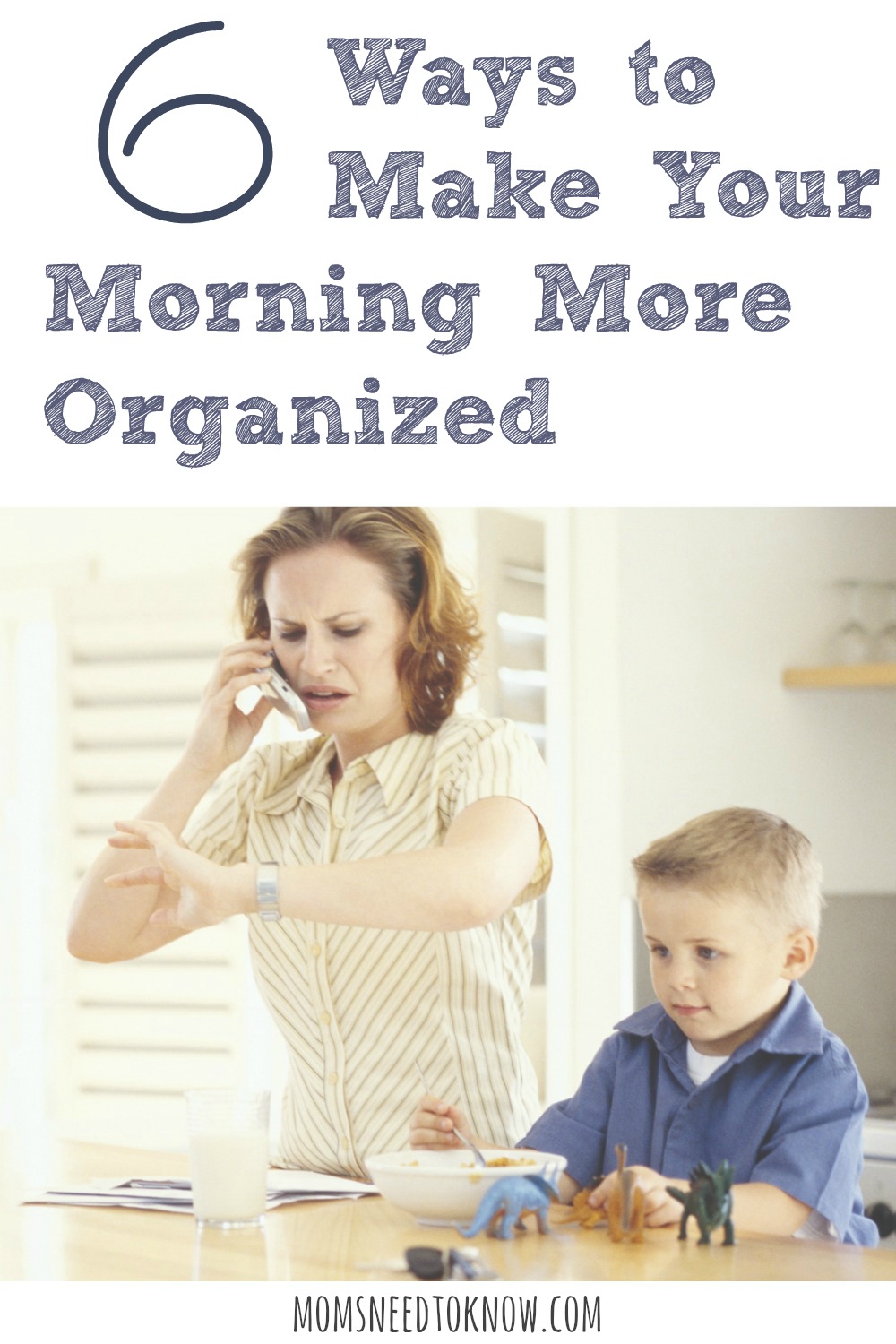 Waking up to a brand new day doesn't have to be filled with stress, anxiety and frustration. You don't need to lie in bed dreading the chaos to come over the next few hours, wondering which child is going to suddenly remember that they need 24 cupcakes by 10:00am or which one of your children won't be able to find their shoes.
If this sounds like a mini-version of bliss or a pipe dream, fear not! It is real! All it takes is a bit of organization and some dedication to change. Here are some tips to make your morning more organized:

Set up a morning center - This little family nook can be many things, but it should be the epicenter of your morning. Most people use an area near the door, but anywhere that the entire family can get to will work. Before anyone goes to bed, their backpack is by the front door. If they will have a music lesson the next day, their instrument is there as well. Put your keys, backpacks and any other "every morning" items in this area every single day.
Get a family communication system - Post a dry erase board somewhere in the house - the kitchen seems to usually work best for most peopl. Everyone needs to know that this is where you communicate messages and write it all down. Each day, clear the board and begin a new day.
Use a family calendar - We have been using this family calendar for several years and just love it. Every field trip, birthday party, event, etc gets placed on the calendar as soon as we receive the invite. My husband works "retail hours", so he always writes in the days he will be off that month. This hangs right on the front of our refrigerator and it has been a lifesaver. If I need to make a doctor's appointment, or my mom wants us to come for dinner or we just want to plan family outings, we can see exactly what everyone has going on that day.
Lay out your day - The night before is where much of the organization should happen. Spend a bit of time getting everything you need for work/school/play the next day ready and take the time to really think it through. Without the pressure of a ticking clock, you should be able to think of everything.
Get everyone on the same page - All of the things mentioned above require that your family follows suit. Have a family meeting and discuss how to follow the new setup. Answer questions and give them a chance to make suggestions. You would be shocked at how much time you can save just by being on the same page.
Make Breakfast or Lunches ahead - Why not have your foods ready to go in the morning? Simply make foods that can be quickly warmed in the morning (try my freezer-friendly breakfast sandwiches) or eaten cold like fresh fruits, pancakes, strudels and so on. Packing up your lunches each night will save you a ton of time in the morning and save you money on fast food and other expensive options. Do the same for your family members where possible.
Organizing your mornings are not all that hard. The key is to think ahead and spend some time preparing ahead of time. Give each thing a place to be and then keep it there. What other ideas do you have for organizing your mornings?