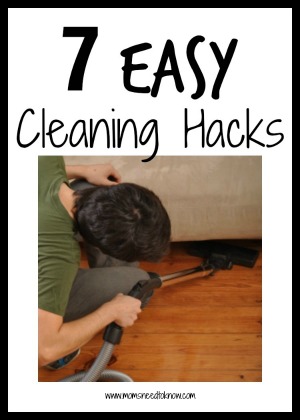 We've all had that unexpected spill that results in a stain we just don't know what to do with, or maybe your kids wrote on a wall and you have no clue where to begin with cleaning. Here are 7 Easy Cleaning Hacks that will come in handy for those rare incidents that happen out of the blue. Not only will you have some tips on how to get rid of marks, stains or mess ups, but you'll find out a few things in your pantry are more versatile than you knew.
7 Easy Cleaning Hacks
Use a paper bag & an iron to remove wax from surfaces: We have all had it happen. You bump into a table or drop a candle on your way to another room and wax ends up on your carpet or flooring. The easiest method of removing wax is to grab a paper bag or heavy cardstock and your iron. Heat the iron and iron over the paper to heat the wax below back to melting. It will stick the paper and lift easily from the surface it was dropped on. Be careful using this method on wood surfaces or flooring as it could strip the finish.
Use toothpaste to remove crayon from surfaces: Squirt a small amount of toothpaste (paste not gel) onto a dampened cloth and scrub the area where crayon is on a wall or surface. The toothpaste acts as an abrasive that will safely lift the crayon from walls or surfaces.
Use a squeegee to remove pet hair from carpet or furniture: It's as simple as it sounds. Just grab a squeegee like you would use for removing water from glass and use it on your furniture or carpet to help "rake up" the extra pet hair. Saves time and frustration with your vacuum and leads to way less problem with clogs in your attachments.
Use oil to remove adhesive residue on glass: If you don't have that bottle of Goo Gone handy, simply apply some vegetable or baby oil to the surface and all it to sit for 10-15 minutes. It should dissolve the adhesive enough to easily clean with a cloth or paper towel. Lemon Essential Oil will also work as well!
Pop open a cola to remove rust on metal surfaces: Whether it's an old skillet or a knife that has become rusty you can alleviate the rust by soaking them in sink or tub of cola for 1-2 hours. The acid in the cola will help dissolve the rust.
Use an egg yolk to remove coffee stains: It sounds strange but a beaten egg yolk scrubbed into a coffee stain can help remove it easily. Just rub the egg yolk into the area, let it stand for 5 minutes then rinse clean. (and don't forget to check out 3 more homemade stain remover recipes!)
Place a drop of your favorite Essential Oil on the inside of the toilet paper roll to freshen the bathroom: If you want a fresh smelling bathroom but don't like the traditional sprays or air fresheners, simply add a drop or two of your favorite smelling essential oil to the inside of your toilet paper roll when you replace it each time.
It is easy to clean up spills or treat issues around the house with items you already have on hand when you apply these 7 easy cleaning hacks to your daily routine. Not only will they save you money on supplies, they could save you the cost of replacing products in your home. Add this to your list of favorite life hacks so you don't forget when you need them in a hurry.
Do you have any cleaning hacks to add?