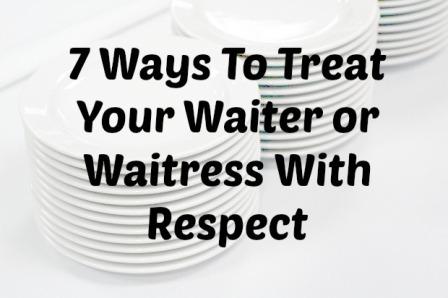 How many times have you gone into a restaurant to eat and observed a waitress or waiter being disrespected? It happens on a regular basis if you are paying attention and it is generally pretty sad. Occasionally the service is so bad that complaints are completely justified. Usually, however, the waitress is simply doing her job to the best of her ability.
Here are seven ways to help them out and show them respect:
Understand that she only has two arms
A waitress is often thought of as Superwoman who can carry everything with only two hands. The truth is, there is a limit to the number of things she can carry. Make sure you consider that when you are frustrated with the number of trips she has to make to your table.
Consider the number of customers
When you come in the restaurant, you can generally see how slow or fast the service will be by the number of patrons. You should certainly expect some modicum of service no matter how busy they are, but generally expect slower service when the place is packed.
Remember that delays are rarely due to her service
People instantly blame the waitress when food is late or mistakes are made and certainly there are occasions when that is justified. The truth is, however, that the majority of mistakes are outside of her control. Once the waitress turns your order over to the kitchen, she can do nothing else except keep your drinks filled. When food is late and the kitchen is to blame, the waitress often takes the blame with no tip.
How would you feel if your boss messed up and then your pay got docked for it? Think about that for a moment and then tip accordingly.
Let her know extras ahead of time
When you put in your order, make certain you let her know any extras (extra ranch, napkins, steak sauce, etc) you will require ahead of time. This allows her to multitask and bring things before the meal arrives. Not every waitress will do this, but giving her the option can be very helpful.
Be ready to order when the drinks come back
This can be tough and won't always be possible, but if you are in a hurry it is a must. If you know you need to get in and out, have that information ready before she gets back. My family actually orders when we put in the drinks on occasion.
Have a kind word
In a business where the odds are high that she has had a couple of tough customers, being polite can go far towards raising her spirits. This will help you get better service and help her feel good. Why not be kind and feel good about the experience?
Tip generously
If you leave a good tip, then chances are it will follow you. Bad tipping karma will follow you for certain. Unless your waitress was the unquestioned reason for a bad meal, tipping fairly in the only way to go.
What tips do you think I missed?  Do you disagree with me? Sound off in the comments and tell me about it!