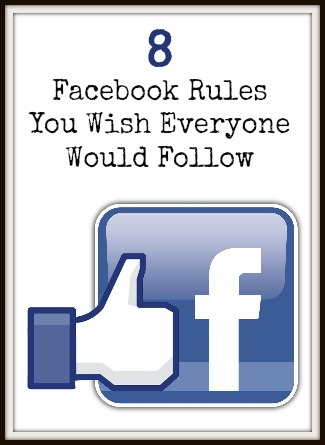 Facebook Etiquette Rules You Wish People Would Follow
Facebook is easily the most fun one can have with former friends that they have not seen in twenty five years. It is great to network business-wise. It is incredible to keep up with family that lives far away or that lives around the corner.
That said, there are some things that Facebook users need to learn. They need to understand some simple Facebook etiquette rules and follow them to perfection.
Here are eight that must be followed to stay on my friend's list:
Keep the home drama home – The last thing I want to wake up to with my morning coffee and Facebook review is a huge picture of a bloody nose from last night's bar fight. If you hate someone, don't blast it all over the place and make Facebook your personal diary. People are listening!
Don't "Vaguebook" – Posting "Ugh, don't ask!" is just begging people to ask you what is wrong and makes you look like a Drama Queen.  Posting passive aggressive digs at people just makes you look petty.  Either come out and say/post it or don't post anything at all.
Don't send me the Facebook bribe post – When I get the "Re-post this or you are not really my friend" posts, I make that a reality. No, I am not your friend if you try to bribe me to share your drama. This also goes for the "Post this or your lottery winnings will go to someone else" and the "Re-post this or you don't really love your Grandma" posts as well.
Don't send me game requests – My farm is in my backyard and I have little time to help others with their cafe. If I wanted to play, I would sign up myself. That being said, there are some games that I will play. If you send me a request, check to see if I responded. If I didn't, don't send me another request!
Don't send me friend requests if I have no connection to you – If you request my friendship, make sure you are connected to me in some way. Either I know you directly, you are a friend of a friend that is networking, or we have a business relationship.
Don't complain about Facebook updates and changes – I am curious if these guys that complain realize that Facebook is free. They can walk away at any time and be free of the horror of Facebook updates and changes.
Don't automatically believe what you read on Facebook – If you are connected to Facebook, you have access to real life information. If you see something that sounds unreal, look it up and check it out. Don't spread the drama because it only hurts your own credibility.
Don't slam your job in public if you want to keep it – Finally, don't talk about how your boss smells and your co-worker picks his nose. You might be shocked at who those friends are. One might be your CEO's wife that met you at the Christmas party. (and you forgot that they sent you a friend request!)
These are only a handful of the rules I would implement.
What are some that you would like to see? Let us know down below in the comments!