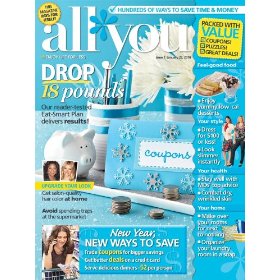 If you have yet to subscribe to All You magazine, Amazon is having another great deal!  If you already subscribe, you can still take advantage of this deal to extend your subscription.  Just make sure that you enter you name and address exactly as it appears on your current subscription label (and in the event that you start getting "double issues", a simple call to their customer service will straighten it out!)
Right now Amazon is offering a 1 year subscription to All You for only $15. As a bonus, you will get the All You Guide to Health & Fitness!
Another option is the 2 year subscription to All You .  You will pay $34, but you will get back a $10 promotional certificate that will be credited to your Amazon account within 2 weeks.  After the promotional certificate, your cost is only $24 for 2 years!