These Asian beef lettuce wraps are a nice change from your regular dinner routine. Marinated beef is gently sauteed and topped with a Sriracha cream sauce, sprouts and kimchi.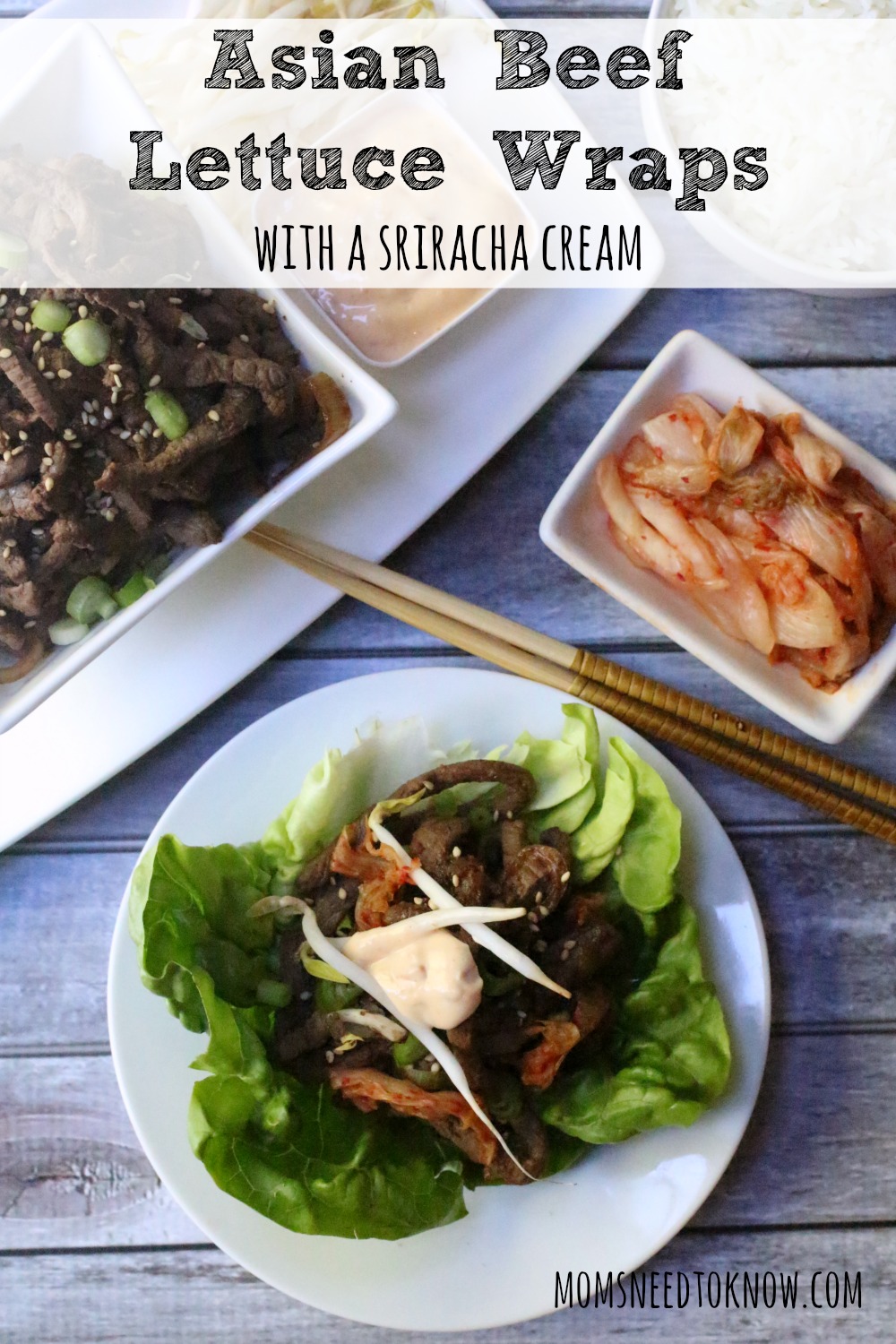 Taco Tuesday is a "thing" in our house and as much as I love my crockpot chicken tacos, I get bored with the same thing.  Now - I know that the words "taco" and "Asian" don't seem to go together (and aren't even from the same continent), but work with me here...I figure if my lettuce wrap tacos are "allowed", why not change up the seasonings?
Yeah - I can pretty much rationalize anything.
These Asian beef lettuce wraps have become a new favorite in our house for when I get tired of making the same few recipes.
Thinly sliced beef is marinated in a mixture of sesame oil, soy sauce, garlic and brown sugar, then quickly sauteed, tucked in to lettuce leaves and topped with some amazing toppings.
If you are unfamiliar with Kimchi, it is a fermented Korean dish, typically made with cabbage and a variety of spices.  You can usually find kimchi in the refrigerated section of the Organic aisle of your supermarket.  I also see it in the produce section of some  grocery stores.
The Sriracha cream sauce is a delicious blend of mayonnaise, Sriracha sauce and miso paste (miso paste can be found in the International section at your grocery store).  I tend to use 3 times the red pepper flakes that I am going to include in the recipe and the cream sauce helps to "cool down" the heat of the spices (although I also add 2 - 3 times the amount of Sriracha to the cream sauce as well - we like things spicy in my house!)
This is going to take a little advance planning.  The Sriracha cream sauce is best when prepared at least 2 hours ahead of time (to give the flavors a chance to blend).  You are going to want to let the beef marinade for an hour.
But trust me - once you start cooking, you are going to be done before you know it.  Make sure to have everything ready to serve when you start cooking your beef!
Enjoy!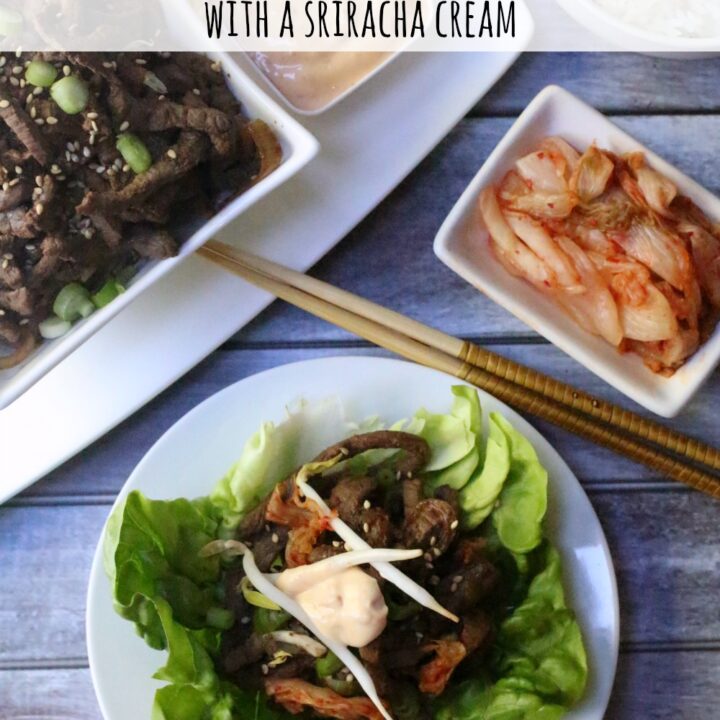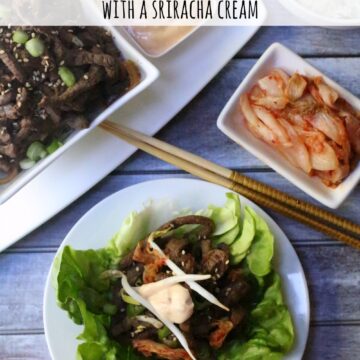 Asian Beef Lettuce Wraps
These Asian beef lettuce wraps are a nice change from your regular dinner routine. Marinated beef is gently sauteed and topped with a Sriracha cream sauce, sprouts and kimchi
Print
Pin
Ingredients
12

oz

beef tenderloin

sirloin, flank or ribeye, sliced thin

2

Tbsp

oil

I like sesame or peanut oil for this, but vegetable oil will work just as well

1

head lettuce leaves

I like Boston, but you can also use Romaine or Iceberg
For The Beef Marinade
2

Tbsp

brown sugar

2

Tbsp

soy sauce

2

Tbsp

sesame oil

3

garlic cloves

crushed or run through a garlic press

1

tsp

crushed red pepper flakes
For The Sriracha Cream Sauce
Additional Toppings (optional)
Kimchi

Bean Sprouts

White or Brown rice

prepared according to package directions)
Instructions
Prepare The Sriracha Cream Sauce
Whisk all the ingredients for the sauce together. Cover and refrigerate for at least 2 hours
Marinade the Beef
Combine all of the ingredients for the marinade

Toss with the beef

Cover and set aside for at least an hour
Cook The Beef
Heat the 2 Tbsp oil in a large skillet over high heat

Saute the beef in 2 or 3 batches, just until the beef is cooked (about 3 - 4 minutes per batch)

Transfer the cooked beef to a platter
Assemble The Lettuce Wraps
Place a few slices of beef on a leaf of lettuce

Top with Kimchi (optional), a dollop of Sriracha Cream sauce and bean sprouts

Serve with rice in the side (optional)
Asian Beef Lettuce Wraps