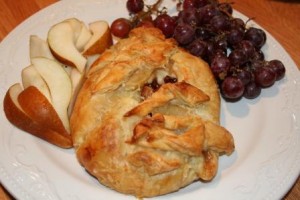 The recipe is always a crowd-pleaser! It takes about 5 minutes to assemble and will always make you look like "the ultimate hostess"
You can customize it to your liking simply by changing the jelly/jam/preserves! Don't be afraid of using puff pastry. It's really not that hard to work with and coupons for it should start showing up soon as we enter the "holiday baking season". This recipe makes 2 (since there are 2 puff pastry sheets in the box) and you can easily freeze the 2nd one for a future party
Ingredients:
Pepperidge Farm frozen puff pastry sheets, thawed as directed
19.6 oz Presidents round Brie, cut in half or 2 approx. 10 oz Brie
4-6 heaping tablespoons Apricot jam, jelly or preserves (I've used raspberry as well - try your favorite!)
2 handfuls of nuts (hazelnuts are best…but really anything but peanuts will work well)
dried cherries or dried cranberries (optional, but makes it SO much better at Christmas parties!)
Egg Wash: 1 egg, beaten with a little water
Directions:
Thaw and roll pastry sheet just enough to roll in the seams and make it a little bigger.
Put each Brie half on a pastry sheet and top the Brie with 2-3 heaping tablespoons of jelly, jam or preserves.
On top of the jelly, add a handful of nuts and a handful of dried cherries or cranberries (you want them in the jelly so that they stay put)
Using a sharp knife, cut the corners off the pastry to make it more of a circle, saving the cut-off corners.
Gather the pastry up around the cheese like a "pouch" and pinch the edges to seal and press down on top of the bundle. Since this will NOT look pretty at this point, cut those pastry corners into 1/4″ strips and twist them and lay them over the top seam as a decoration
Brush the whole bundle with the egg wash and bake at 350 degrees until brown
Serve with Carr's water crackers and/or sliced pears and red grapes for garnish (to provide a color-contrast and make it look pretty!)
Note: to use one that you have frozen, let set out 20 minutes before baking. It needs to be chilled when it goes in the oven or everything will spill out of the pastry making a big mess!
Thanks to my mom, since this is something that she made one day and shared the recipe with my sister and I. There are very few parties in my family that don't include this recipe!