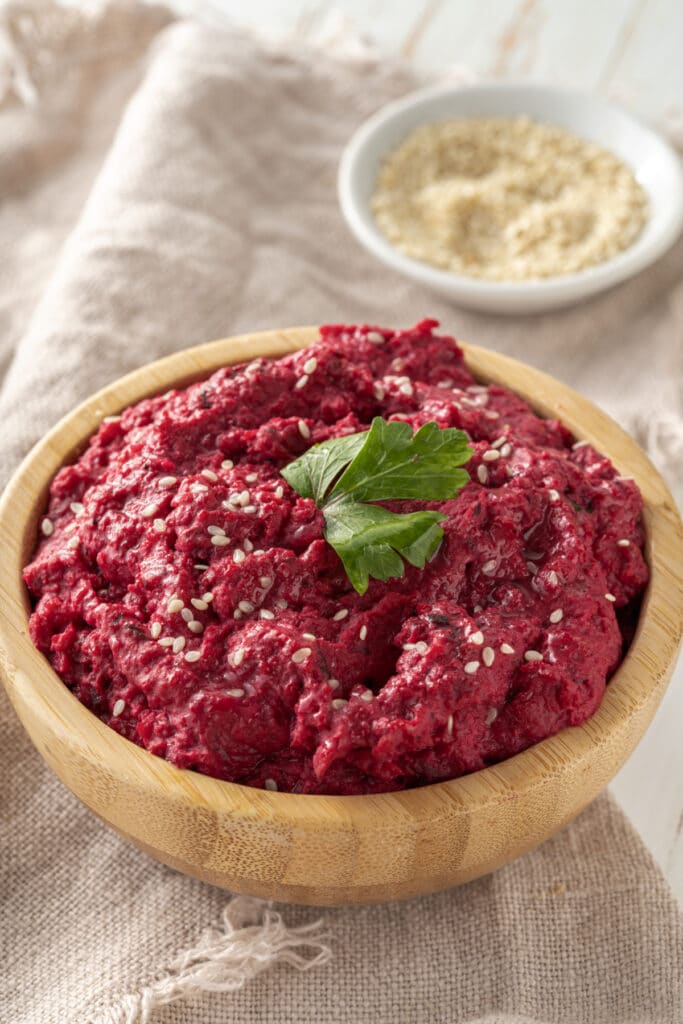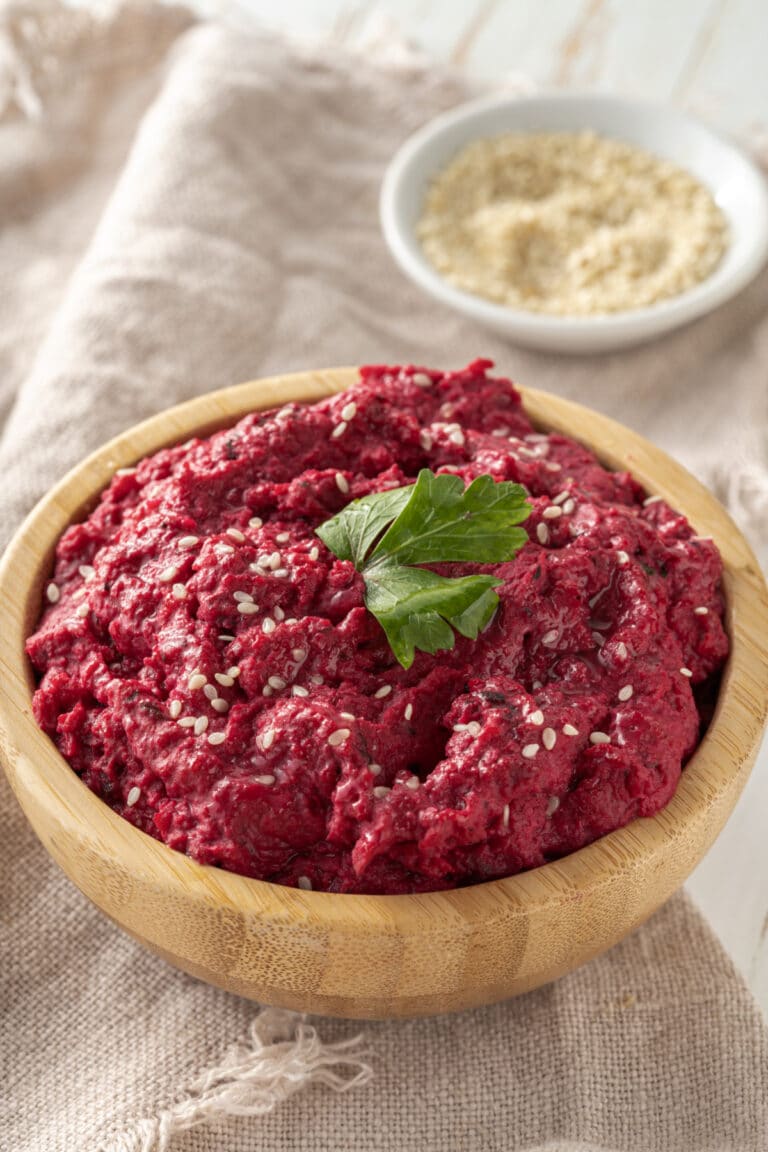 This roasted beet hummus recipe is creamy, sweet and nutty - and so easy to make, you'll want to eat it for lunch or snack every day! Perfect with veggies, chips or pita.
Jump to:
💭Why this recipe is so good
The addition of beets gives this hummus recipe a nice earthy flavor. Roasting the beets unleashes their sweetness for the perfect combination.
The beautiful pink color of this beet hummus is just beyond anything you normally see. I mean - my broccoli hummus recipe is pretty, but this is just next-level!
Beets are good for you and they can be hard to work in to your diet. By including them in a dip, you can enjoy they benefits and the taste and know you are doing your body good.
Which leads me to....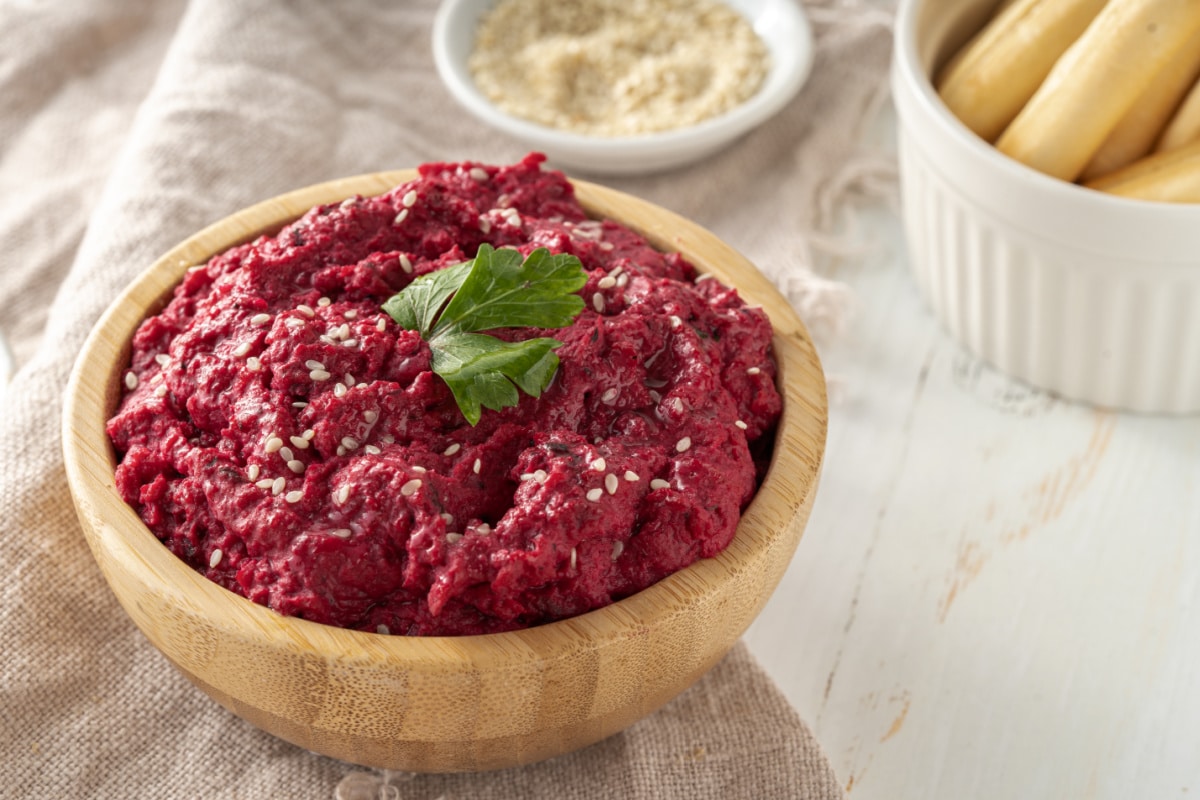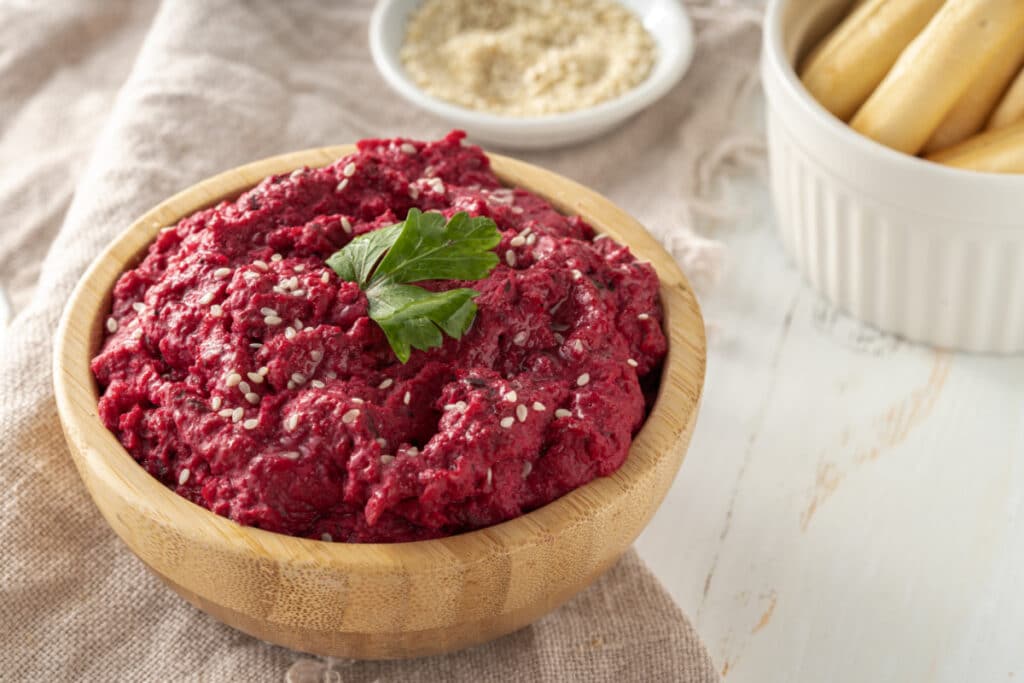 📋 Benefits of Beets
I admit, I was never a fan of beets. We never had them growing up and the only ones I was ever exposed to were the pickled ones on salad bars (ick!). But then a few years ago I started juicing and one of my favorite recipes is my liver-cleansing beet juice. I still make a batch about every 3 weeks!
Beets are a Superfood!
Because beets are high in folate and nitrates, they have been linked to lower blood pressure, better heart health, assisting liver function, boosting your immune system. Beets are also a good source of fiber, potassium and Vitamin C!
🥗What type of beets should I use?
While I obviously used red beets for this beetroot hummus, you will probably find both red and golden beets in your local store.
Nutrition and calorie-wise, the two types of beets are almost identical. Yellow beets tend to be slightly sweeter and less "beety". If you are new to beets, golden beets are a good "starting beet".
Of course, the color will be bright yellow, not pink...but still pretty!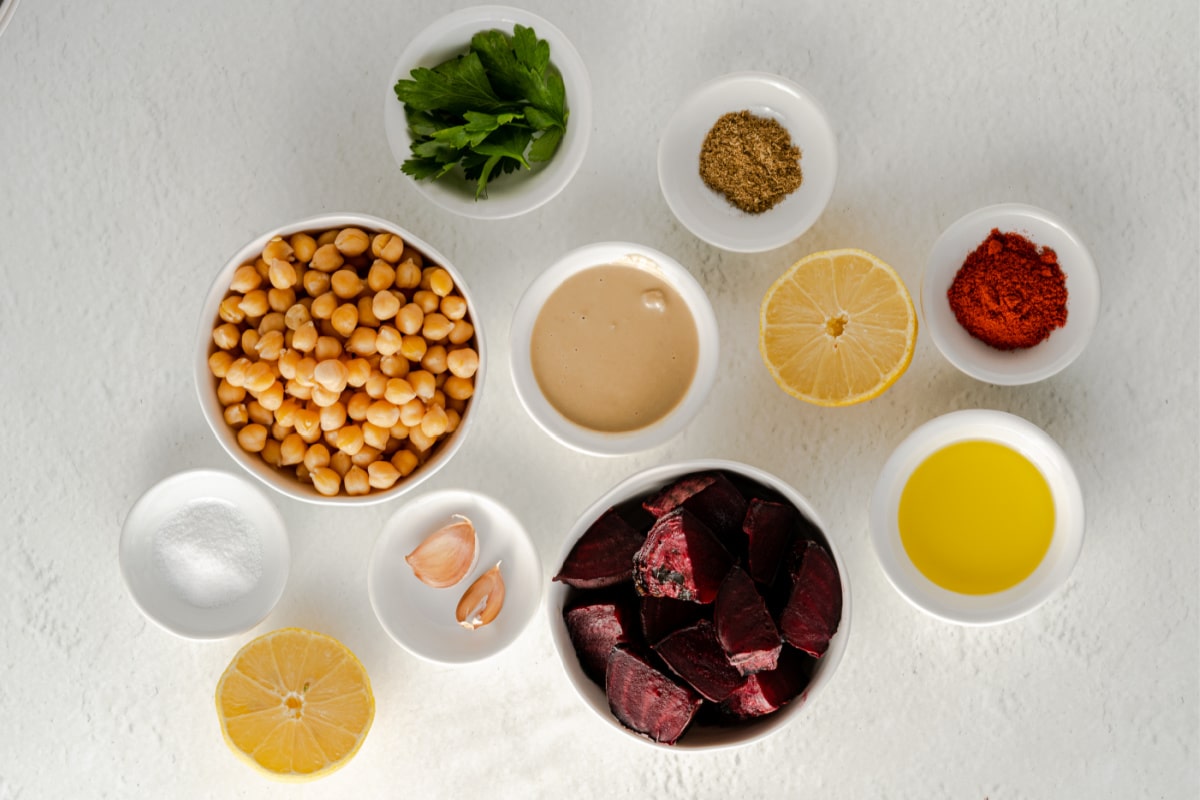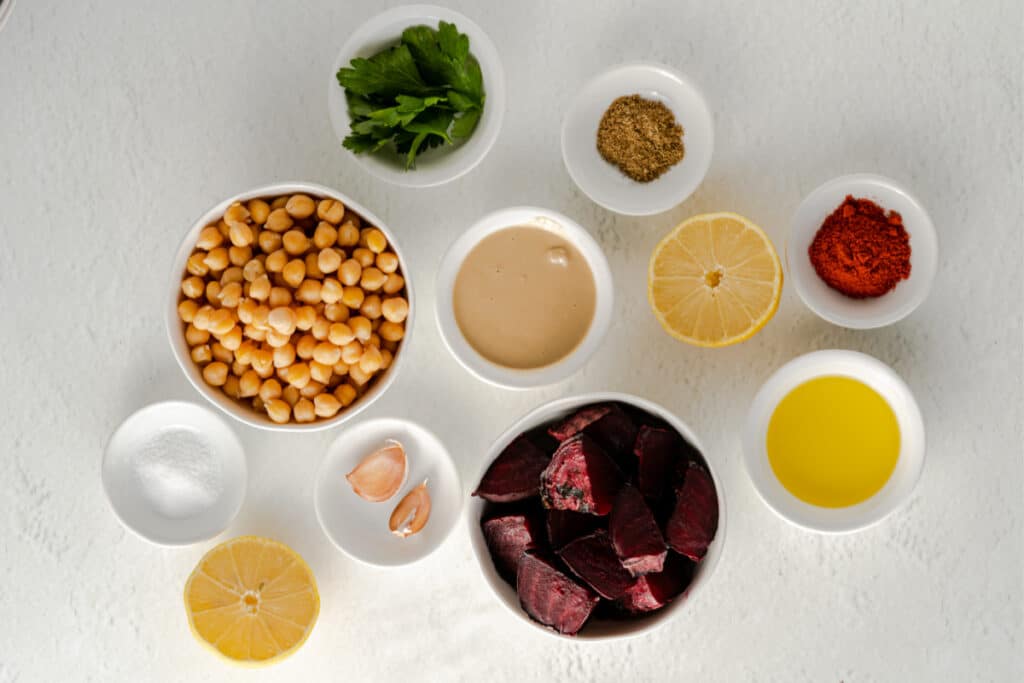 🍳How to roast the beets
Since you can't just use raw beets in your beet hummus, you are going to need to cook them first!
Roasting the beets is going to take about 30-40 minutes before you are able to use them to make this recipe, but it is so worth it!
First - and I can't stress this enough, you need to scrub your beets if you aren't going to peel them (I don't peel them). If you don't, that won't be an "earthy" taste, it will just be dirt!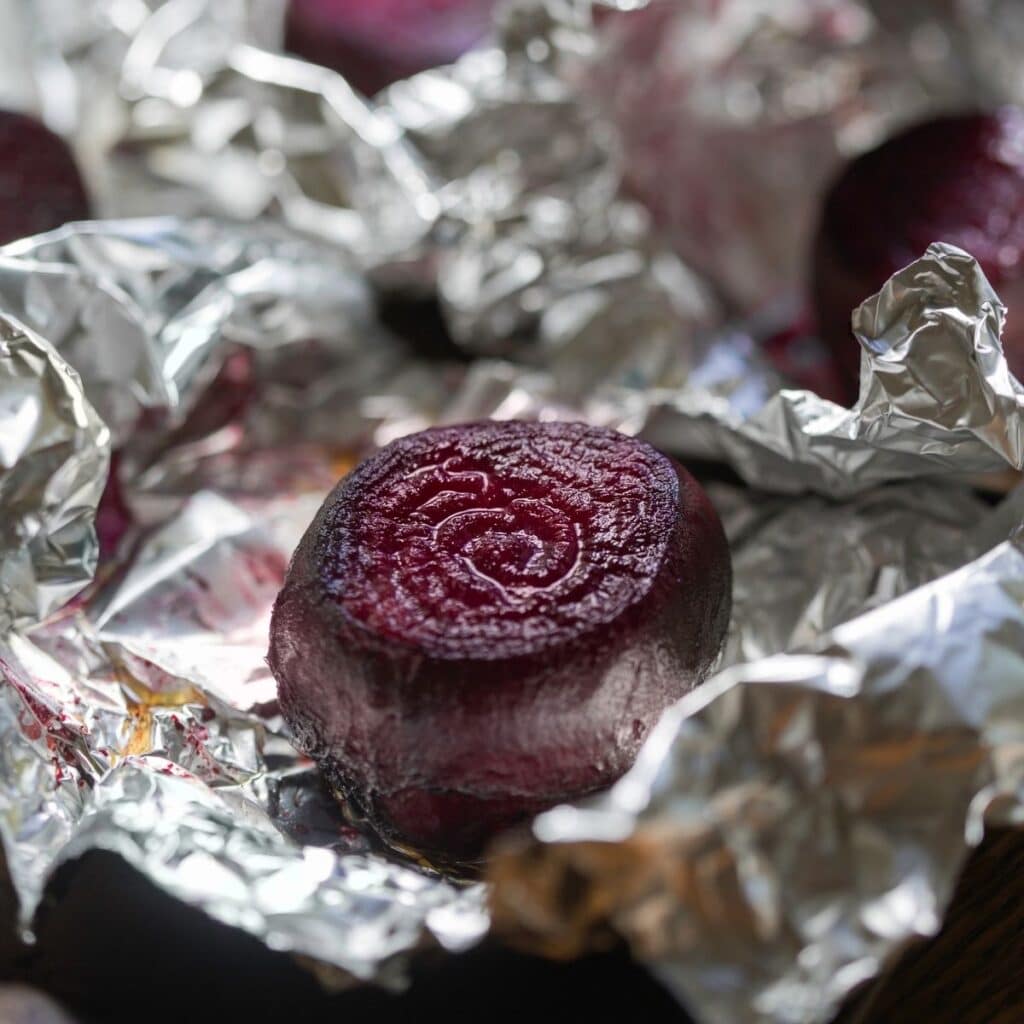 Preheat your oven to 400F, wrap each beet in foil and place in a baking dish (just in case any juices spill out). Cook for about 30 minutes, checking the beets after about 20 minutes to make sure they aren't burning from hitting any "hot spots" in the foil. They are done when they are fork-tender.
If you don't want to roast the beets, you can steam them in a basket of medium-high heat until they are fork-tender.
I wouldn't recommend boiling them, as they will lose some of their vibrant color!
🧂 Can I use pre-cooked beets?
Yes you can! Just make sure to use the ones you find in the produce section, not the canned pickled beets that you find elsewhere.
Or I don't know - maybe try those and let me know how they are!
🥣 Tips for making creamy hummus dip
Because the size of beets can vary so widely, you may have to tweak the amount of liquids that you use, and depending on how thick you like your hummus.
Try drizzling in a few tablespoons chickpea water at the end to see if you like the consistency.
🥄 What to do with leftovers
This beet hummus will keep for 3-5 days in the fridge.
You can also freeze any leftover beet hummus for up to 4 months, but keep in mind that this is only an estimate. The longer you freeze it, the less creamy it will be upon thawing.
🎥 Video
🧾 Variations
For a little more "nutty" taste, you can add some pine nuts to the food processor.
Play around with some of the spices, depending on what you like. You might want to add a dash of coriander or some extra cumin!
While hummus traditionally has lemon juice in it, I use lime juice in my beet juice and I think it provides a nicer balance to the earthiness of the beets. Try swapping in lime juice!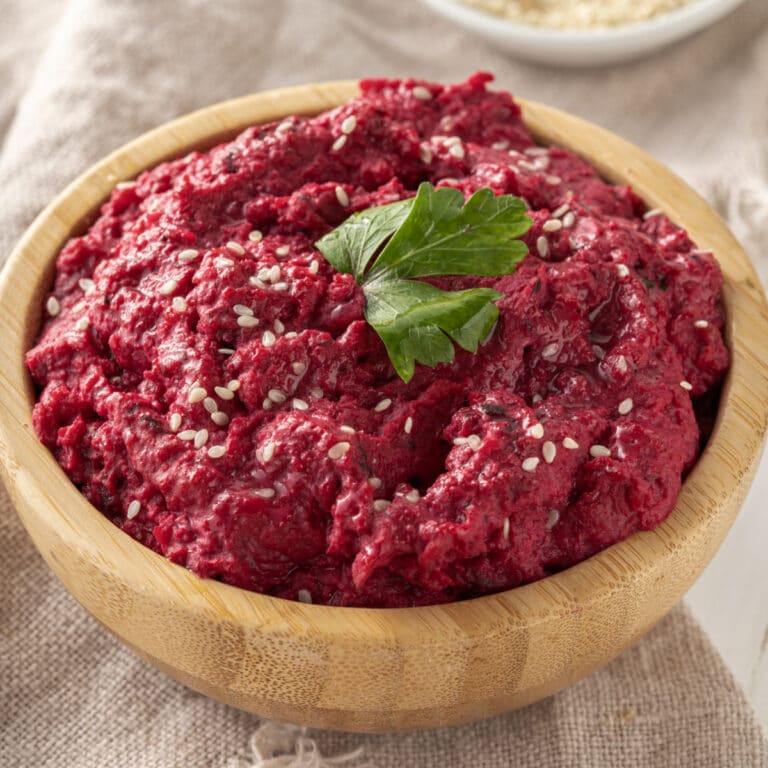 Ingredients
For the Roasted Beet Hummus
2

beets

medium

3

cups

garbanzo beans (chickpeas)

2 cans, drained (reserve the chickpea liquid)

1/4

cup

tahini

1/4

cup

lemon juice

freshly squeezed

1

tbsp

fresh Italian parsley

chopped

3

garlic cloves

peeled

1

tsp

ground cumin

1/2

tsp

salt

1

tsp

smoked paprika

1/4

cup

extra virgin olive oil

1/4

cup

water

optional, if needed to thin the hummus
For serving
crackers

pita bread and pieces of naan bread

bell pepper slices, celery, carrots, radishes, cucumber, etc
Instructions
Roast the beets
Remove the tips of the beets. If leaving the skin on, scrub the beets well to remove as much visible dirt at possible.

Cut the beets in to quarters and place in a shallow oven safe dish with a cover/lid

Roast for 30-35 minutes or until fork tender

ALTERNATE METHOD: Steam the cut beets in a steamer basket over medium-high heat until fork-tender
Make the hummus
Place all ingredients (except the water) in a food processor and blend until smooth

If your beet hummus is too thick, drizzle in some of the chickpea water while blending until it reaches the desired consistency (you can also use a little more olive oil)
Serve
Place in a bowl and garnish with a sprinkle of ground cumin, lemon zest, sesame seeds or chopped parsley

Serve with crackers, veggies or pita chips