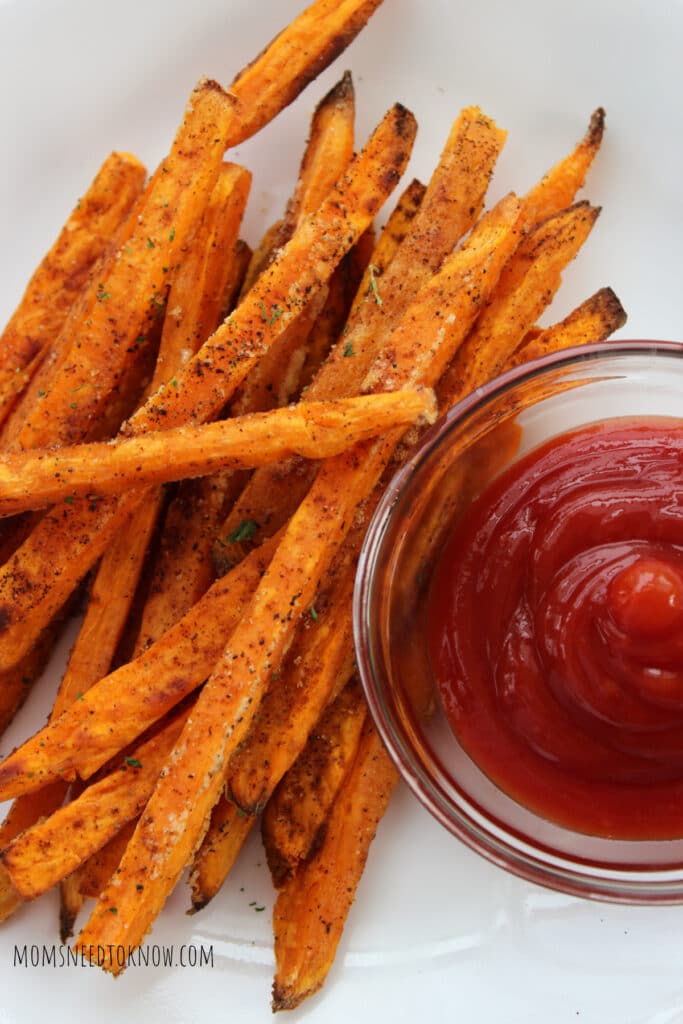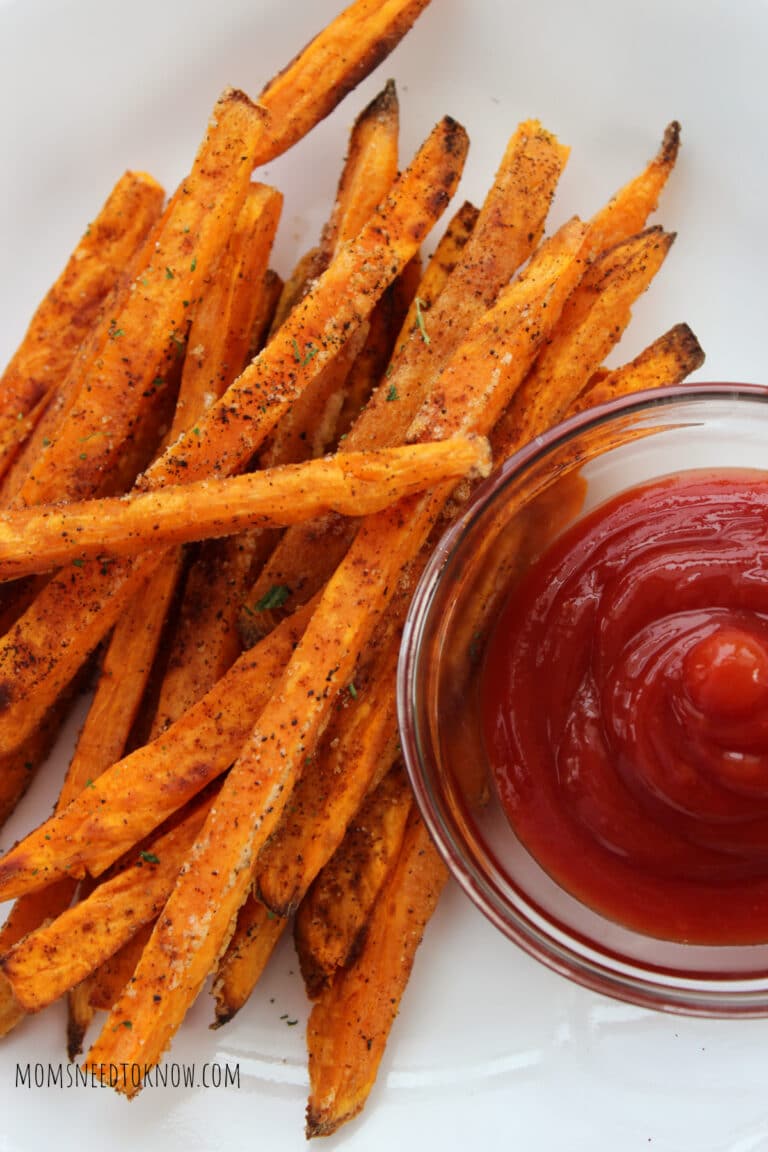 These crispy-on-the-outside, tender-and-yummy-on-the-inside sweet potato fries are baked, not fried, but still taste amazing. They're great with dips or all by themselves!
French fries are a big weakness of mine but they are usually fried and made with not-great-for-you white potatoes.
Sweet potatoes are more nutritious
Sweet potatoes have 400% more Vitamin A in them than white potatoes. They also have more Vitamin C, fewer calories, more fiber and few net carbs than a white potato, despite having more sugar (source). When you use sweet potatoes and bake (or air fry) them, you can enjoy your baked sweet potato fries with less guilt!
Do you have to peel the sweet potatoes?
The choice to peel your sweet potatoes before cutting them is entirely up to you. I prefer leaving the skin on, both because I like the taste and because that is where much of the fiber is, but the rest of my family prefers no skin.
If you leave the skin on, just be sure to scrub your potatoes really well before you slice them!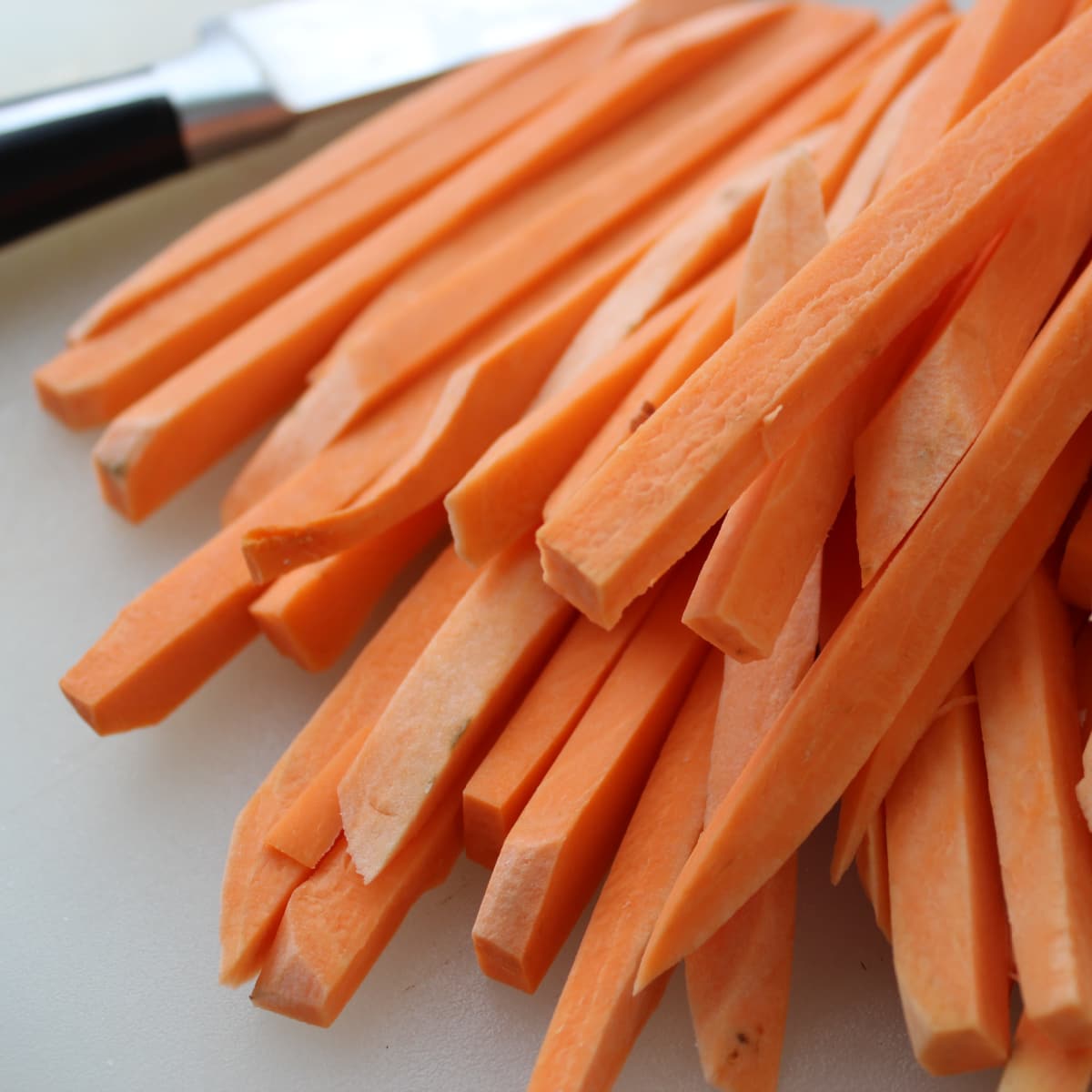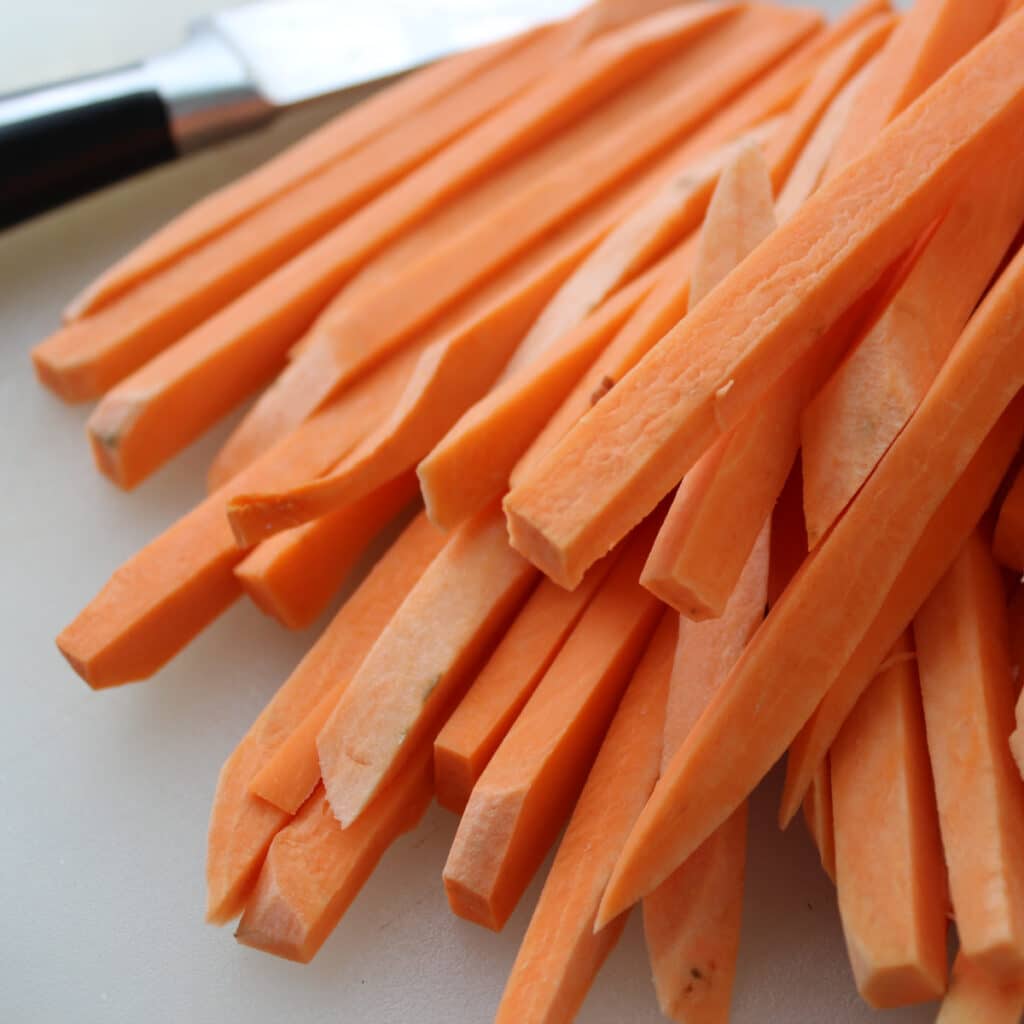 Should sweet potatoes be soaked before baking?
Unlike white potatoes, sweet potatoes don't need to be soaked before you bake (or fry) them. The reason we soak white potatoes when we make fries is to release some of the starch.
This allows them to reach the desired crispness on the outside while still being moist inside.
A sweet potato has (on average) about half the starch as a white potato - no need to soak them!
Seasoning your fries
Most of your seasoning should be done after your sweet potato fries are done cooking. I use just about a teaspoon of salt, black pepper, garlic powder and paprika before cooking. The salt helps to pull some of the moisture out while they are baking to give you crispier oven baked sweet potato fries.
Experiment with other seasonings after they have cooked. You might just want more salt, but we have used more garlic powder, cinnamon and even a pinch of cayenne pepper!
Just don't overdo it so much that you lose the flavor of the sweet potato itself!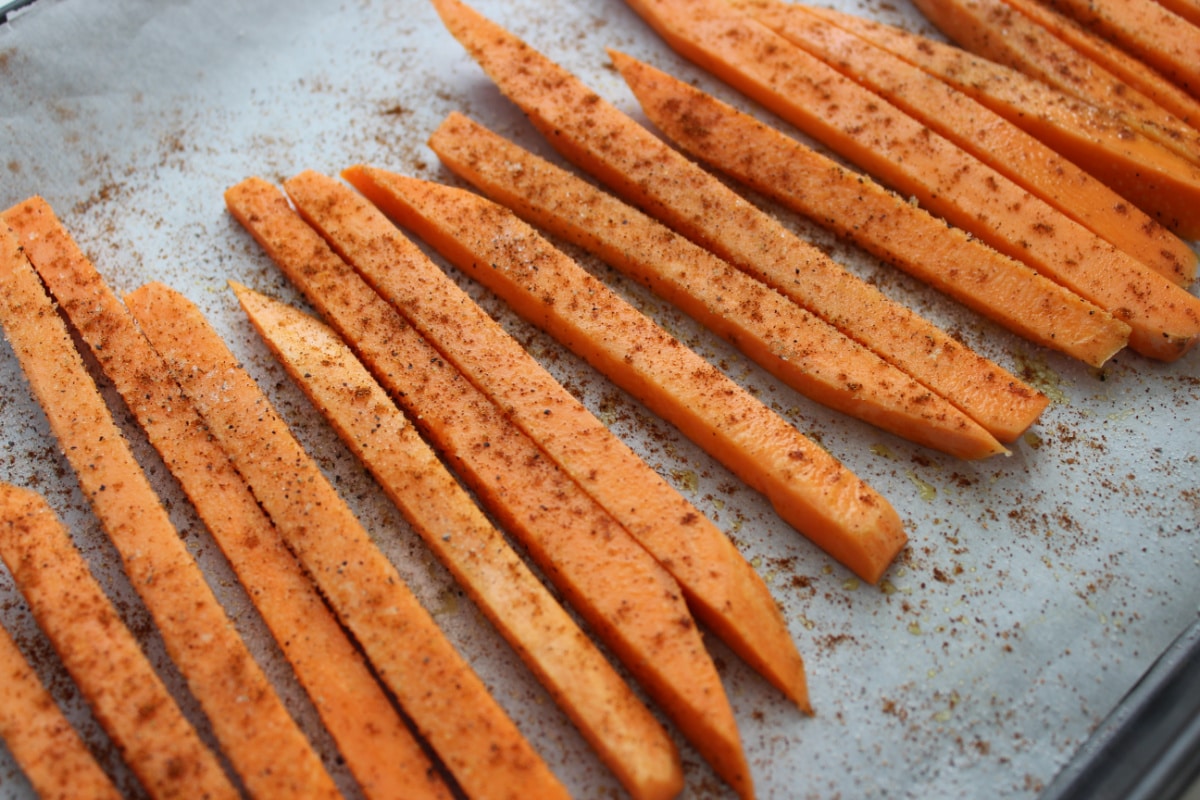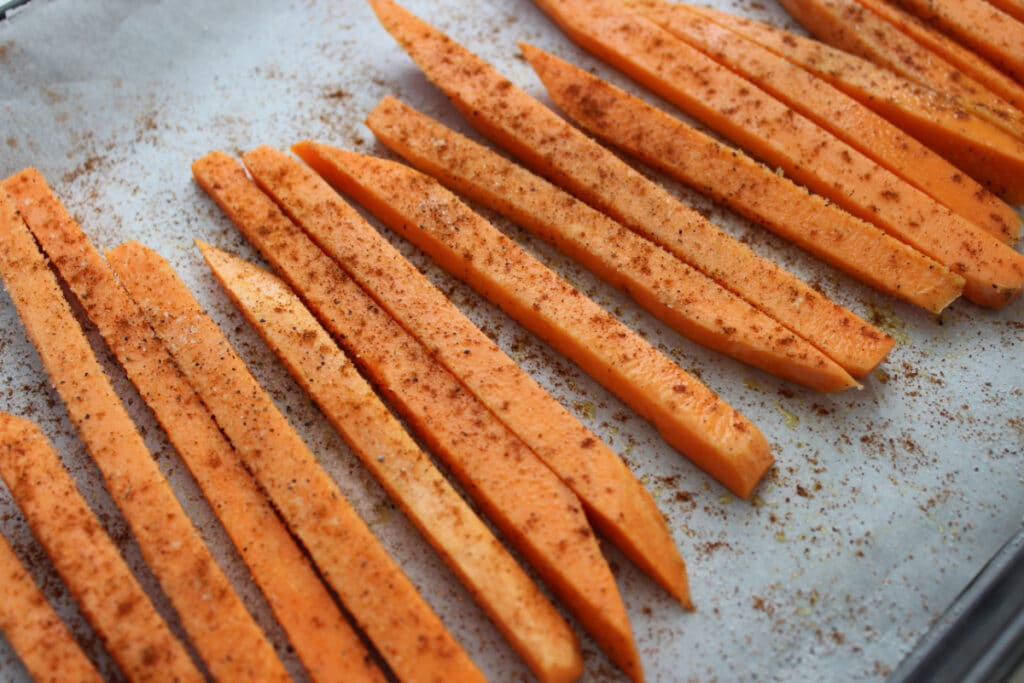 Tips for Making the Best Sweet Potato Fries
Cut your fries evenly. You don't need to go out and buy a french fry cutter, but try to make all of your fries between 1/4" and 1/3" thick. This will allow them to all bake evenly
Don't overcrowd the fries. Place them in a single layer on your baking pan. Better yet - divide them between 2 pans! (If you are rolling your eyes at the thought of cleaning 2 pans, you are going to love my next tip)
Line your baking sheets with parchment paper. The fries won't stick to your pan, it makes cleanup a breeze and will help them crisp up even more. (I am a huge fan of parchment paper for this and many other reasons)
If you are trying to be careful about the amount of oil you use, make this recipe as written.....just be sure to keep tossing the potatoes until they are completely coated. I tend to be lazy and in a hurry sometimes, so I will double or triple the oil/spices so that it is easier to coat. You end up "wasting" some of the oil that will be left in the bottom of the mixing bowl, but that cost is minimal!
Variation: Air Fryer Sweet Potato Fries
You can make these sweet potato fries in your air fryer, but they will need to be done in smaller batches. Just like baking them in the oven, you don't want them crowded in your air fryer basket!
To cook them in the air fryer, set it for 380F and cook for 10 minutes, turning them halfway through. Continue cooking at 1 minute intervals until they reach the desired crispiness.
Serving Suggestions
You can serve these with ketchup or your favorite dipping sauce.
They would be delicious as a side dish to my blackened fish tacos or my Southwest smoked turkey wrap. Really - you should try any of my sandwich recipes!
To make these baked sweet potato fries, you will need:
Ingredients:
2 lb Sweet Potatoes
2 tbsp Olive Oil
1/2 tsp Salt
1/8 tsp Pepper
1/4 tsp Garlic Powder
1/8 tsp Paprika
Scroll down for the recipe!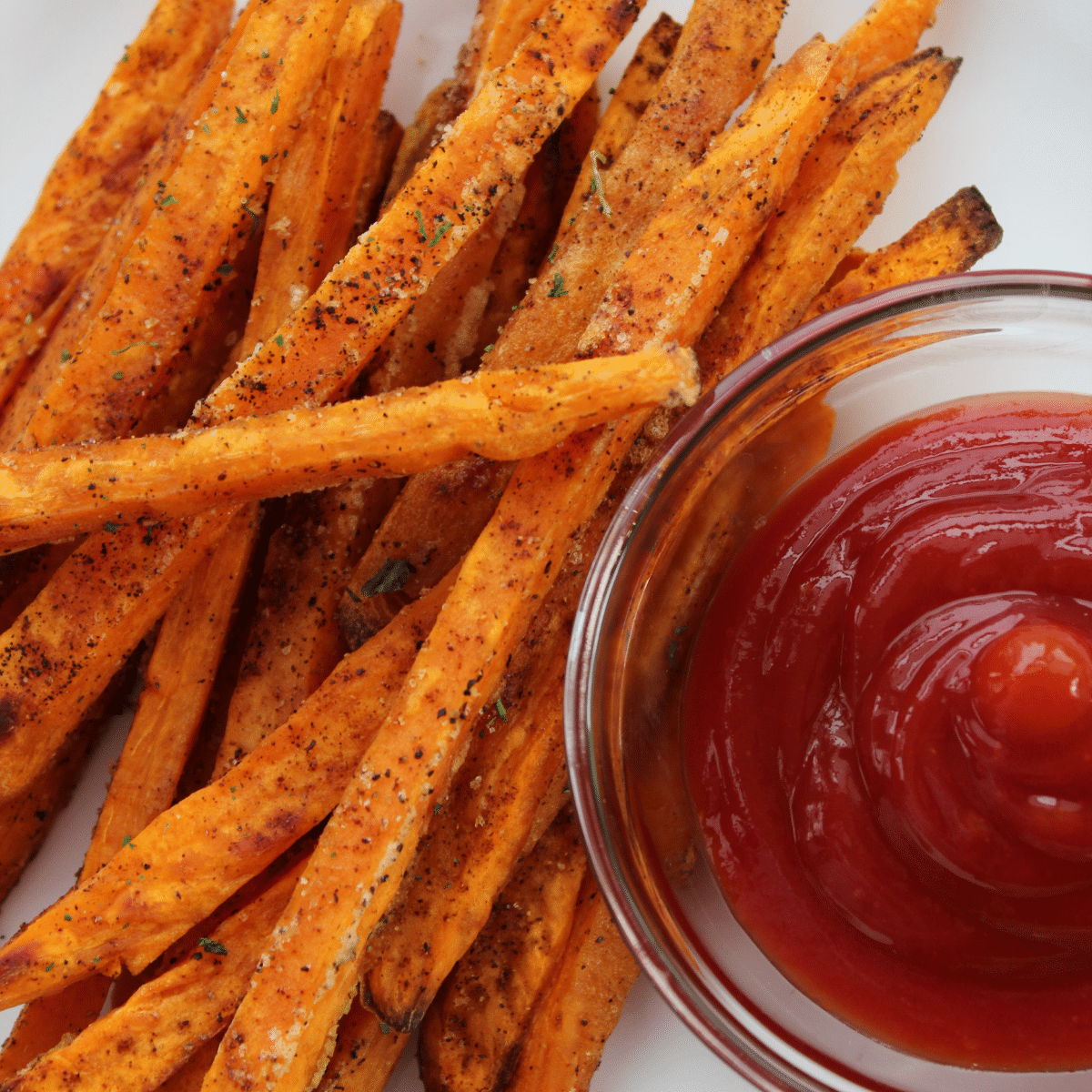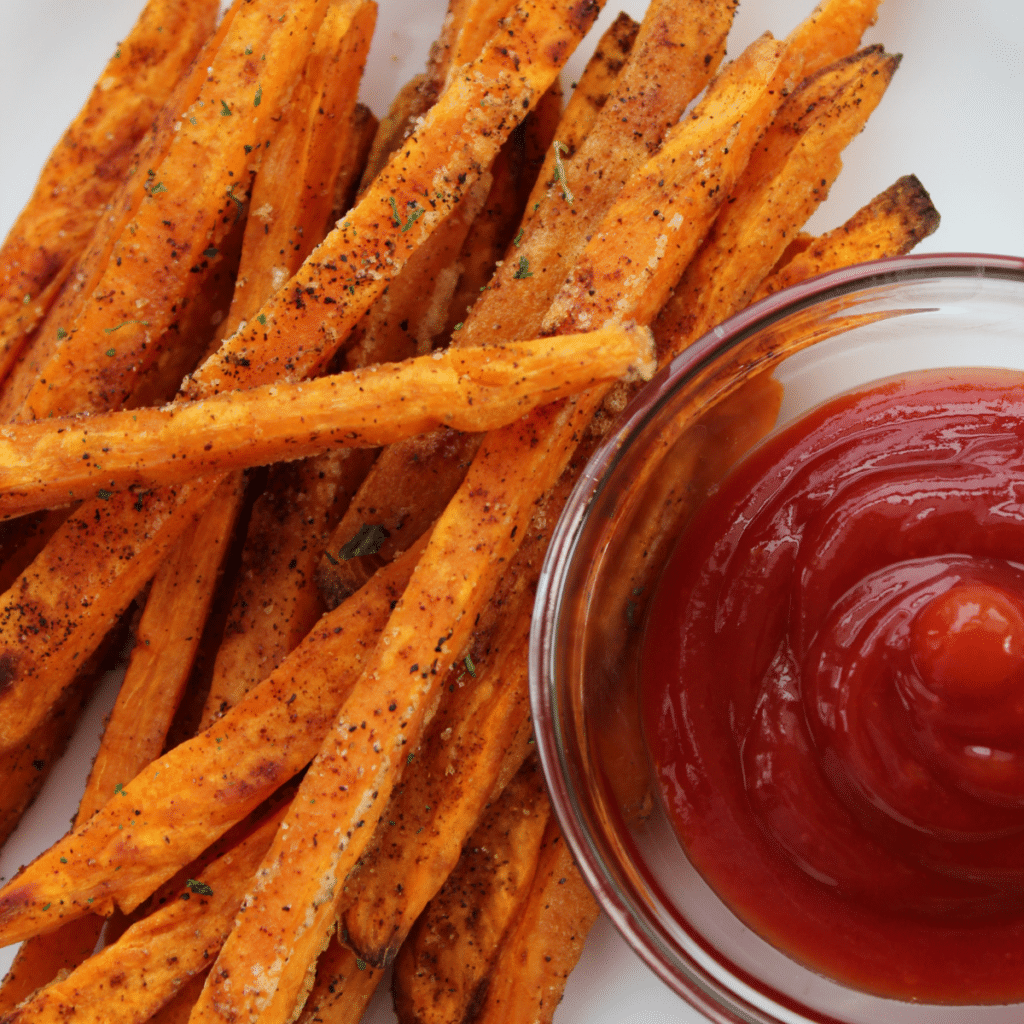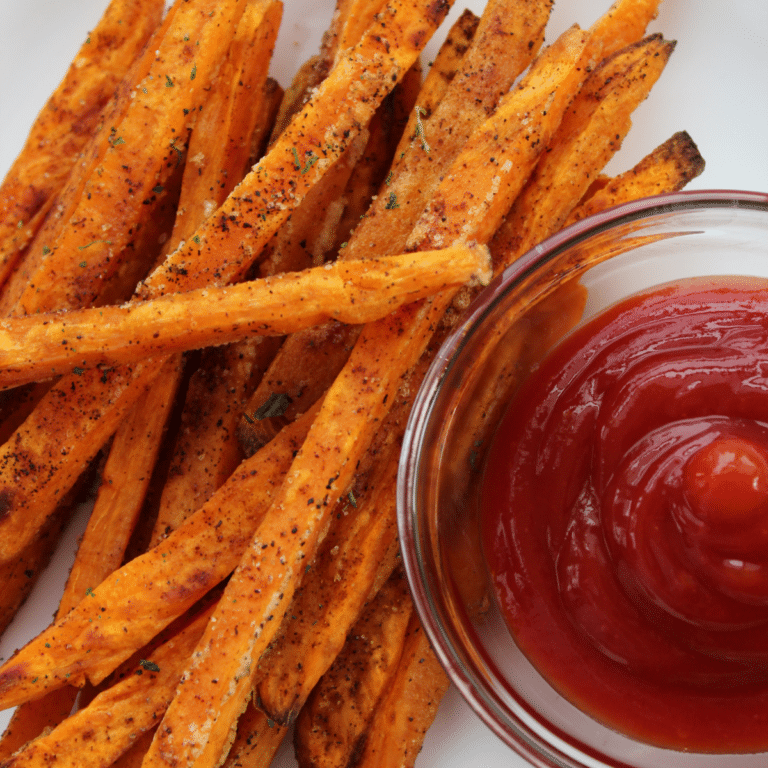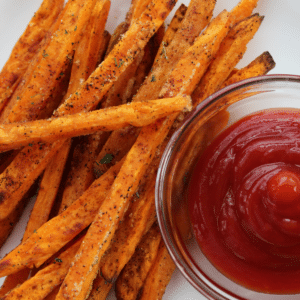 Ingredients
2

lbs

sweet potatoes

2

tbsp

olive oil

1/2

tsp

sea salt

1/8

tsp

black pepper

1/4

tsp

garlic powder

1/8

tsp

paprika
Instructions
Line a baking sheet with parchment paper.

In a mixing bowl, combine the oil & spices.

If you are leaving the skin on, scrub your sweet potatoes really well. If not, peel your potatoes.

Cut sweet potatoes into 1/4" x 1/4" strips.

Toss the fries in the olive oil/spice mixture to coat.

Spread the fries out on a prepared baking sheet. Do not crowd them - use 2 baking sheets if you need to!

Bake for 30 minutes, turning occasionally or until fries are browned.