I am slightly addicted to fish tacos but don't like the way that so many places fry the fish. Blackening the fish gives these fish tacos so much flavor yet keeps them light and tasting fresh!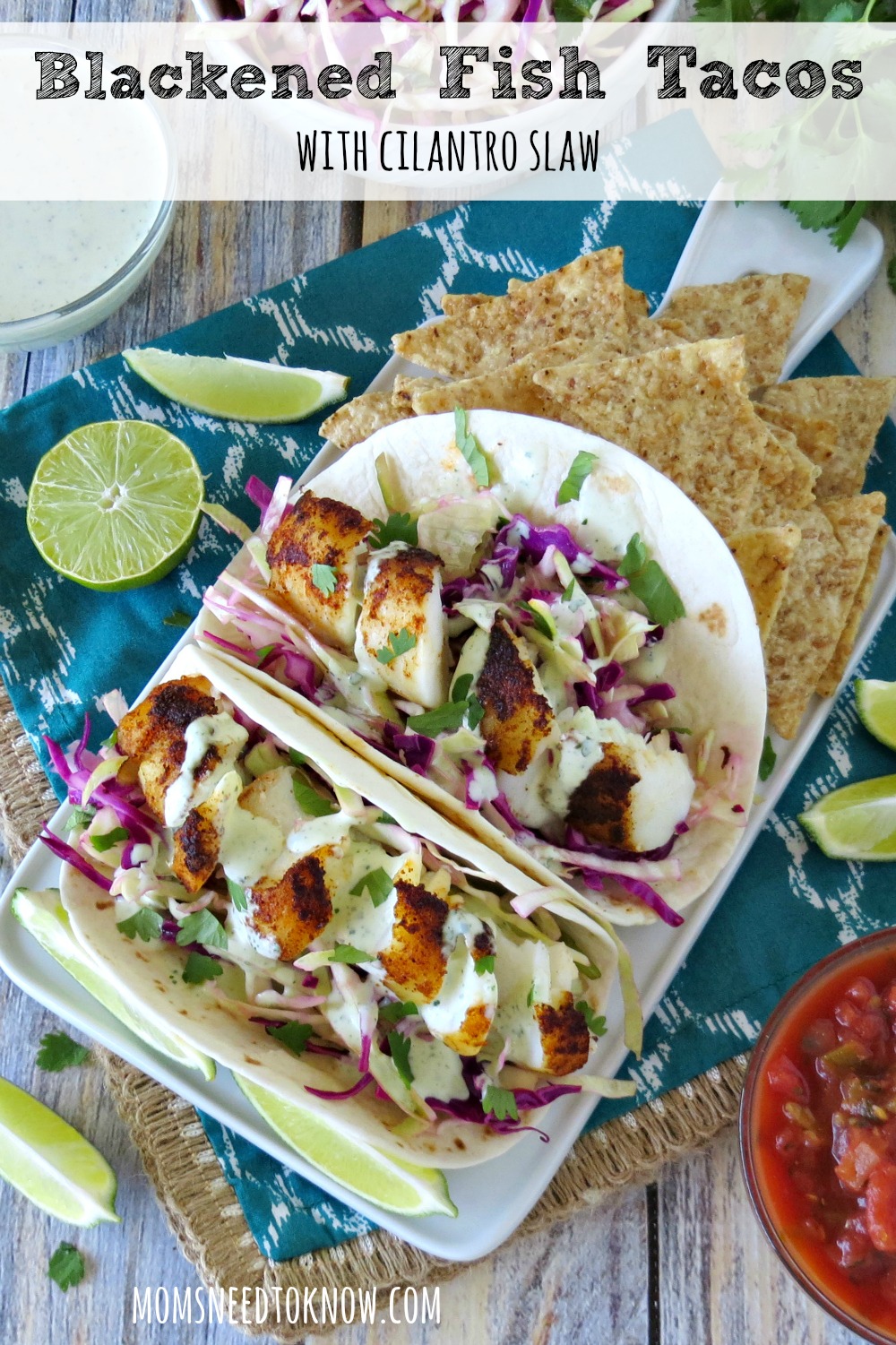 I don't know how I made it almost 35 years before I had my first fish taco, but it wasn't until a California Tortilla opened up near my house that I had one - and from that moment on, I was hooked!
Since then, whenever we go out to eat at a "chain restaurant", the first thing I look for on the menu are fish tacos (and a few of those restaurants have some really BAD ones on their menu).
My favorite thing about fish tacos is the delicious combination of flavors and textures. Crunchy slaw, chewy fish and tortillas, creamy sauce, spicy seasonings, and fresh cilantro and lime! They're just perfect!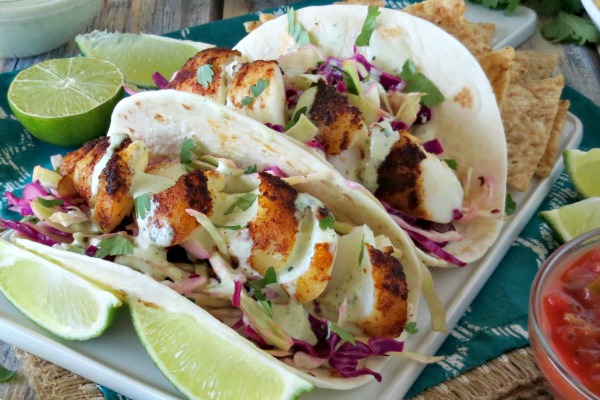 Remember my creamy cilantro lime dressing that I posted a few weeks ago?  Well - that dressing isn't just fabulous on salad.  It is also the perfect sauce to top off these blackened fish tacos!
We used Cod for this recipe because it has more texture than thin fish like tilapia or sole. A thicker fish also holds up well to the other ingredients.
The number of tacos this makes will vary depending on the size of the tortillas you use and how much filling you like. We got six, generously-stuffed tacos!
You'll probably have some extra slaw, but that will keep the fridge for at least 2-3 days and makes a great snack.
I actually like to use a nonstick pan for this. Most recipes for "blackening" will suggest using a cast iron pan which is totally fine. But in my experience, fish is very delicate to work with and sticks easily. Using a nonstick pan just makes my life easier. When cooked properly, you'll still get a beautiful crust of color on the bottom.
Scroll down for the recipe and Enjoy!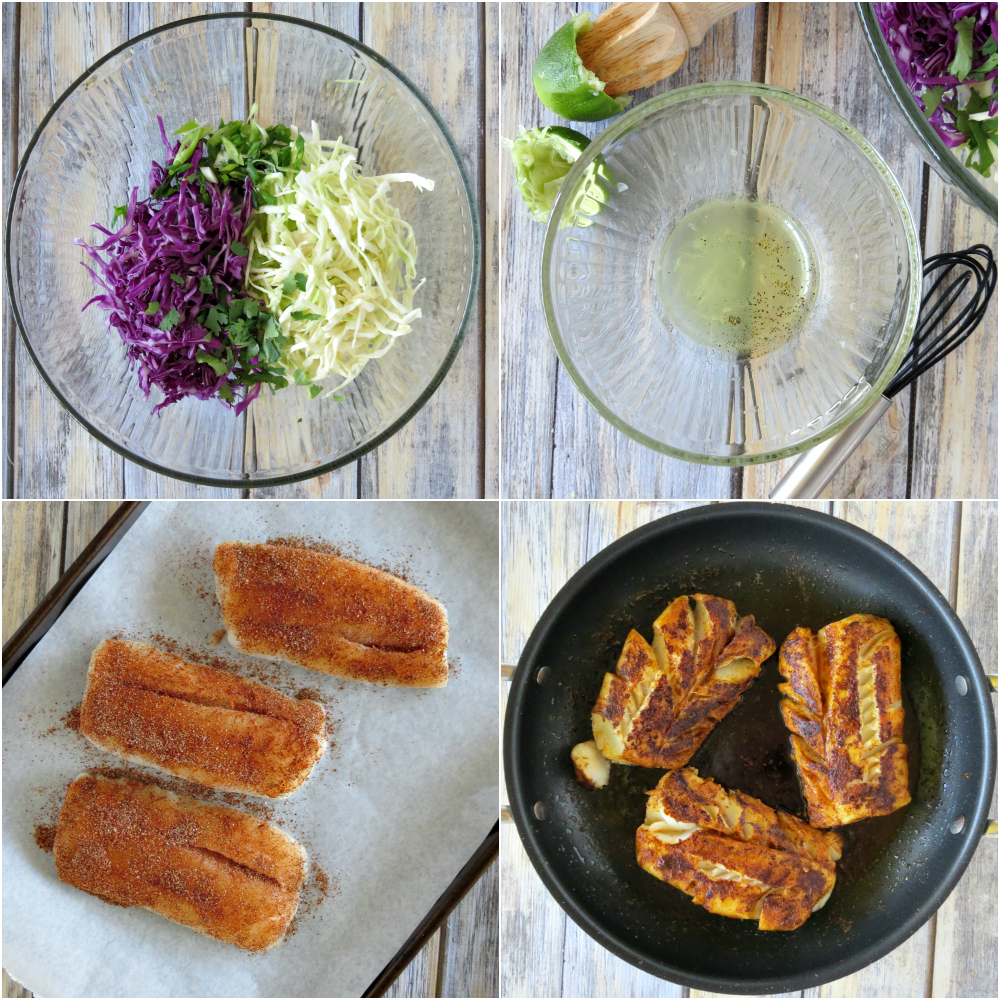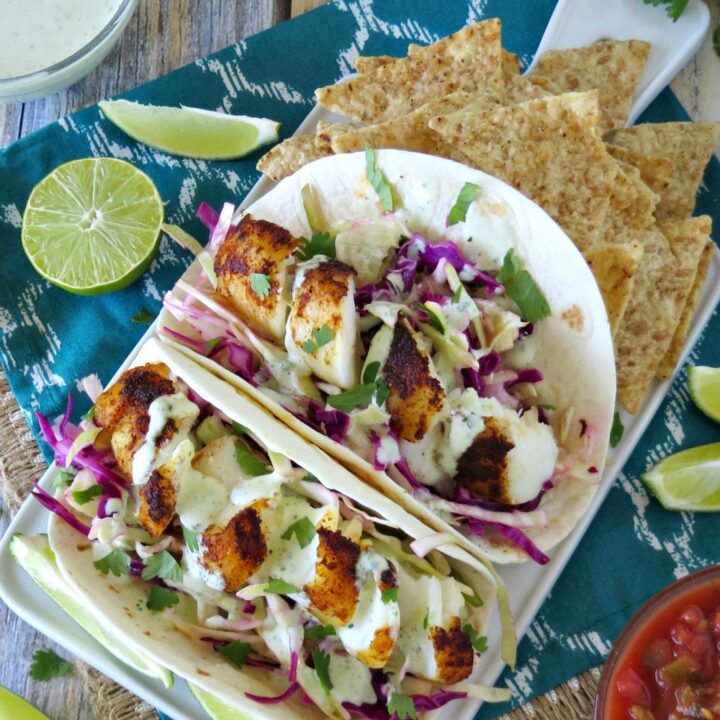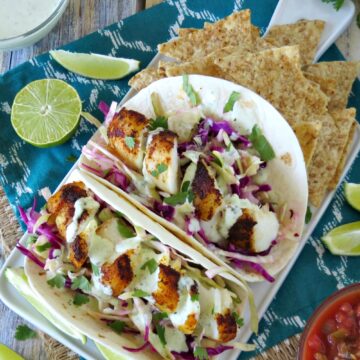 Blackened Fish Tacos with Cilantro Slaw
I am slightly addicted to fish tacos but don't like the way that so many places fry the fish. Blackening the fish gives these fish tacos so much flavor!
Print
Pin
Ingredients
Ingredients for the slaw:
1/4

head red cabbage

sliced thin

1/4

head green cabbage

sliced thin

2

teaspoons

fresh lime juice

1

tablespoon

olive oil

1/4

cup

cilantro

Pinch

of salt and pepper
Ingredients for the fish
1

pound

thick-cut cod

2

tablespoons

olive oil

1

tablespoon

butter

1

teaspoons

chili powder

1

teaspoon

paprika

1/2

teaspoon

ground cumin

1/2

teaspoon

garlic powder

1/2

teaspoon

onion powder

1/4

teaspoon

pepper

1/4

teaspoon

salt

1/4

teaspoon

cayenne pepper

optional
Additional ingredients:
8 - 10

small

flour tortillas

Extra cilantro & limes

Cilantro lime sauce

get the recipe

Salsa
Instructions
Preheat the ovan to 350°F.

To make the slaw, add the red cabbage, green cabbage, green onion, and cilantro to a large bowl.

In a separate bowl, whisk together the lime juice, olive oil, and a pinch of salt and pepper.

Pour the dressing over the cabbage mixture and toss to combine. Set this aside while you work on the fish. Be sure to give it a stir every few minutes.

To make the fish, pat it dry with paper towels, and place it on a large sheet of waxed paper.

Mix all of the seasonings for the fish in a small bowl, and sprinkle them liberally on top of the fish, gently rubbing it in as you go. Turn the fish over and repeat.

Place a large, non-stick skillet on the stove over medium-high heat.

When the pan is hot, add the olive oil and the butter.

Carefully lay the fish in the pan, and allow it to cook for about 40 seconds.

Continue to cook the fish until it has a dark (but not black) crust of color on the bottom. Gently rotate it around as it cooks to help it evenly brown. This process should take 2-3 minutes.

Gently turn the fish over and place the pan in the oven for 10 to 15 minutes or until the fish is cooked through and easily flakes apart. To be on the safe side, you can insert a meat thermometer into the thickest part of the fish, and it should register 130 - 135°.

To assemble the tacos, place a little slaw in the bottom of the tortilla followed by a few pieces of the fish. Drizzle with cilantro sauce and sprinkle with additional cilantro.

Serve with extra

cilantro lime sauce

, salsa, sour cream, lime wedges, and cilantro! Whatever you like!
Blackened Fish Tacos with Cilantro Slaw