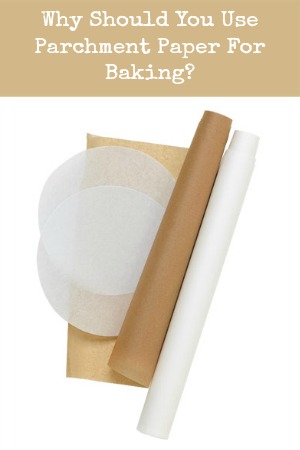 Now that Fall is almost here and I don't have to live in fear of choosing between a sweltering hot house or a $700 air conditioning bill, I will be doing quite a bit of baking (and posting those recipes here).
Parchment paper is a HUGE part of my baking life.  I do have a few Silpat sheets, but I really like parchment paper, especially when I am baking cookies. Parchment paper is cheap and unless I am baking something particularly ooey-gooey, I can usually use the same sheet for an entire batch of cookies
One of the biggest complaints that I get on some of my cookie recipes is that they spread too much and the recipe just didn't turn out right.  Whenever I get those complaints (especially on my Cherry Thumbprint Cookie recipe), my first question is "did you use parchment paper like I said to do in the directions?".  I would say that 99% of the time, the answer is "no - I skipped that step".
And here is where I want to get in to a very important point of any baking recipe that I post.  If I say "use parchment paper"...then USE parchment paper.
You see - people seem to think of parchment paper as just a "liner" for your cookie sheets and a way to to make clean-up even easier...and they are right that it makes clean-up a breeze!  Parchment paper will also help to preserve the life of your cookie sheets (because the oil is being absorbed in to the paper and not the cookie sheet).But beyond that, using parchment paper for baking serves an even bigger purpose.
Parchment paper stops cookies and other baked goods from spreading too much.
If you have a high-fat cookie recipe placed on a metal pan in a hot oven, the butter in the recipe is going to want to spread and get flat.  Parchment paper will stop that!
I was first introduced to parchment paper about 15 years ago when I was a representative for a well-known "home kitchen party" company.  One of our signature recipes was a brownie pizza cooked on a pizza stone and the VERY first thing that we were told was to use the parchment paper to cook the brownie crust.  This was before the days of Facebook groups and really much of the Internets, but I used to go to monthly meetings and hear stories of fellow reps who skipped the parchment paper and ended up scrubbing brownie batter off of the bottom of the stoves at their hostess' homes.
Parchment paper makes it much easier to remove your baked items from the pan!
Have you ever baked a cake and greased and floured the pan, only to have a huge chunk of the bottom of the cake stay in the pan when you inverted it? Or maybe you were making a caramel apple cheesecake in a 9"x13" pan or a candy apple pie in a springform pan and found it a  huge pain to get the slices off of the bottom of the pan?  Using parchment paper will help your baked goods to slide right out of the pan without damage!
So there is often a definite need for using parchment paper for baking!  If a recipe tells you to use it, please don't skip this step in order to save the $4/roll cost (that will cover about 25 cookie sheets).
Let me reiterate: If I say "use parchment paper"...then USE parchment paper.
One last thing - as more and more people are starting to understand the benefit of using parchment paper for baking, brands are coming out with pre-cut sheets that WILL make your life easier, but are priced much higher than if you just grabbed a roll of parchment paper and a pair of scissors.  While you can certainly buy them, just keep in mind that the pre-cut sheets are not the best bang for your buck!
Happy Baking!