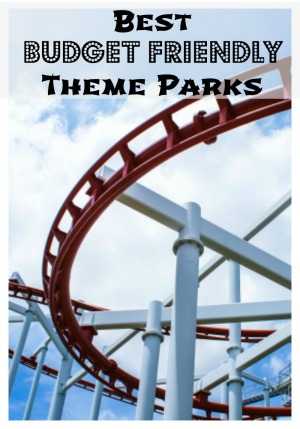 When you think of visiting a theme park with your family the term "budget friendly" typically isn't in your mind. I've compiled a list of the Best Budget Friendly Theme Parks to share with you in hopes to change your mind and revolutionize your summer vacations. Not only are these places great to visit and fun, the surrounding areas offer other reasonably priced attractions to build your vacation around. For the cost of one day at some of the larger national theme parks, you can get a season pass for some of these locations that will extend your time for not just one day but a week or even a repeat visit later in the year.
Magic Springs & Crystal Falls, Hot Springs, Arkansas: Nestled in the middle of the "Diamond Lake Community", is a hidden gem. Not only is this a fully functional theme park with roller coasters, extreme rides and all the traditional rides you would expect, they offer a full fledged water park adjacent to the theme park and it's all included in one low price. On top of these is their summer weekend concert series which has hosted top names like Phil Vassar, Three Days Grace and even Daughtry in years past. For only $79.99 you can have a season pass that will carry you throughout both parks and any concert you wish to see. The surrounding community has great food, lakes for boating and fishing, camp grounds, resorts and golf courses galore. Nestled in the middle of a National Park you will find an active art community, gallery walk and even traditional old school bath houses.
Knott's Berry Farm in Buena Park, California: Only a short drive from LA this fun family park has been around for years and is a much loved attraction. With all of the roller coasters, food and kid friendly rides you expect, it has become a must visit for anyone in the Southern California area. With adult ticket prices only $42 a day it falls in as one of the lowest priced theme parks in the nation. Live shows, kids rides, family rides, extreme roller coasters and even water rides all make this a wonderful family vacation destination.
Silver Dollar City, Branson Missouri: An experience unlike any other you will find everything from traditional roller coasters, to crafting areas and instructions, amazing food, hillbilly shows and every flavor of homemade candy and ice cream you can imagine. For $59 a day an adult can enter the park and ride and enjoy to their hearts content. Also available are great multi-park packages that include their water park and the local riverboat cruise. Branson is a hot spot for outlet malls and shopping, crafters, musicians and every musical show you can imagine.
Cedar Point, Sandusky, Ohio: With all of the fun rides, coasters and events you expect at a theme park nestled into the quiet state of Ohio – this location is perfect for families who don't want to travel as far and want a vacation that is reasonably priced. At $50 or less for a day pass, you can enjoy all of your favorite rides, the local small town feel and reasonable hotel rates that will save your budget and give you a vacation to remember.
Great Wolf Lodge, various locations: While it isn't a theme park like some, it is a great place to go for a fun water park adventure. The themed rooms, fun filled indoor water parks and great staff at these locations make it one we can't leave off of our list. Shopping sites like Groupon have routine sales on overnight stays that will help make this a reasonable vacation that is located all in one place. Pack your bags, arrive at the lodge and enjoy your stay without even needing to leave the building.
Just because it is a theme park doesn't mean it can't fit into your budget. Rather than paying $125 per person per day for a ticket, why not pay $150 for the entire family to visit a smaller but still great theme park. These are the best budget friendly theme parks we have been to and found to be clean, well laid out, quality and worth our money. Create a fun family adventure this year at one or more of these locations that your entire family will enjoy.
What parks do you have to add to the list?