I stinkin' love hummus because it is just so versatile.  It makes a great dip for vegetables, crackers and even chips!  There is just something about the creamy consistency (courtesy of the cannellini beans) that makes it just the perfect dip.
A traditional hummus is made from garbanzo beans and tahini, but there is no reason not to "play" with the ingredients and see if you can get something with that same wonderful consistency, but with a new flavor!  I have often used cannellini beans in place of garbanzo beans when I wanted to make homemade hummus and didn't have a can of garbanzo - and the taste is still there!
This broccoli hummus recipe is a great way to get some more vegetables in your diet and is a nice change from "regular" hummus.  If you use it as a veggie dip, you are literally dipping your veggies in to more vegetables.  Can't beat that, right?
If you are growing broccoli in your garden, this can be a great way to use some of your harvest.  My second choice would be to use fresh broccoli from the grocery store or farmer's market.  If all else fails, you can probably get some cheap frozen broccoli at the grocery store.
A few notes:
Since the garlic is raw, it is very prominent in this dip, so you might want to start with a clove. Roasted garlic would also be very good and would be more mellow in flavor.
You can use any kind of fresh herbs you like to give it a pop of freshness. Basil or cilantro are very good in this too!
The sour cream adds a creaminess to the dip, but you could also use plain Greek yogurt or even cream cheese.
You can make this as smooth or chunky as you like. We like ours to be very smooth and velvety, so I ended up adding about 3 tablespoons of water and some additional olive oil. You could also add extra lemon juice and/or sour cream.
And if you like to spice things up, you could throw some jalapeno in with the broccoli in the first step!
Scroll down for the recipe!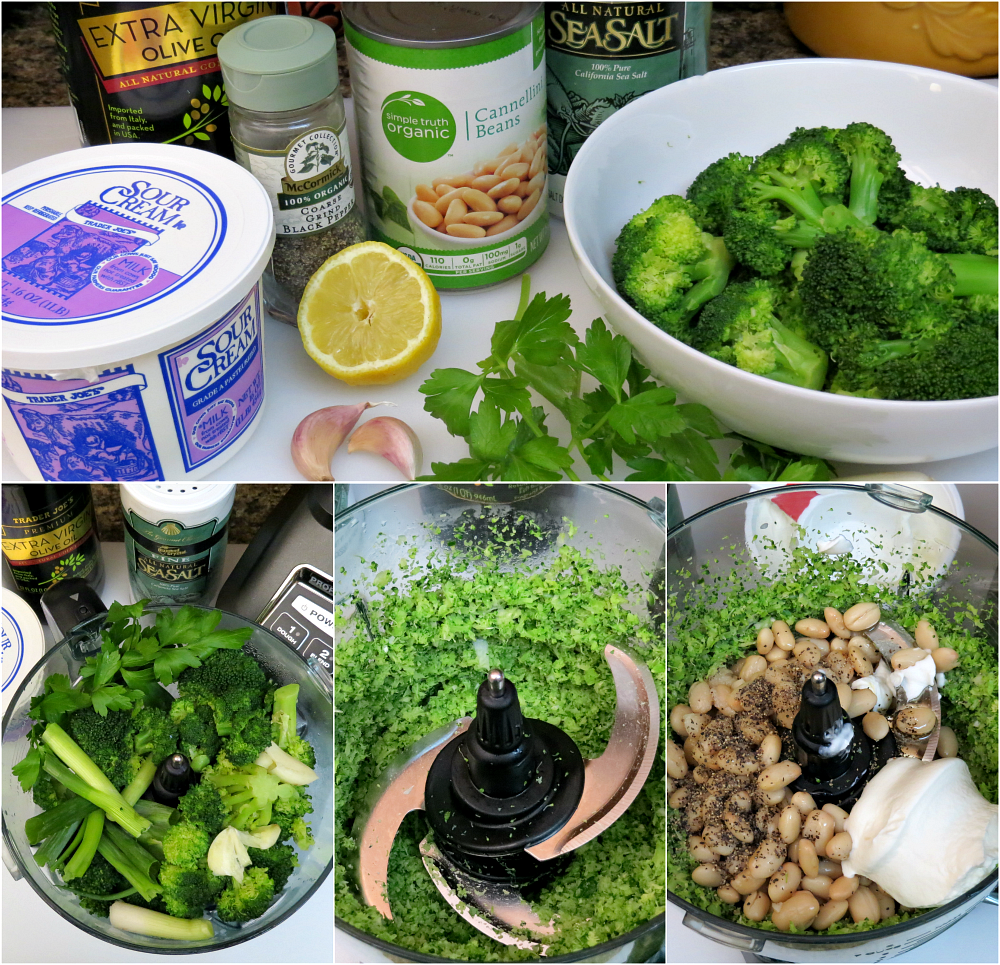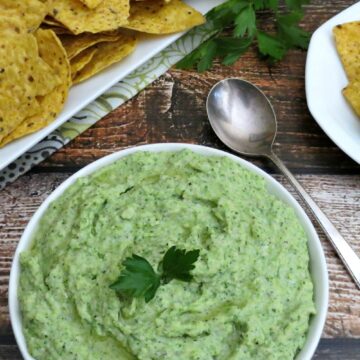 Broccoli Hummus Recipe | A Healthy Twist To a Favorite Dip
This smooth and creamy broccoli hummus recipe is a great way to add to more vegetables to your diet.
Print
Pin
Ingredients
12-

ounce

bag of fresh broccoli

steamed (appx. 2.5 cups)

1 15-

ounce

can cannellini beans

rinsed and drained

1

large green onion

2

small cloves of garlic

peeled

3-4

tablespoons

olive oil

1

tablespoon

fresh lemon juice

1/2

cup

full fat sour cream

Salt and pepper to taste

Small handful fresh parsley
Instructions
Add the cooked broccoli, green onion, garlic, parsley and lemon juice to your food processor or high-powered blender and pulse until completely broken down.

Add the beans, sour cream, olive oil and blend until smooth. If needed, add a little water to smooth it out, one tablespoon at a time.

Taste and add salt and pepper to your liking.