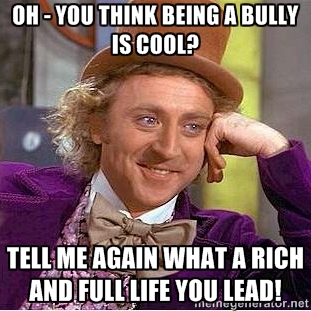 It's a well-known fact that bullying by and against children and teens is an epidemic in this country. As the victim of some serious verbal bullying back when I was in middle school (partly because I had some behavior issues and partly because I was a "poor kid" at a private school full of very wealthy students), I know how it can hurt.
Luckily in the (mumble mumble) years since I was in middle school, tolerance for bullying is at an all-time low, thanks to some high-profile cases.  As the mother of 3 children, all of whom are either in or entering the "prime bullying age", I am extremely grateful for this.  I am constantly watching for signs that my children are being bullied, especially since one of them had a "friend"  (more like a "friend of a friend", so they end up often in social situations together) that I know has been very unkind to him in the past.
But what happens when bullies grow up?
The internet, while a wonderful thing,  is a haven for mean-spirited people.  Read the comments on almost any Facebook page for a major news website and the hateful comments will make your blood boil.
Bloggers tend to get used to negative comments and trolls.  For the most part, we have no problem with someone disagreeing with us, as long as there is no name-calling. I have deleted very few comments in the almost 6 years that Moms Need To Know has been on The Internets...and each time it was because the person was attacking me or another member of the MNTK community personally.
You can disagree without being disagreeable.
But here is the thing - YOU are the one who decides if you are being bullied.  The bully only has power over you if you give it to them (I am talking about adults mostly.  In theory, children and teens don't have the brains or the self-confidence yet to understand this concept)
I know some bloggers who will take each and every negative comment to heart and be in tears and say that they are being bullied.  While I won't deny that is how they feel, it has always confused me.
They are just words on a screen. Written by a coward who would likely never say the same thing to your face. You have a delete key - just use it and move on with your business and life
They are called trolls for a reason - because they are mean and ugly people. Even if they have an absolutely gorgeous appearance on the outside, their words and actions show what small and pathetic lives that they must lead if the way that they make themselves feel good is by trying to tear others down.
Why spend time worrying what someone like that thinks about or types to you?
Recently, I have my own little troll who has been writing lovely comments on this site about how he hopes I get cancer (he REALLY wants me to get cancer - even emailed me through my contact form to make sure I knew about it!) and how he hopes that my children kill me and then get gunned down themselves (of course, AFTER I get cancer).
He's a butthead, as are the ones like him that came before him (and the ones I am sure there will be again at some point in the future).
But because *I* have the power to decide how his words affect me, I decided to turn them in to a positive.  I have shared his comments with my child that I see as being at the greatest risk of being bullied.  I told my son "See what this person wrote?  That's pretty mean, isn't it?  But here is what you do about it!".
And then I hit the delete key.
They are just words. Words can only hurt you if you let them.