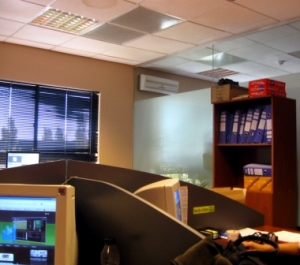 Working in an office environment is not always fun. The majority of the time you will have at least one or two folks that didn't get the company memo on basic business etiquette. Rude behavior is nothing new, of course, but it seems somehow amplified in an office environment…perhaps it is because of the cubicles and tiny corners. Whatever the case, there should be some rules.
In fact, I am going to create some right now. Here are my office rules of etiquette...ignore them at your own risk:
You may not chew, smack or pop your gum loudly: I understand that your mother might have done it and that making that popping noise makes your nerves calm down, but in a tiny office it can make people a bit nuts. Just say nay.
Inappropriate conversations on the phone are not allowed: As much as I would love to hear about your husband's erectile dysfunction, I think that is a conversation best left for home. Please?
Job updates are to be kept in the strictest confidence: Unless the job being lost is mine, I truly don't want to know about Bessie in accounting losing her job two months before she was supposed to retire. How can I look her in the eye again and not say anything? Keep these things to yourself like they told you to.
There will be no passing gas or loud burping in tight places: Unless your cubicle has an open window with an exhaust fan, I highly suggest you take your smelly self to the bathroom like an adult. Some people might not want to inhale your toxicity.
If you must gossip, do it with everyone: The only thing worse than a gossip is a lying gossip. If you are going to talk about people, do it directly to them and in front of everyone. At least then you won't be doing it behind their backs. This also means the office gets to watch the drama unfold. Actually scratch that - just DO NOT GOSSIP.
Don't bring your pets to work: Sally bringing her pet iguana to the office opened the door...everyone else thought that because she brought her lizard, they could bring their pets. The next day, James brought his ten foot python. It ate Sally's lizard.
What is the lesson here?
That's right...leave your pets at home or they might eat someone else's pet….or…..leave your pets at home because….do I really need to spell it out for you?
Everyone has their own pet peeves about office behavior and these are mine.
If you have others you would like to add to the list, by all means share them in the comments section below!