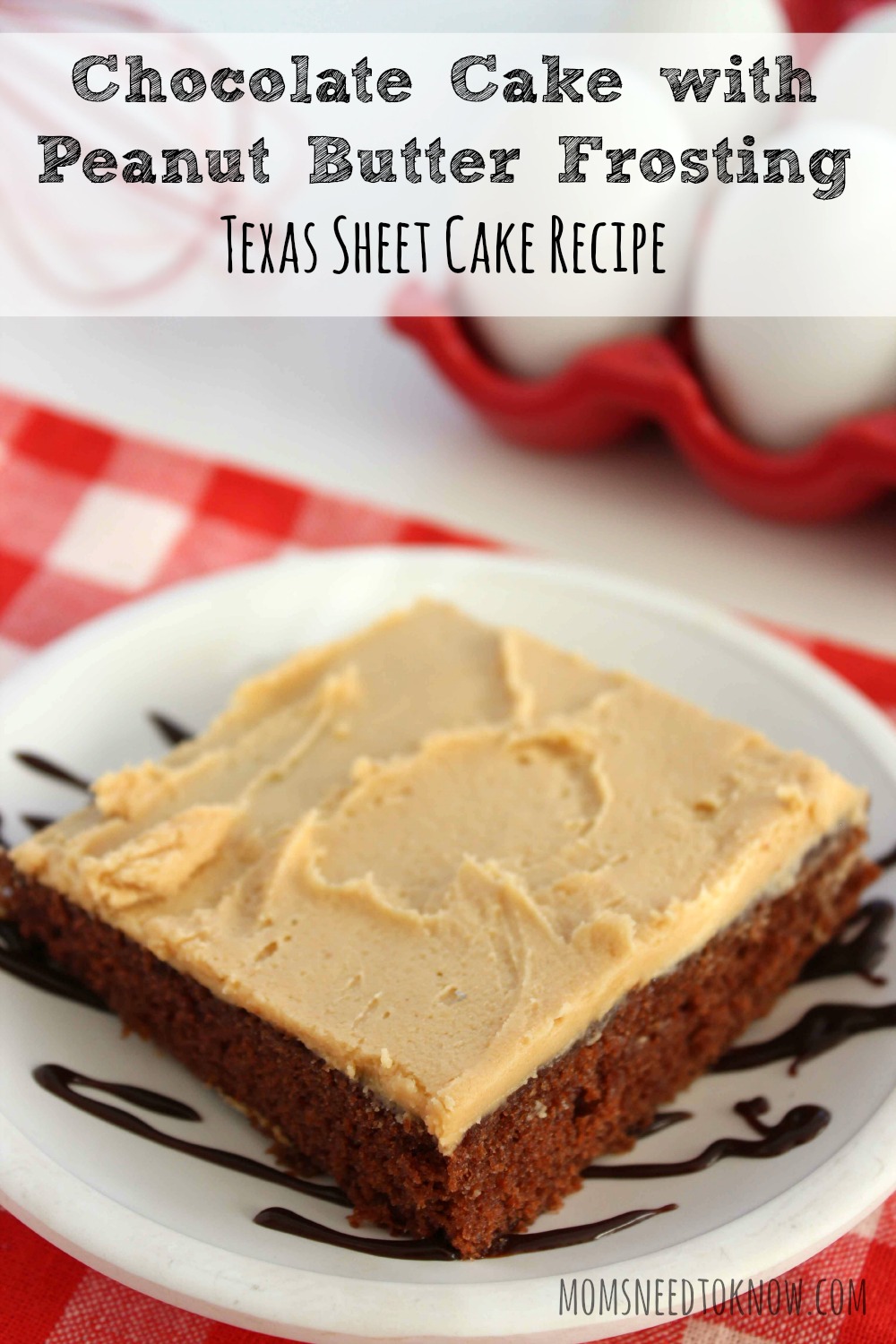 They say that everything is bigger in Texas and I guess that includes the cakes!  I grew up calling this "funeral cake" or "church cake" because it is designed to serve a crowd and it does!  I was slicing helping out at a luncheon once and said "I'll slice the funeral cake!" and was promptly told that the more common name for it is "Texas Sheet Cake".
Yeah - I guess that DOES sound better than "funeral cake"!
Anyway - this chocolate cake recipe with peanut butter frosting is the perfect amount to fill up your 15" x 10" jelly roll pan.  It is a "short cake" (the sides of a standard jelly roll pan are only 1" tall) but it is a great way to get a lot of cake to a lot of people!
Why peanut butter frosting? Because is there any better flavor combination than peanut butter and chocolate? Like many people, I kinda have a "thing" for that combo, whether I am making m easy Buckeyes recipe or going totally indulgent and making my Oreo and peanut butter stuffed brownies!
If you don't want to make a sheet cake, this chocolate cake recipe works perfectly fine as a "regular" cake or even cupcakes! It is about the same amount of cake batter as you would get from a regular boxed cake mix (maybe a little more). You will just need to adjust the baking time!
Scroll down for the complete directions!
Chocolate Cake With Peanut Butter Frosting | Texas Sheet Cake Recipe
By Mindi
This chocolate cake with peanut butter frosting is the perfect combination of 2 beloved flavors. Make it as a sheet cake to serve a crowd or just in to cupcakes for your family!
Preparation Time - 15 minutes
Cooking Time - 20 minutes
Ingredients
For the Cake
2 cup Flour

2 cup Sugar

1/4 tsp Salt

1 cup Butter

4 tbsp Cocoa Powder

1 cup boiling Water

1/2 cup Buttermilk (or if you don't have buttermilk, 1/2 cup Milk + 1 tsp white Vinegar)

2 beaten Eggs

1 tsp Baking Soda

1 tsp Vanilla
For the Frosting
1/2 cup butter, softened

1 cup creamy peanut butter

3 Tbsp milk

2 cups powdered sugar
Directions
Preheat oven to 350.
Spray an 15x10 sheet cake pan with nonstick spray.
Combine flour, sugar, and salt in a large bowl.
Melt 1 cup of the butter over low heat in a medium pan.
Whisk cocoa powder into butter until blended.
Add boiling water and raise heat to medium high.
Bring to boil then turn off the heat.
Add mixture to flour mixture, and stir lightly until well distributed.
If you don't have buttermilk combine 1/2 cup milk with vinegar and allow to sit for 5 minutes
Whisk together buttermilk (or the "homemade buttermilk"), eggs, baking soda, and vanilla.
Add to chocolate mixture and stir briefly to mix.
Pour into prepared pan.
Bake 20 - 25 minutes or until toothpick inserted in middle comes out clean.
Allow to cool for at least an hour
Cream together the butter and peanut butter.
Slowly add in the sugar, and continue beating until the frosting is light and fluffy. If the frosting is too thick, add up to 3 Tbsp of milk
Spread frosting all over the top of the cake.