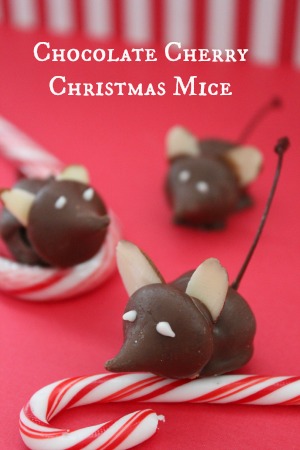 The combination of cherries and chocolate is one of my favorite flavor combos and these Cherry Chocolate Christmas Mice take care of that craving quite nicely while looking so cute on any cookie tray!
This is another Christmas treat that you can easily make with your children. They will love swirling the cherries in the chocolate and helping you unwrap the Hershey Kissess (and will probably sneak a few for themselves).
Dipping fruit in chocolate is a little different than dipping cookies, etc (like my Oreo Truffles recipe). The reason is that fruit, especially when you keep it in the refrigerator and then pull it out to use, tends to have more moisture on the outside. That moisture will almost "repel" the chocolate when you try to coat the cherry. Of course, you are going to want to rinse your cherries before you coat them with chocolate - just make sure that they are completely dry and at room temperature and you should be fine!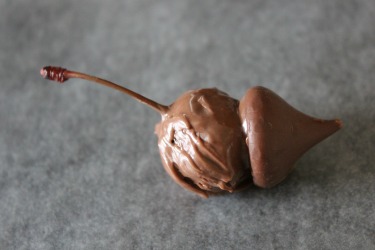 To make Chocolate Cherry Christmas Mice you will need:
INGREDIENTS
12 drained Maraschino Cherries with stems
12 Hersheys Kisses
1/2 cup Light Cocoa Candy Melts
1/8 cup White Candy Melts
24 Almond slices
See below for the complete instructions!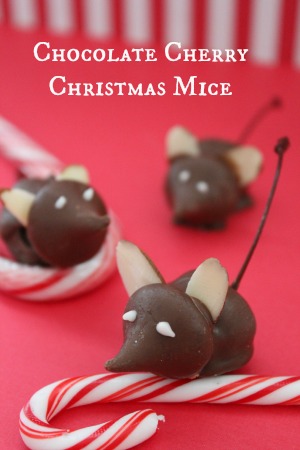 Ingredients
12

drained Maraschino Cherries with stems

12

Hersheys Kisses

1/2

cup

Light Cocoa Candy Melts

1/8

cup

White Candy Melts

24

Almond slices
Instructions
Heat Light Cocoa Candy Chips in small bowl by microwaving for 30 seconds stirring and repeating until melted.

Hold cherry by stem and dip in chocolate making sure to get complete coverage

Place bottom of cherry against bottom of Hershey Kiss and place on wax paper.

Gently insert 2 Almond slices between the cherry and the kiss to create ears.

Allow to cool and set and refrigerator for 5 minutes.

Heat White Candy Chips in small bowl by microwaving for 30 seconds stirring and repeating until melted.

Using toothpick, gather up small bit of melted white chocolate and paint on each eye.

Allow chocolate to set.
Nutrition