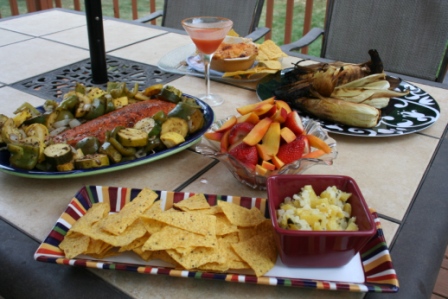 I recently had the opportunity to get together with some of my favorite Philly Bloggers as part of a campaign with Lawry's.  We are participating in a national recipe contest as "Team Philly" and our challenge was to come up with some new recipes for a "Holiday Dinner".  Seeing as it is still summer and we are in the heart of Grilling Season, we decided to design a couples-themed Labor Day party!
The requirements were to come up with an appetizer, a main dish and a dessert.  However, since this was also a get together with some of my favorite Philly Bloggers, we decided to go above and beyond and have a little extra fun!
The menu: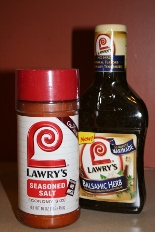 Cheesy Baked Artichoke Dip
Cedar Plank Salmon with Grilled Vegetables
Grilled Corn - see recipe below
Sweet and Spicy Peaches and Strawberries - see recipe below
Lawry's Sweet and Seasoned Surprise - see recipe below
I have to admit, the thought of creating a dessert and our little "add-on" of a cocktail was a little strange to me.  When I think of Lawry's, "sweet" is not a word that typically comes to mind.  I was pleasantly surprised by the Peaches & Strawberries and BLOWN AWAY by our cocktail!
Make sure that you check out Moms Need to Cook for the Cheesy Baked Artichoke Dip, Pineapple Salsa and Cedar Plank Salmon with Grilled Vegetables recipes
Corn on the Cob
Remove outer layers of corn husks
Soak corn in cold water for 20 minutes
peel back husks and dribble olive oil and shake on Lawry's seasoned salt
push corn husks back around cob and grill for 20-40 minutes, turning every now and again
remove corn and serve
Sweet and Spicy Strawberries and Peaches
1 lb strawberries
3 fresh local peaches
1 tbsp sugar
½ cup water
cut tops of strawberries and slice peaches into slices
marinade in water, marinade, and sugar
place in foil and grill for 5-6 minutes
serve with vanilla ice cream or greek yogurt

Lawry's Sweet & Seasoned Surprise
2 oz tequila
2 ½ teaspoon sugar
½ cup frozen strawberries
1/2 cup frozen pineapple
1/2 cup frozen peaches
Juice of ½ Lemon
Mix above in a blender.
Pour some Seasoned Pepper on a plate
Wet Margarita glass with a lemon and dip in Lawry's seasoning
Enjoy this salty and sweet drink!
The Giveaway
Lawry's is offering one reader a giveaway package with: 16 oz Seasoned Salt, Balsamic Herb Marinade and a Seasoned Salt Marinade. YUMMY!!!
To enter: Leave me a comment! Tell me which recipe we made that you would try.
This giveaway will remain open until Saturday August 20, 2011 at 12:00pm EST at which time I will pick a winner using the And The Winner Is plugin.
Disclosure:  I was compensated for my participation in this campaign