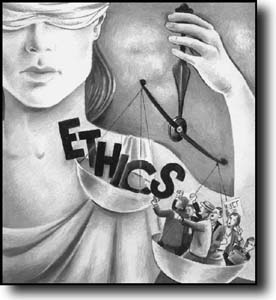 Remember the saying "one bad apple destroys the whole bunch"?  Well, there are a bunch of bad apples out there and they are messing it up for many of us!
What are these people doing?
Counterfeit Coupons: 
last summer someone took a Target Printable that was good for $5 off any $25 toy purchase and Photoshopped it so that it was good for $5 off ANY purchase.  Before Target knew what was happening, they had been printed and redeemed by the thousands.  The fallout from that is still being felt by many Target shoppers as some cashiers still misinterpret the "don't take that particular coupon" rule in to "don't take any Internet Coupons".
Recently a friend emailed me coupons that were good for a FREE 1lb box of Velveeta as well as a FREE roll of Reynolds Wrap.  They were in PDF form and with no expiration date and she wanted to know if they were real.  The problem is, they were scans of a 20-year old coupon and anyone using them would be committing Coupon Fraud (whether they knew it or not).  After a bit of digging on the Internets, I found that these coupons made the rounds a few months ago and many people walked out with bags full of free Velveeta and Reynolds wrap.....and the stores won't get reimbursed one dime! (for more info on that coupon, click here)
Then there were the $5 coupons that were on Facebook a few months ago.  They got pulled very quickly but I think that was the time that my Acme started being extra-cautious about IPs.
Photocopying Internet Coupons:
As you might imagine, I tend to make couponing converts in my offline life.  One day one of my friends mentioned a coupon that I had linked to and was so excited because she had made 20 copies of it so that she could build her stockpile of that item.  I had to give her the bad news that using photocopied Internet Printables was a form of fraud. Internet Printables usually have a limit of 2 prints per computer, so the only way to legally get extra copies of the coupons was to find extra computers.
Self-Checkout scams:
Do you feel like you are scrutinized more at self-checkout more than when you go through a line with a cashier?  Blame it on the people who will, for example, scan their $2 Pampers coupon but put a coupon that they don't want/need in the slot (allowing them to keep the Pampers coupon to use again).  I haven't seen it done yet, but I've had quite a few people tell me that they have seen it happen!
Barcode Decoding:
I will talk about this more this week (probably Wednesday), but this is a serious issue that is getting more press (in that it is being promoted as a fine thing to do).  I have to tread gently on this issue because there is a way to do it that is borderline-acceptable and a way to do it that is just plain wrong.  But I am of the opinion that, no matter what the barcode says, the wording of the coupon is what matters.
So what can you do?
Try not to "fly under the radar" when using your coupons.  I try to shop at the same time of day at my local stores so that I usually am dealing with the same managers and cashiers.  I have been using coupons on a large scale for so long that I hope that I am seen as "one of the good ones" and as a person that they don't need to suspect (at least, that is how I am treated at 3 of the 4 local stores).
Remember the saying "if it seems too good to be true, then it probably is".  The scans of the Velveeta & Reynolds coupons should set off alarms in your head.  A $5 Pantene coupon is the stuff dreams are made of (at least - MY dreams).  These are the ones that usually end up on a sign at every cashier station that says "DO NOT ACCEPT!"
Be suspicious of any coupon sent to you in PDF form.  With the exception of the Rite Aid $5 off $25 coupons (and a coupon that an olive company had on their site a few months ago), PDF coupons are almost always unauthorized and can get you in to trouble.  Most manufacturers make their coupons available directly through their websites, through online coupon printers or through SmartSource.  Target makes their coupons available both through their website and with deals with other sites like A Full Cup and Hot Coupon World.
Speak up!  If you hear of someone photocopying Internet Printables, let them know that they shouldn't be doing it (but be nice - they may not know what they are doing is wrong).  If you see someone "switching" coupons at Self-Checkout, tell the attendant.  I know that the second one may seem like a hard thing to do, but the benefit is twofold:  you are helping to prevent fraud and it might reinforce to the store employees that you are an honest couponer.
Have you done anything to help reduce fraud?  Spoken to anyone about any of these issues? (or is any of this something that you didn't realize was wrong?  Post it in the comments!