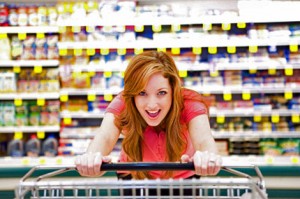 I am writing this post a few minutes after I posted it on Angelique's post explaining her Extreme Couponing Haul. For obvious reasons, she has comments on moderation. If she approves my comment, I will be thrilled. If she doesn't, I understand. Either way - I hope that she takes my comment to heart. And if any of my readers have any thoughts about being on THAT show, I hope that you will read this and reconsider. TLC doesn't give a rats retina about the people they show on Extreme Couponing. They care about ratings!
So without further ado (and that was already too much ado), here is my comment on Angelique's post:
Angelique….

Having had 3 kids myself, I can certainly understand "pregnancy brain" and I am CHOOSING to believe that you didn't knowingly purchase counterfeit coupons. Coupon ethics is something that I am completely passionate about and from watching your episode, this seems to be the only issue.

My concern is not with you, but with TLC. They KNOW that this sort of stuff is going on. The Quilted Northern coupon was pointed out as fraudulent last season by many blogs and I know that the CIC contacted TLC about it. A "lightbulb" should have gone off in the producers' heads when you were doing pre-tape prep…"Hey – she has a bunch of free QN coupons…weren't there problems with these last season? Let's check it out before we film and air it!".

Instead, TLC takes the position of "we just film it..it is up to participants to make sure they are doing things right". Basically – they throw you under the bus, let the bus back over you, then put it back in to forward.

The problem is, if you watch EC, you notice a pattern…people say "I've been doing this for 6, 9 ,12 , 18 months". If they don't run a blog (and many EC people didn't until AFTER the tape stopped rolling), they don't know about the rampant coupon fraud out there and how they were an unwilling participant ON CAMERA. But the people at TLC DO know that they have been filming coupon fraud since Episode 1, Season 1 (yes - I am talking about you Ms. Kirlew…it's just a shame that my good friend Tiffany and her husband Paul are forever tied to that scammer by that episode)

TLC doesn't care. I hope you will speak out about the pressure to have outrageous transaction "no matter what" (after your confidentiality clause has expired, of course)

Not sure if you are moderating comments or not…but if you are, I don't really care if you make this comment public, but I hope you take my comment to heart!
Ok - so I really didn't (and don't) care if she approves my comment on her personal blog (which I am sure TLC is reading and she now needs to "cover her butt" and NOT talk about the pressure to do "her biggest shopping trip EVER"), but I DO hope that she (and every other person thinking about applying to be on Extreme Couponing) will take this to heart.....
Producers looking to do a segment on Extreme Couponing don't care about you. They don't care about how you will be portrayed. They are interested in ratings.  So if you are thinking about applying for a season of Extreme Couponing, or responding to a casting call for a show that wants photos of your stockpile (to make sure that they are "massive enough") before they will talk to you? Think again! They will throw you under the bus and move on to the next couponer looking for their 15 minutes of fame.
And it's a shame...TLC had an opportunity to really TEACH people (you know - the whole "Learning" part of "The Learning Channel"?). Instead, they chose to promote fraud!
It's time to bring back SANE couponing!
as an afternote: I have been lucky to work with some WONDERFUL newspeople and producers in the Philadelphia area (I big puffy heart Amy Buckman...she is a couponer herself. Ukee Washington is a complete sweetie who is just happy to pay less than $7 for a Gillette Fusion...SO cute..when he could be getting them FREE!)
NOTE: since I started typing this post, I received an email from Angelique. As many of you know, I am prone to believe the worst in people (not an attractive trait, I know...I try to overcome it occasionally...usually at Christmas or when Brad brings home flowers), but in this case, I believe her. I won't betray the confidence of our email, but I will say that I believe that she is just another victim of TLC and Extreme Couponing!