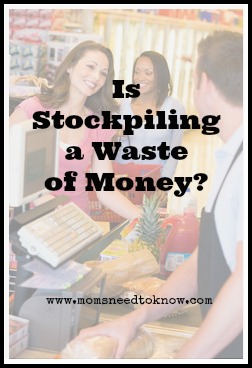 I saw this comment on one of my friends Google+ posts the other day (make sure to add me to your Google circles!):
Stock piling is just a waste of money and a sign of greed. best way to live simply is to buy when needed and not before
I have to say, I can't disagree with this statement more, but I can see why someone unfamiliar with responsible couponing would think that.  The media is full of "Extreme Couponing" images of people with stockpiles of 500 bottles of laundry detergent, overflowing shelves of toothpaste, etc. But that isn't really "stockpiling" - that is hoarding!
Saying that stockpiling is just a waste of money is just ridiculous. And saying "best way to live simply is to buy when needed and not before" is simply financially irresponsible!
What is stockpiling?
Stockpiling is stocking up on those items that you will need and use when they are at their lowest possible price. This could be with or without coupons.
Responsible stockpiling is only buying enough of those items to get you through until the next time you will be able to get it at the lowest possible price. Groceries, personal care items and household items typically have "sales cycles" of 6-12 weeks....meaning that they will be at their lowest price every 6-12 weeks. In addition, certain products are cheaper certain months of the year due to national promotions such as "Frozen Food Month", January sales on diet foods, etc.
For instance, before I started doing the bulk of my shopping at Wegmans (where boneless skinless chicken breasts are ALWAYS $1.99/lb) and Aldi, I would buy up to 20 lbs of boneless skinless chicken breasts whenever they were on sale at $1.99/lb at my local grocery store. I would bring them home and separate the chicken in to 1 - 1.5 lb portions, place each in a freezer bag and throw them in the freezer. This would give me 12-14 meals where I only paid $1.99/lb for the main protein in our meals.
Let's say that I agreed with this woman and thought that I should buy what I need when I need it?
That means one week, I spend $1.99/lb for chicken for our meals for the week. For the next 10 weeks, I would be at the mercy of the grocery store prices, paying anywhere from $1.99/lb to $5.79/lb (the "regular price" for chicken breasts at many of the local stores).  I would only be really saving money on meat a few weeks a year.  Shopping that way may keep my freezer less full, but my wallet will certainly be less full as well!
The same goes for cereal, pastas, toothpaste, shampoo, etc.  I can "live simply" and only buy what I need when I need it, or I can use coupons at the grocery and drug stores and always keep a 6-week supply of the things that we use and save a ton of money!
The ONLY way that I can see this woman's point is if I were stockpiling things that my family does NOT want or need...simply because it gives me a thrill to get great deals.  Fortunately, that is not how I shop/stockpile and certainly not what I teach on this site.
So what do you think?  Do you agree that stockpiling is sign of greed or a waste of money?