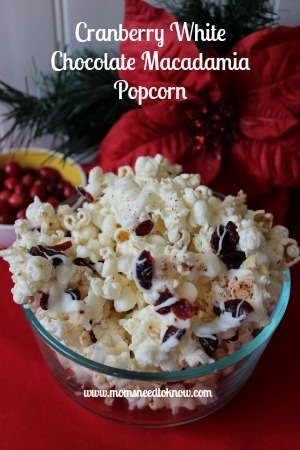 If you are looking for a nice sweet and savory snack for the Fall, look no further than this Cranberry White Chocolate Macadamia Popcorn! This is so stinkin' easy to make and I just love the combination of white chocolate and cranberries. Make sure to buy the salted macadamia nuts (if you can handle salt) to get the full effect of the sweet & salty goodness of this recipe!
To make it, you will need: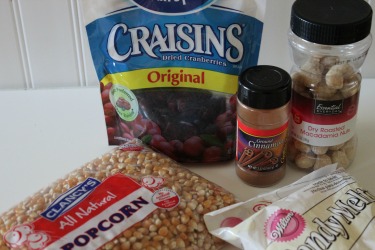 INGREDIENTS
6 cups Freshly Popped Popcorn (use air-popped or pop kernels in coconut oil for the best effect)
1 cup White Chocolate Melts
1 cup Craisins
1 cup Macadamia Nuts
1 tsp Cinnamon
DIRECTIONS
Spread popcorn on a parchment-lined baking sheet.
Heat white chocolate by heating at 50% power for 30 second intervals and stirring until melted.
Evenly spread white chocolate over popcorn
Evenly spread craisins over mixture.
Spread Macadamia nuts over mixture.
Sprinkle Cinnamon over mixture.
Allow to set and then break into pieces.
Enjoy!