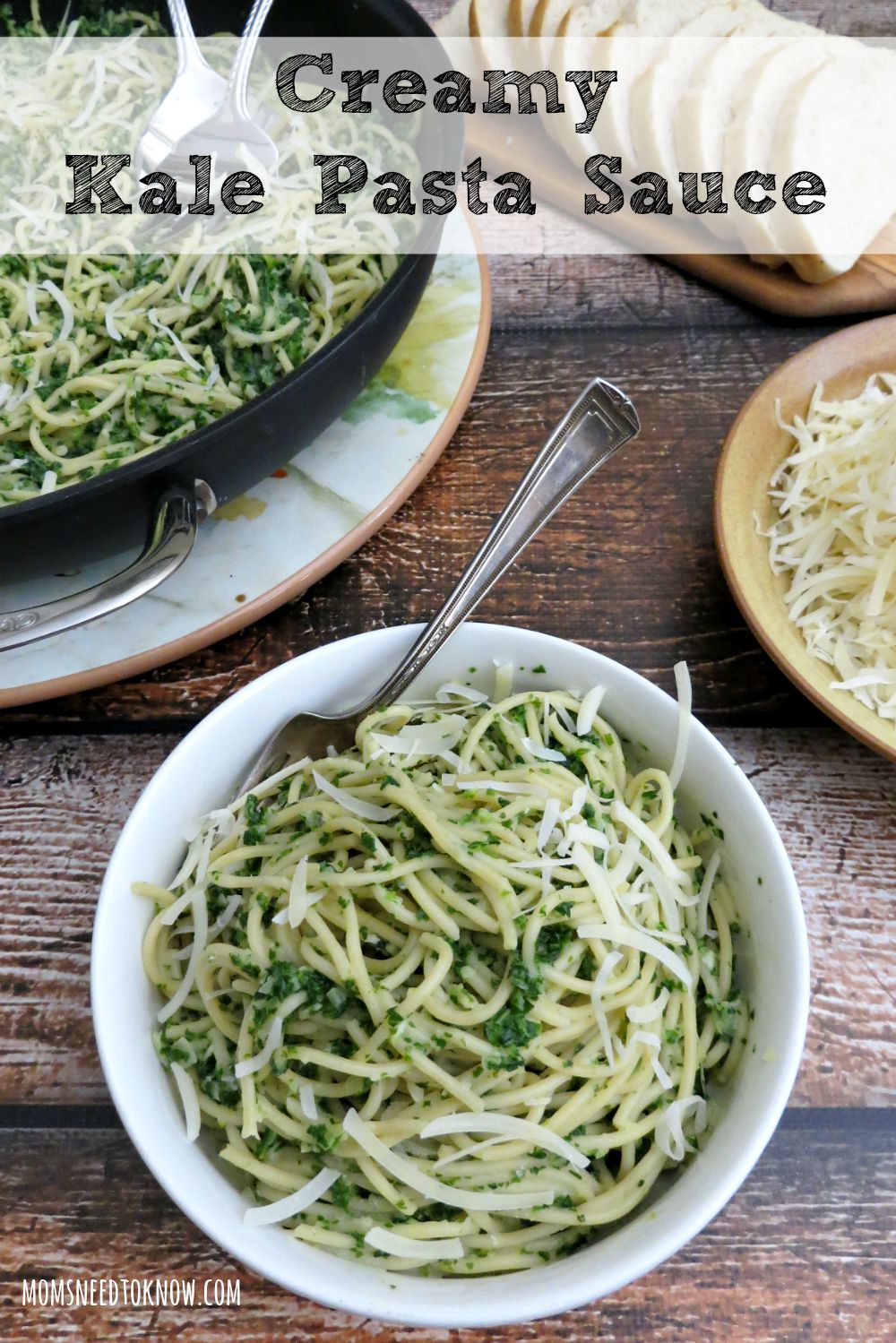 Remember back when nobody had heard of kale, nobody was eating it and people certainly weren't trying to figure out how to sneak it in to every recipe? Back when even the television show "Cheers" was making fun of kale? Well - those days are over!
I admit that I was slow to like kale, but everyone was telling me that I HAD to be eating it. I started making my homemade kale chips. This recipe is just a variation of another pasta sauce that I love to make....but instead of the spinach that I normally use, I used kale! I think I still prefer it made with spinach, but the kale was a nice variation.

Go ahead and play with the recipe to suit your individual taste by adding more or less garlic, butter and Parmesan cheese. I usually DO add more garlic than I list in the recipe, but we REALLY like garlic in our house!
Just a note: The kale will release quite a bit of liquid, so it's important to undercook your pasta. As the pasta cooks in the sauce, it will soak up most of the liquid without becoming overcooked.
For a variation, you can also stir the pureed sauce, butter, half & half and cheese in to rice for a creamy kale rice dish! Want to add some meat to it? Toss in some grilled chicken or shrimp!
Scroll down for the recipe!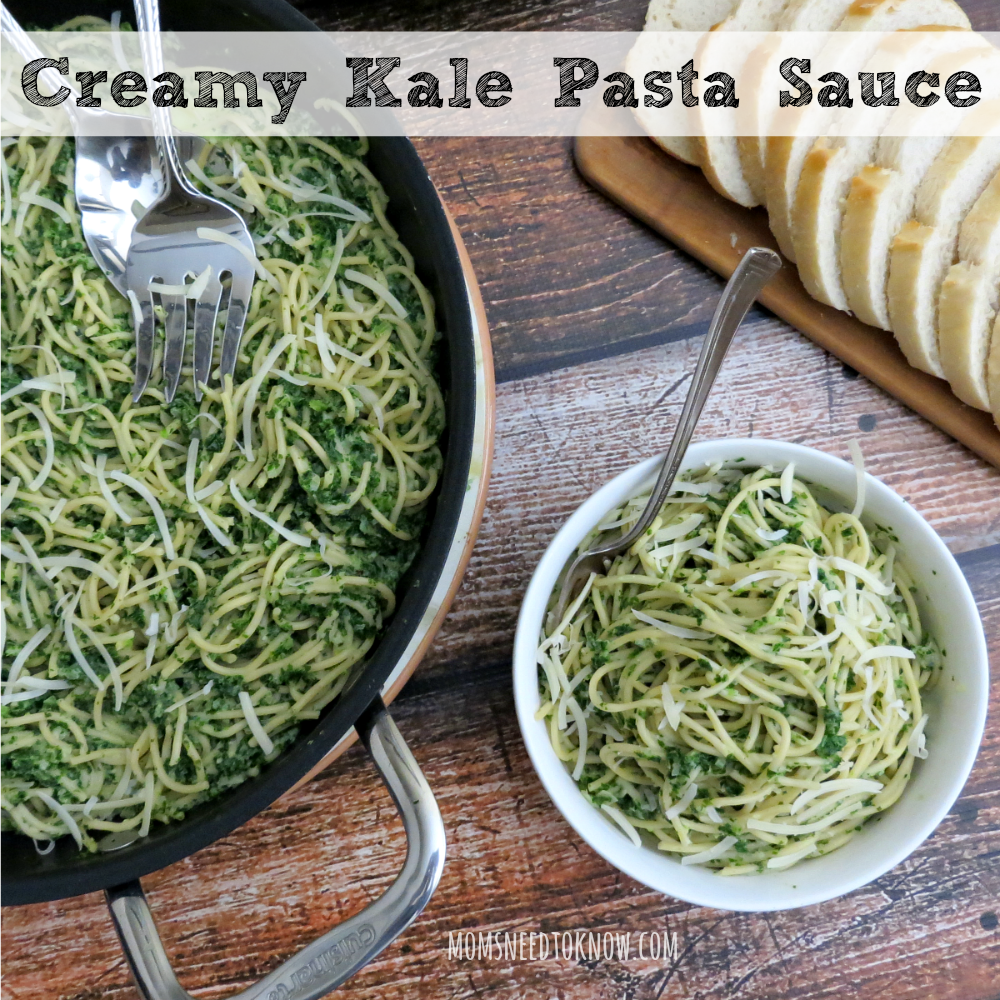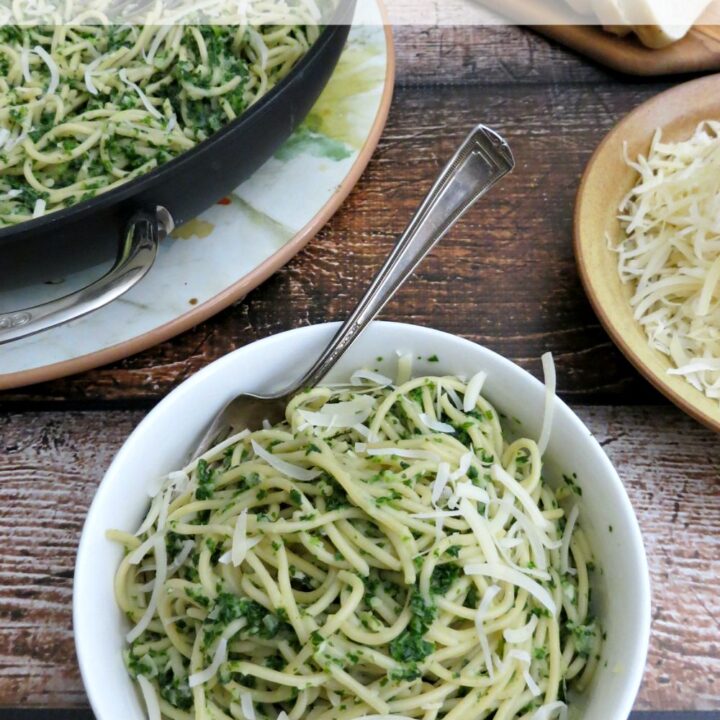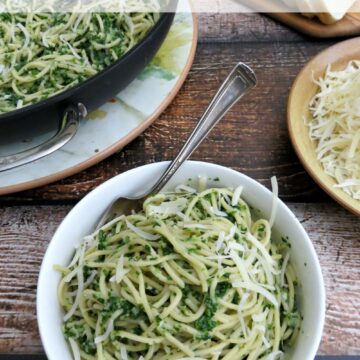 Creamy Kale Pasta Sauce
This creamy kale pasta sauce is a great way to get more of this superfood in your body! You can even substitute spinach for the kale for an equally delicious sauce!
Print
Pin
Ingredients
12-

ounces

spaghetti or linguini noodles

10-

ounces

kale

approximately 5 cups loosely packed

1

large onion

diced

4

cloves

garlic

minced

3

tablespoons

olive oil

3

tablespoons

butter

2

cups

chicken or vegetable broth

1

cup

freshly grated Parmesan cheese

1/2

cup

half & half

salt and pepper to taste

1/2

teaspoon

crushed red pepper flakes

if desired
Instructions
Cook the pasta according to the package directions making sure to undercook it by 2-3 minutes. Drain and set aside, reserving one cup of the pasta water.

If using large kale leaves, remove the tough stems and chop into bite-size pieces. If using pre-chopped, bagged kale, I suggest going through to make sure it doesn't have any stems.

Heat the olive oil in a very large skillet over medium-high heat and cook the onion until it's soft, about 4-5 minutes.

Add the garlic and cook 1-2 minutes longer or until it's fragrant.

Turn the heat down to medium, add the kale and one cup of the chicken broth and cook until the kale is wilted, about 4-5 minutes.

Carefully transfer everything from the pan into a food processor or powerful blender. Add the remaining chicken broth and the Parmesan and blend until completely smooth, adding a bit of the pasta water as needed.

Return the pureed kale sauce back to the pan and bring to a simmer over medium-low heat.

Turn the heat down to low and add the butter, half & half and some extra Parmesan, if desired. Stir to combine and heat through but do not let this boil. Cook for 1-2 minutes.

Taste and add salt and pepper to your liking. You can also add the crushed red pepper if you want some extra heat.

Add the pasta to the sauce and toss to combine. Continue to cook this, tossing frequently until the pasta has absorbed most of the liquid.

Serve immediately with extra Parmesan!