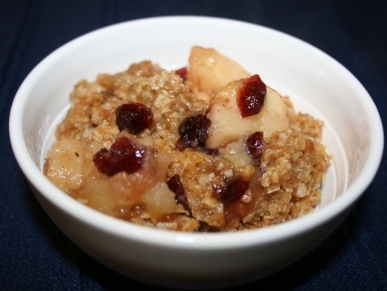 It's been a snowy day and apples have been cheap recently, which to me just screams "Crock Pot Apple Crisp".  I wanted to make something special for the kids for after dinner tonight and apple crisp is always a big hit in our home!
This a sweeter version of apple crisp than many people are used to, but it is how my children love it! you can easily reduce the amount of brown and white sugar in the topping….just make sure that you reduce the amount of butter as well. Not a fan of dried cranberries? Experiment with different dried fruits or just leave them out altogether!
Recipe: Crock Pot Apple Crisp With Cranberries
Ingredients
5 large or 6-7 medium Granny Smith apples, peeled and chopped
2/3 cup dried cranberries
1/3 cup sugar
1 T cornstarch
1 tsp ground cinnamon
1/2 tsp nutmeg
Topping (crisp)
2/3 cup Graham Cracker Crumbs
1/3 cup flour
1 cup old-fashioned oats
1/2 cup brown sugar
1/2 white sugar
1 tsp cinnamon
1 stick + 2 T butter
Instructions
Peel and chop the apples and place them in a 4.5 Qt. slow cooker (crock pot). Add the dried cranberries and stir to mix.
In a small bowl, combine 1/3 cup sugar with the cornstarch, 1 tsp ground cinnamon and 1/2 tsp nutmeg.
Pour mixture over the apples & cranberries and stir to mix
To make the topping:
Place all dry ingredients in a bowl and stir to mix
Melt butter and pour the melted butter in to the dry ingredients
stir mixture with a fork until all dry ingredients are moistened by the butter.
Spread topping over the apples and pat down flat.
Place two paper towels across the top of the slow cooker and put the lid on the slow cooker (this will help collect some of the condensation so that your "crisp" doesn't get too soggy)
Cook on low for 3 hours or high for 1.5 hours.
Remove the crock pot from the heating unit, remove the lid and allow the apple crisp to cool for 20 minutes. This will also allow the crisp to harden up a bit more.
Serve and enjoy!
Quick notes
serve with vanilla ice cream, whipped cream. Yum!
This recipe is so stinkin' easy and delicious - would love to know if you made it! Or do you have a favorite Crop apple crisp recipe?