This raspberry-studded pound cake recipe is fabulous not just for breakfast, but also as a dessert or as a simple snack. Make sure to check out the variations below!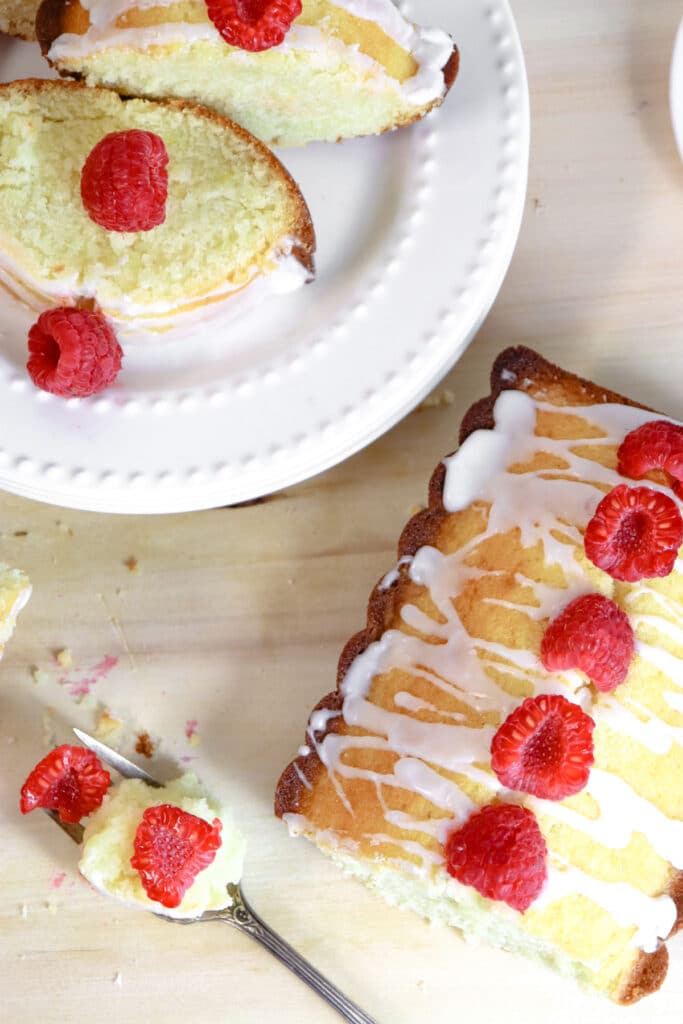 Why I Love This Raspberry Breakfast Cake
I am very picky about treats. If I am going to use up my calories on a dessert, it's got to be something really good! This raspberry coffee cake is moist and sweet, yet not too sweet. The raspberries provide just a hint of tartness.
Which Size Baking Pan?
This recipe calls for a Rehrucken cake loaf pan (also known as an almond cake pan), which is obviously not pan that everyone has in their cupboards. I like to use that pan when I am making this recipe for a crowd because I think it looks prettier.
You can use any long loaf pan and the baking time should be the same. If you want to bake it in an 8"x8" pan.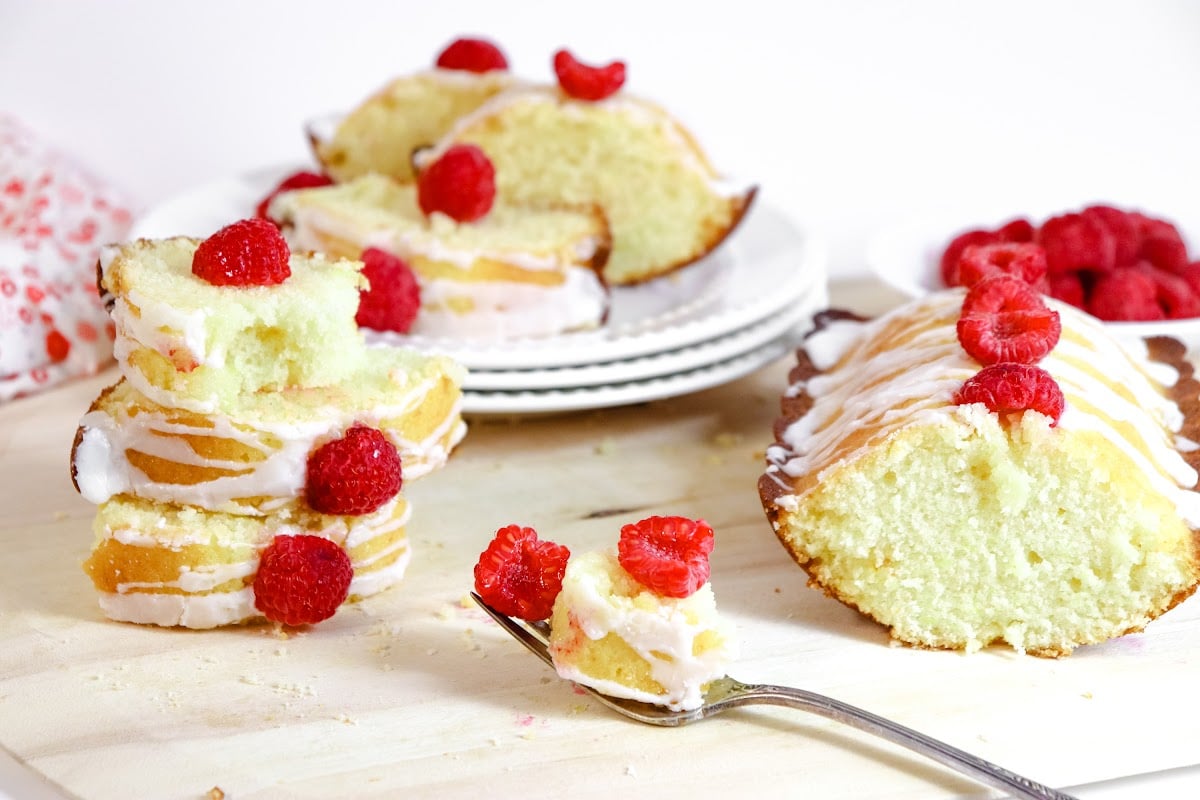 Baking Tips
Don't skip sifting the flour and baking powder together.
Make sure that the egg is at room temperature before you start making this raspberry breakfast cake.
The cake needs to be completely cooled before adding the glaze or else it will melt the icing.
You want to mix this batter by hand, not use an electric mixer.
Suggestions for Variations
Almond Cake: Replace the raspberry extract and raspberries for almond extract and sliced almonds.
Lemon Bake or Lemon Blueberry Coffee Cake: Use lemon extract instead of raspberry extract. Add some lemon zest to the cake batter and on top of the drizzle. You can even fold in some fresh blueberries! (or you can just make my lemon blueberry coffee cake)
Chocolate Chip Cake: Use vanilla extract. Sprinkle about 3/4 cup semi-sweet chocolate chips on top of the batter before placing it in the oven. Top the glaze with more chocolate chips (although the mini chips would be best for topping).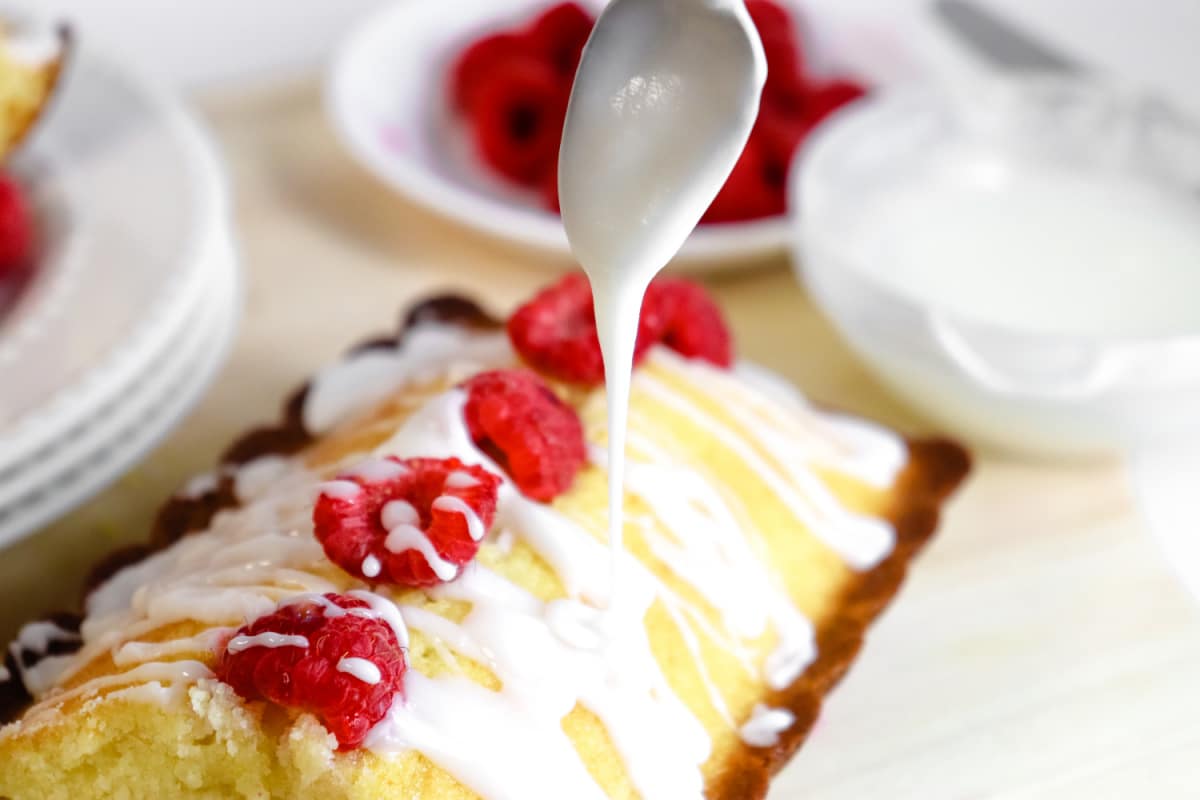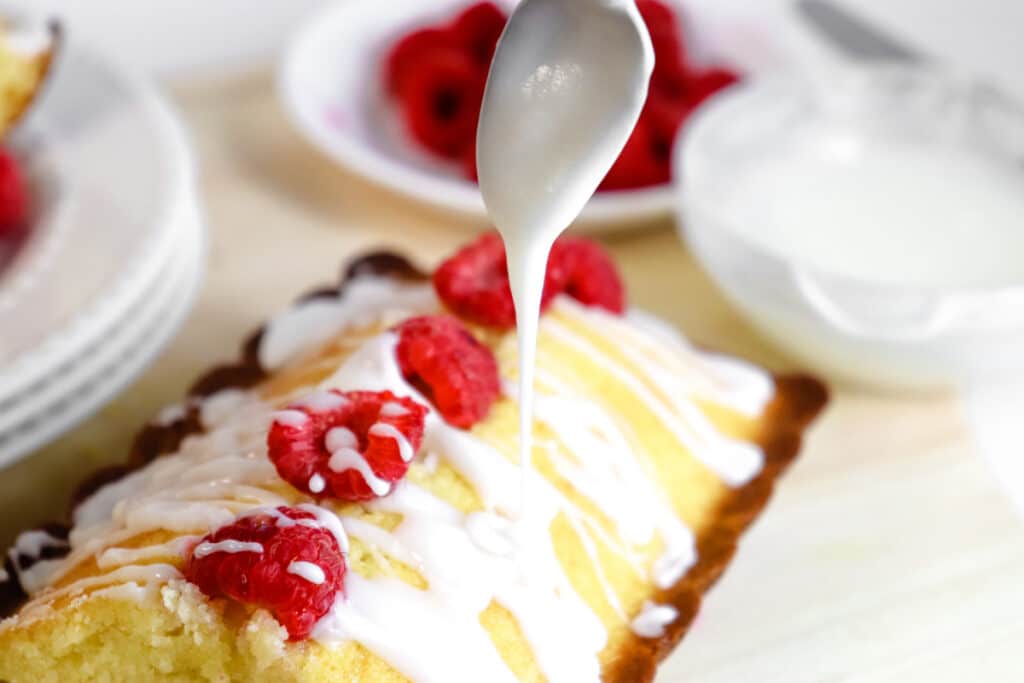 FAQs
Can you use frozen fruit in this recipe?
Fresh raspberries (or blueberries if you choose to make the Lemon Blueberry variation) should be used. Frozen berries give off too much liquid as they thaw and won't look nearly as pretty (have as much flavor)

How do I store any leftover cake?
Store any leftovers on a plate covered with clear wrap. Placing it in an airtight container may cause the glaze and berries to melt/release too much moisture in to the cake.
Where do I find raspberry extract?
My local grocery store has it, but I know many smaller grocery stores may not carry it. You can buy it online.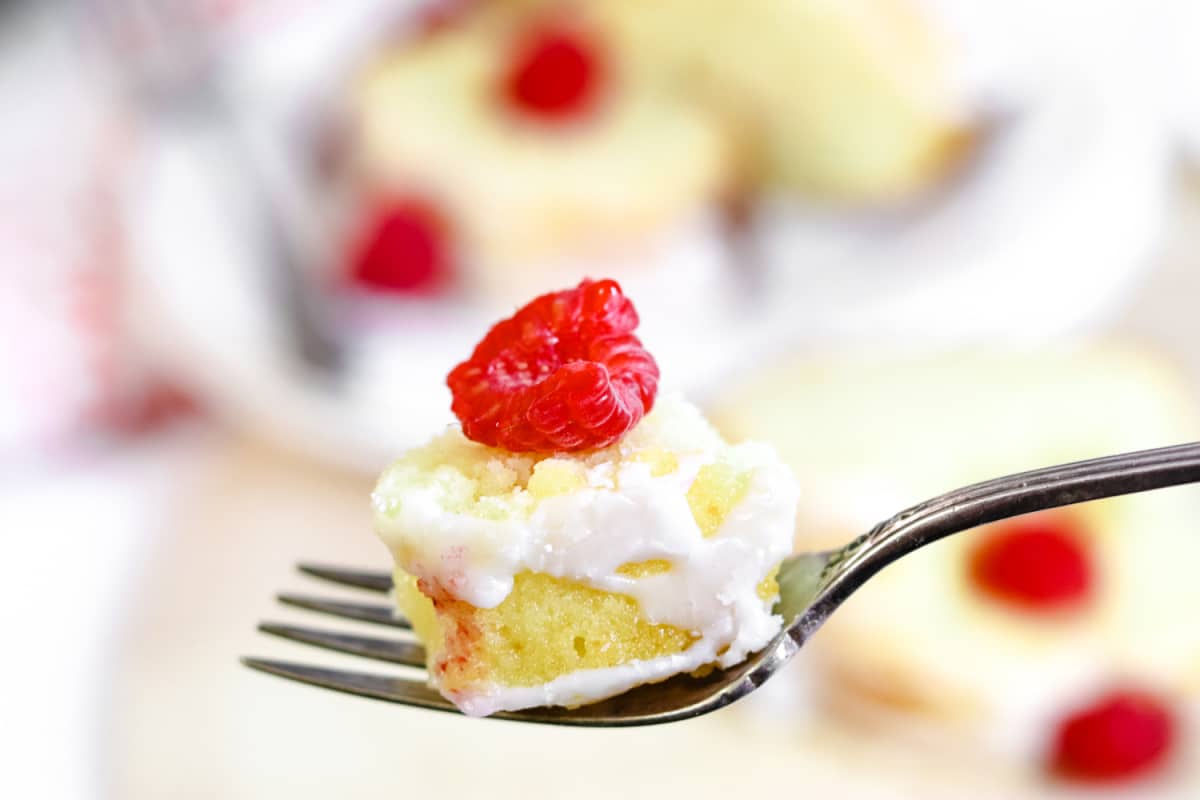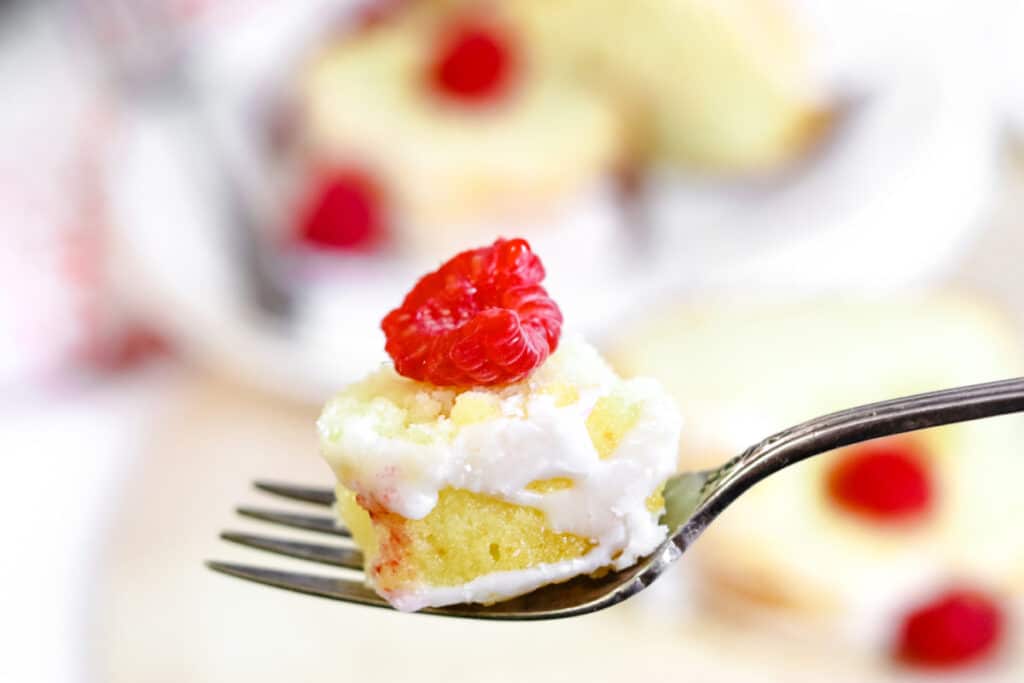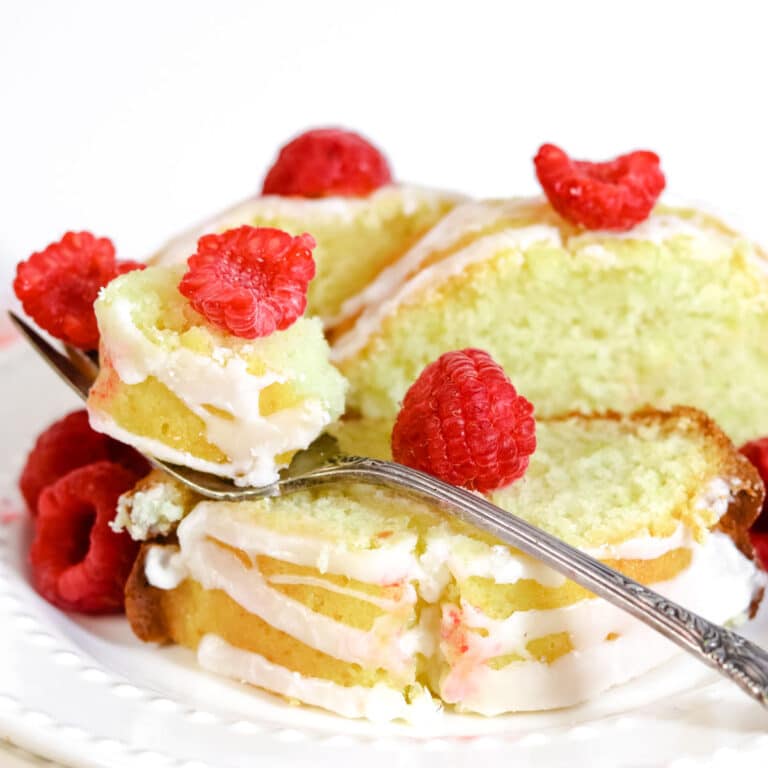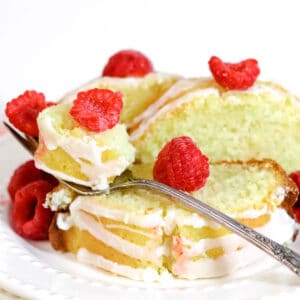 Easy Raspberry Breakfast Cake
This raspberry-studded pound cake recipe is fabulous not just for breakfast, but also as a dessert or simple snack!
Print
Pin
Ingredients
1 1/4

cup

sugar

1 1/14

cup

all-purpose flour

sifted

1/2

tsp

Baking Powder

1/2

tsp

salt

1/2

cup

butter

melted

1

egg

room temperature

1 1/12

tsp

raspberry extract
For the Icing and Topping
1/2

cup

powdered sugar

3

tsp

milk

3/4

cup

raspberries

fresh
Instructions
In a medium bowl, beat together the sugar, egg, milk and raspberry extract

In a large bowl, combine flour, salt and baking powder. Add the milk mixture to the flour mixture

Mix the melted butter in and stir to combine. Do not overmix!

Spray your baking pan with cooking spray and pour the batter in to the pan

Bake for 40-50 minutes or until an inserted toothpick comes out clean

Set cake pan on rack to thoroughly cool. Do not try to remove while cake is warm as it will crack. When cooled, place pan upside down and tap. Sides can be loosened with a silicone or wooden tool. Do not use metal as it will scratch the pan.
Decorating the cake
In a small bowl, mix together powdered sugar and milk. Set aside.

Cut several raspberries in half.

Drizzle icing over cake and place raspberries on top before icing sets. Try alternating the raspberries with cut side up and cut side down. Use remaining raspberries for garnish.