This breakfast pizza is a nice change from your regular breakfast routine. Sausage, spinach and spices ensure that each bite is packed with flavor!
I have a family full of picky eaters, but there is one thing that we can all agree on - we all love pizza (really - who doesn't?). We probably make homemade pizza about every 10 days.
Whenever I make my homemade pizza dough recipe, I always make a double or triple batch and just freeze few extra dough balls. I grabbed one out of the freezer the other night, let it thaw/rise overnight and decided to make a breakfast pizza...and my husband is asking when when I am going to make it again.
The beauty of a breakfast pizza is that, like regular pizza, you can pretty much put anything you want on it....but I wanted something a little more interesting than just throwing scrambled eggs, bacon and cheese on top of a pizza crust!
I always use a pizza stone when I am making pizza to ensure that the entire bottom crust cooks completely and starts to get nice & crispy. I like to start my crust on the bottom rack of the oven to ensure the bottom gets nice and crisp. After five minutes I move the pizza up to the middle rack.
To scramble the eggs, crack them into a bowl and whisk them until frothy. Add them to a pan coated with a little nonstick cooking spray and cook them until just cooked through. I don't add anything to the eggs (except maybe a little salt & pepper), because the added moisture of milk or half and half that people usually add to scrambled eggs can make the pizza crust too wet.
For added flavor, I use a mix of three different kinds of cheddar, but you can use any kind of cheese you want.
When my favorite brand of all-natural breakfast sausage goes on sale, I buy extra to cook up and keep in the freezer for quick meals like this. Cooked sausage thaws very quickly! If you're using raw sausage, just increase the cooking time a little to make sure it's fully cooked.
Using a premade pizza crust makes this even quicker, but of course you can use any crust you want. They even have varieties that are fully cooked. Whatever kind you use, you'll just want to follow the cooking temperature and time given on the package or in your recipe.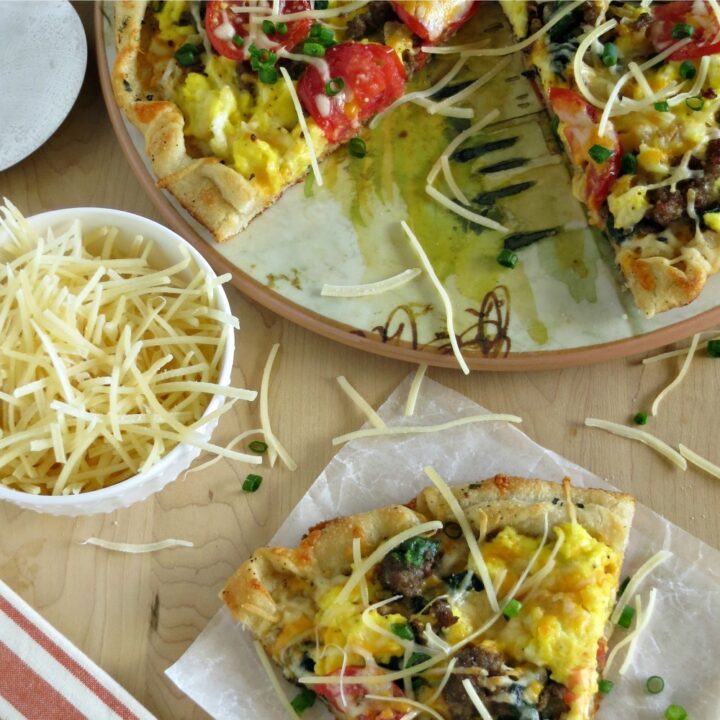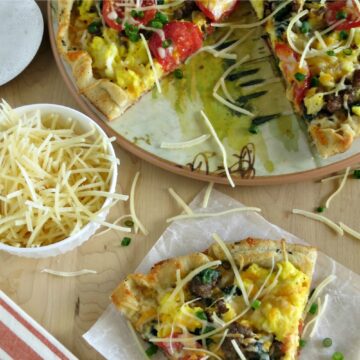 Breakfast Pizza with Sausage and Spinach
This breakfast pizza is a nice change from your regular breakfast routine. Sausage, spinach and spices ensure that each bite is packed with flavor!
Print
Pin
Ingredients
1 11-

ounce

uncooked pizza crust

store-bought, or you can use my homemade pizza dough recipe

1

cup

ground breakfast sausage

cooked

1/4

cup

onion

diced

4

large eggs

scrambled

5

ounces

fresh spinach leaves

1

cup

shredded cheddar cheese

1/4

cup

Parmesan cheese

1

plum tomato

thinly sliced

1

green onion

thinly sliced

1

tablespoon

butter

melted

1/4

teaspoon

basil

1/4

teaspoon

oregano

Pinch

of salt and pepper
Instructions
Preheat the oven to 425°.

Add the cooked sausage and the onion to a pan over medium heat and cook for 4-5 minutes, or until the onion is softened.

Add the spinach leaves and toss until they are wilted, about one minute. Remove the pan from the heat and set aside to cool.

Spray a 12" round baking pan with nonstick cooking spray and stretch the crust to fit. I like to roll the edges to give it more of a crust.

Add the melted butter, basil, oregano, and a pinch of salt and pepper to a small bowl and whisk to combine. Brush the butter mixture around the edges of the crust.

Add half of each kind of cheese to the bottom of the crust, followed by the sausage and spinach mixture.

Next add the eggs making sure to evenly spread them out.

Lastly, add a few thin slices of tomato and sprinkle on the remaining cheese.

Bake until your pizza crust is nice and brown on the bottom and around the edges, about 12 minutes

Serve with sliced green onion and a little extra Parmesan sprinkled on top, if desired.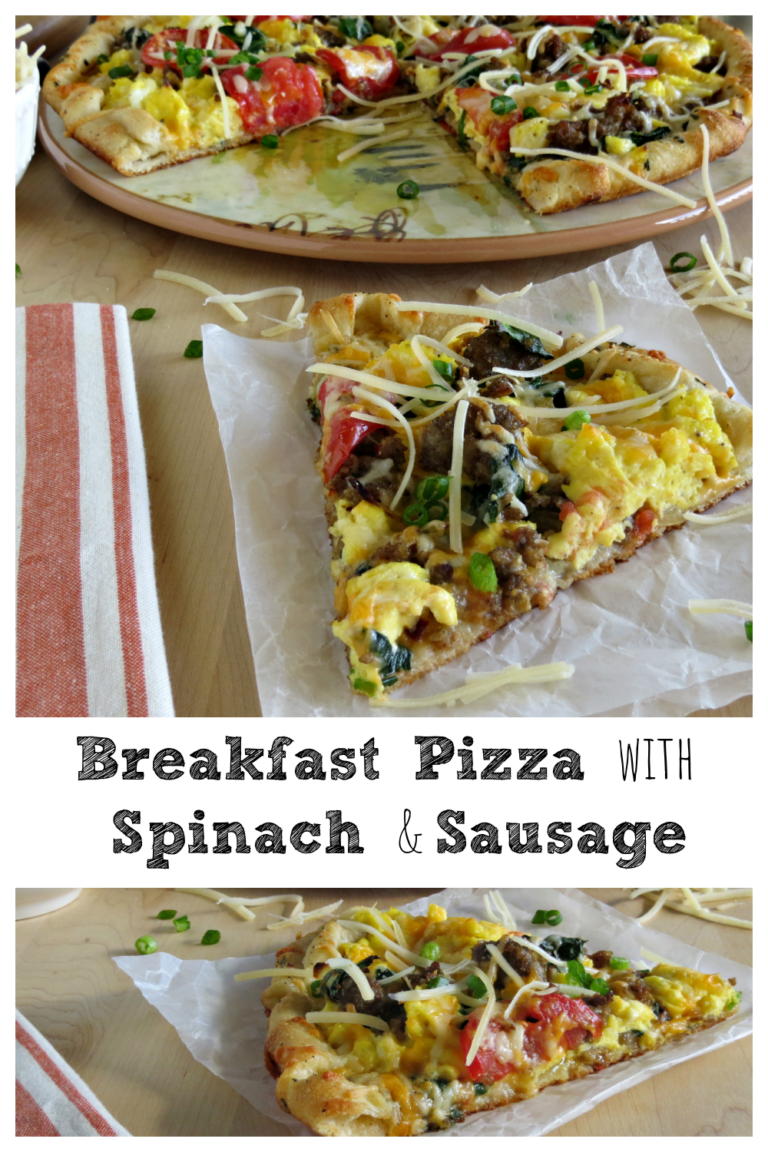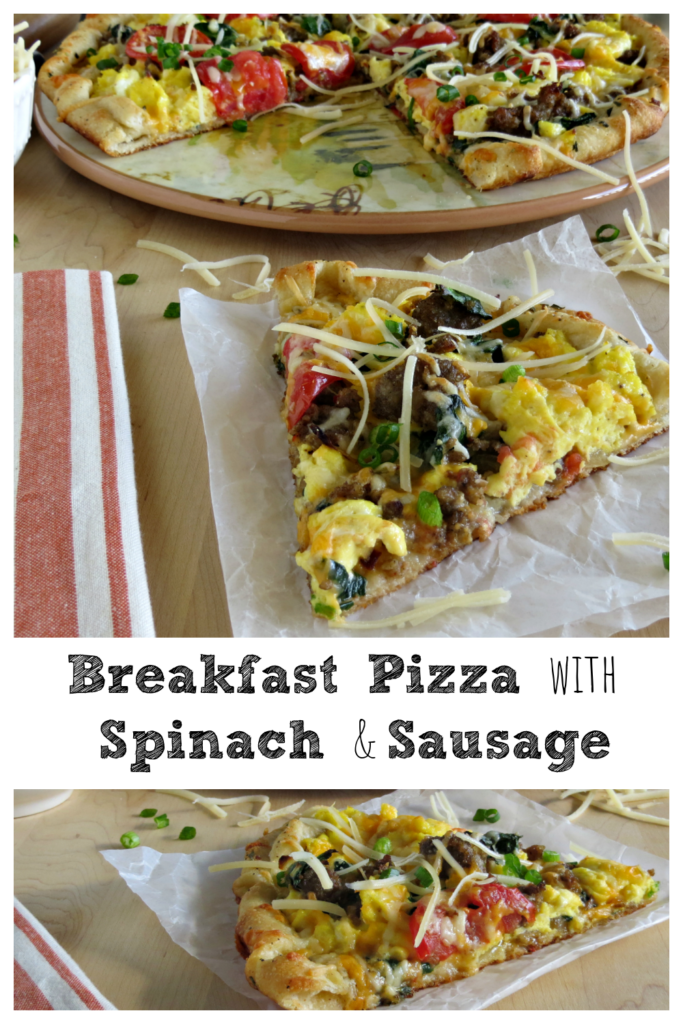 Breakfast Pizza with Sausage and Spinach