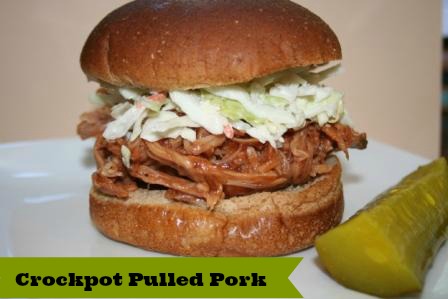 My family is all about barbecue sauce and this is one of their favorites! There are a million crockpot pulled pork recipes that you can try, but sometimes the simplest recipe is the most delicious! With only a few ingredients (unless you choose to make homemade barbecue sauce), this is is the ultimate "I don't feel like cooking, but I also don't feel like ordering a pizza" meal to make. It will also work well for parties, potlucks and makes the perfect game day recipe!
Now, we do need to talk about the cole slaw. I am of the opinion that it should be illegal to serve pulled pork without cole slaw, so my view may be a little skewed. But for years, I always ate my cole slaw as a side dish to my pulled pork sandwich. You really DO need to try putting the cole slaw ON your sandwich. You will never go back to eating it on the side again (although it does make it an even messier sandwich to eat)!
Using a 3 lb pork roast should give you enough to make 10 - 12 sandwiches.  If that seems like too much food, don't forget that the cooked pulled pork can easily be frozen.  Just put the leftovers in a freezer bag, label it and you will have another dinner ready to go!
To make it, you will need:
1 3 lb pork shoulder roast, butt or tenderloin
1 12 oz can of cola or root beer
1 18 oz bottle barbecue sauce (or more if you like it a little "saucier")
12 hamburger buns
See the complete recipe and instructions below!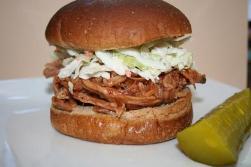 Ingredients
3

lb

pork shoulder

butt or tenderloin

12

oz

cola or root beer

18

oz

bottle barbecue sauce

more to taste

12

hamburger buns
Instructions
Trim as much visible fat as you can from the pork.

Place pork in slow cooker and pour cola (or root beer) over the pork

Cook on low for 8 hours or high for 4-5 hours, or until pork shreds easily with a fork.

Remove pork from crockpot to a large bowl and shred pork with 2 forks.

Dump most of the liquid in the crockpot out and return the pork to the slow cooker.

Add barbecue sauce to pork, stir to mix and cook on low until heated through.

Serve immediately on hamburger buns with cole slaw and pickles!

Leftovers can be frozen
Want some more crockpot pulled pork recipes? Try these!
Crockpot Pulled Pork With Homemade Barbecue Sauce
Slow Cookers BBQ Pulled Pork
Paula Deen's Slow Cooker Pulled Pork Sandwiches