This Crockpot Cinnamon Monkey Bread smells amazing while it is cooking and is a favorite in our house. It takes just a few minutes to prepare!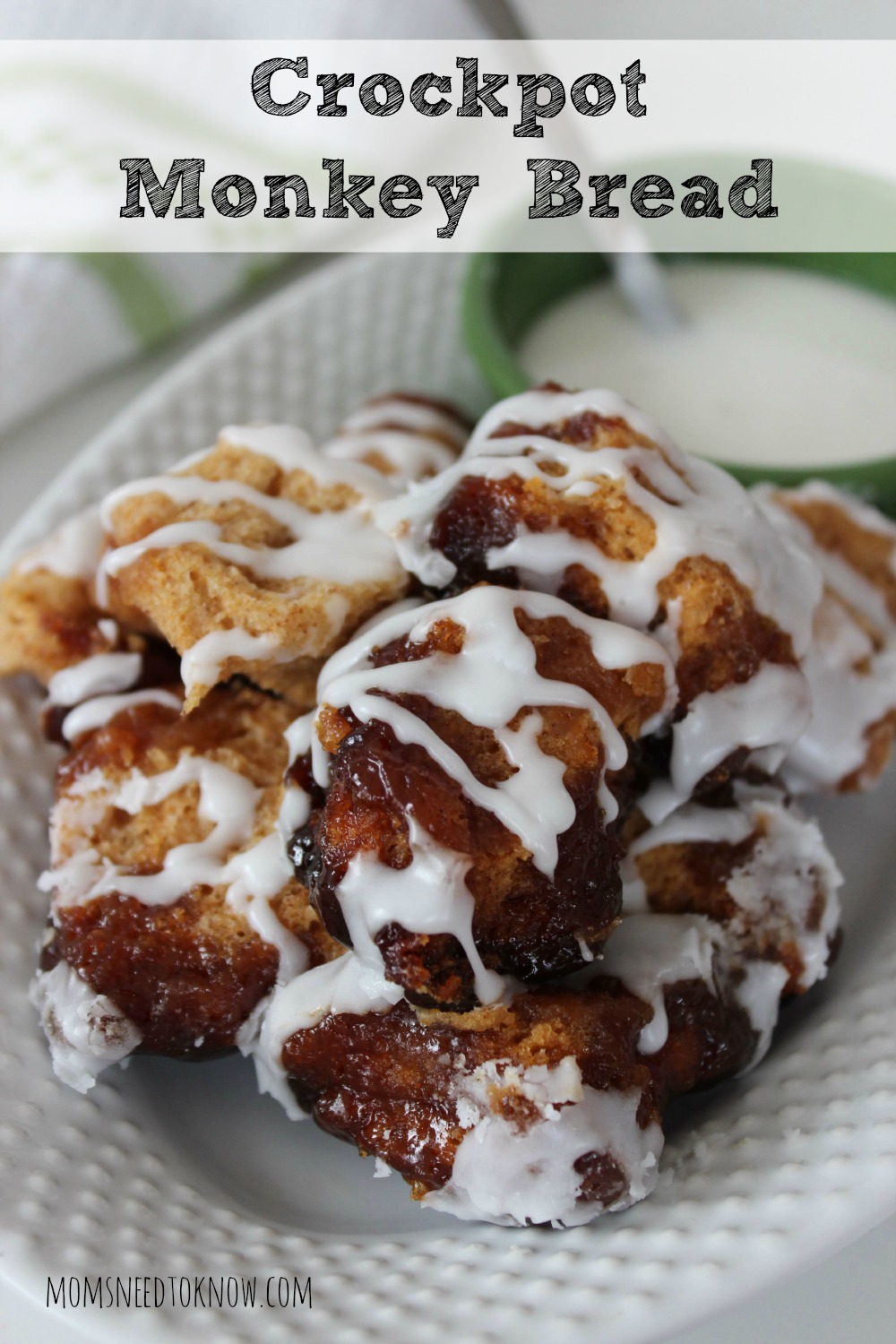 There are 2 scents that are guaranteed to get my family out of bed on those lazy weekend mornings - the smell of bacon frying and the smell of cinnamon. The first one I try to avoid because it seems like every time I fry bacon, the smell lingers in the house for 2 days (and I am one of the few people who doesn't like bacon).
But cinnamon? That is one scent that I don't mind and in fact, love and this Crockpot Cinnamon Monkey Bread smells just heavenly while it is cooking and gets my kids running down the steps yelling "What is that? When will it be ready?"
I am slowly making more and more breakfasts in my crockpot. The first time I made crockpot steel cut oats with apples & cinnamon, it was an eye-opener (I love steel cut oats, but they are a complete pain to make in the morning). My crockpot French Toast is another favorite in this family. This recipe is wonderful, but since it is so sweet, I think we will save it for weekend breakfasts, just a few times per month. My dentist will thank me!
I've made Monkey Bread in the oven many times and it is just fine, but I really think I like it more made in the crockpot.  First of all, there is less of a chance of it bubbling up and over and making a mess in the bottom of my oven. And second - there is less chance of it burning or overcooking!
A Few Tips:
For easier cleanup, consider using a slow cooker liner! Most people like to use them just for roasts, etc, but I like to use them any time I think cleanup may take more than about 5 minutes!
Ok - one last thing before we get to making it.....you need to pretty much plan to serve this hot and as soon as it is done. If you need a little extra time to get everyone eating, leave the lid on your crockpot and set it to warm. If you let it cool down, it WILL get rock-hard and disgusting.
One MORE "last thing" - the glaze on it is entirely optional and not really "traditional" for Cinnamon Monkey Bread (then again - neither is making it in the crockpot!), but my kids really do love it. Try it with and without the glaze and see which one you like best!
With that in mind, you will need:
Ingredients:
2 cans Refrigerated Biscuits (8 ct - buttermilk or "flaky layers", but I prefer the buttermilk). Or - you can make your own homemade biscuit dough
2 cups Brown Sugar
2 tbsp Cinnamon
1/2 cup melted Butter
Icing (optional):
2 cup Powdered Sugar
2 tsp Milk
Making it is easy!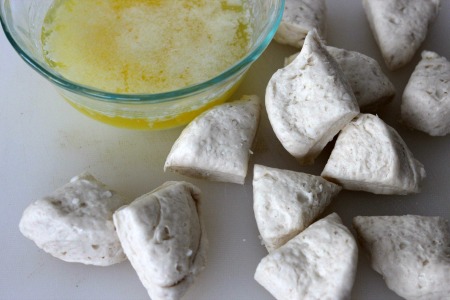 Simply open your biscuits and cut each one in to bite-size pieces. If using homemade biscuit dough, just snip off a bunch of pieces from your dough ball) Use a little bit of the butter to brush the insides of your crockpot with butter.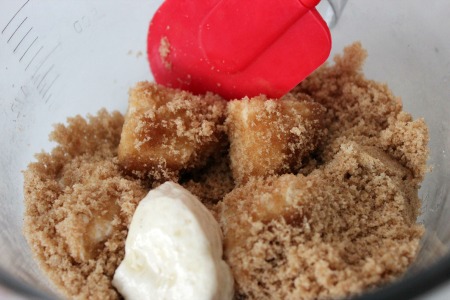 Place the melted butter in a bowl. Combine the cinnamon and sugar together in a separate bowl. Dip the biscuit pieces first in the butter and then in the cinnamon sugar mixture, tossing to coat.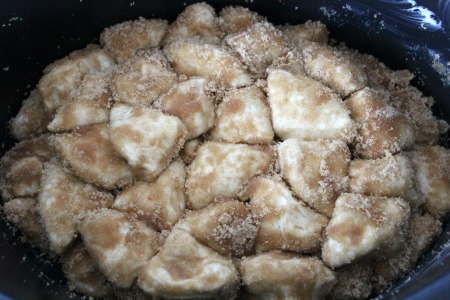 Place the coated biscuit pieces in the bottom of the crockpot (you might have a few layers, depending on the size of your crockpot). Pour any leftover butter and cinnamon sugar over the top.
Cook on High for 1.5 - 2 hours. Allow to cool slightly and then whisk together the powdered sugar and milk and drizzle the glaze on top!
Scroll down for the complete directions!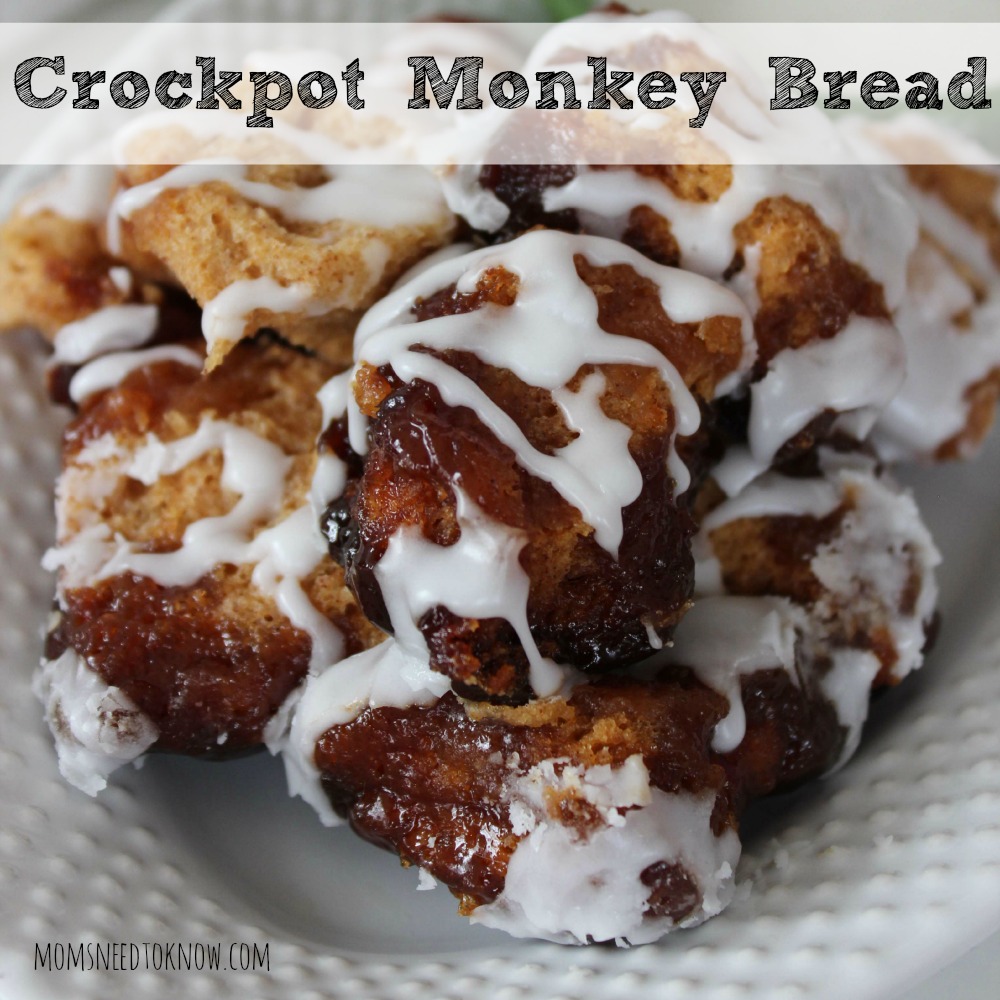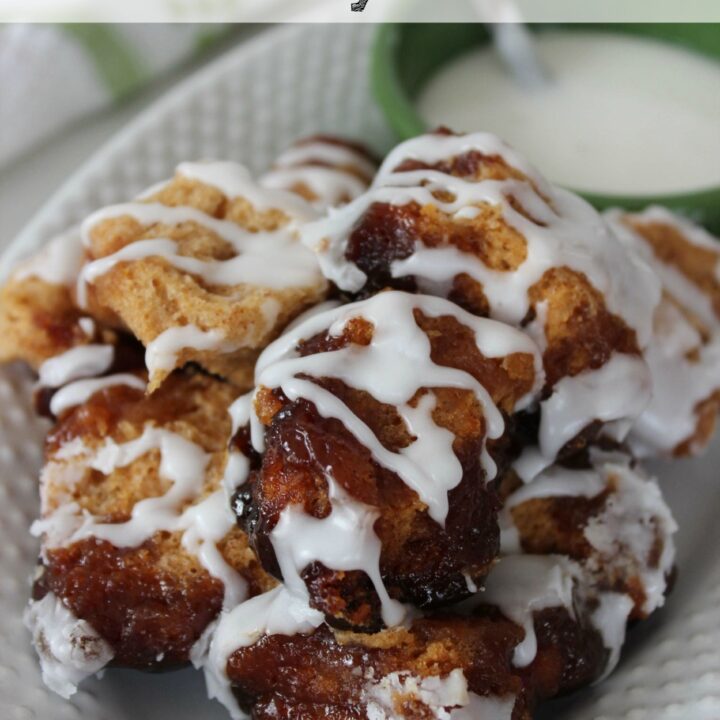 Crockpot Cinnamon Monkey Bread
This easy to make Crockpot Cinnamon Monkey Bread is so comforting on a cold morning and sure to be a family favorite!
Print
Pin
Ingredients
2

cans Refrigerated Biscuits

8 ct – buttermilk. Or – you can make your own homemade biscuits dough (see notes for the link to my homemade biscuit dough)

2

cups

Brown Sugar

2

tbsp

Cinnamon

1/2

cup

melted Butter

2

cup

Powdered Sugar

2

tsp

Milk
Instructions
Cut each biscuit into bite size pieces.

Combine sugar and cinnamon.

Use a slow cooker liner OR coat sides and bottom of slow cooker with some of the melted butter.

Dip each biscuit piece in melted butter and then in the sugar mix.

Place coated biscuit pieces in layers in the bottom of the crockpot.

Cook on High for 1.5 – 2 hours.

Whisk together powdered sugar and milk to make a glaze

Transfer the cooked Monkey Bread to a plate and drizzle with the glaze. Serve immediately