If you love your slow cooker as much as I do, or you have one and on the hunt for new recipes, here are 24 Crock Pot recipes that you are sure to love!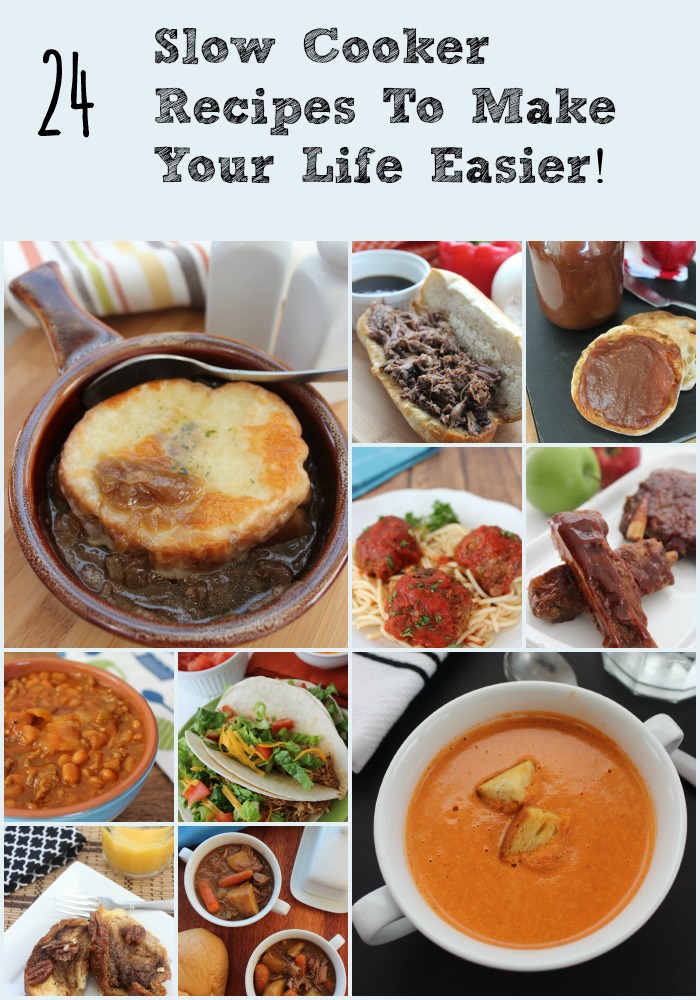 I can honestly say that I don't know anyone who doesn't love their Crock Pot (or other brand of slow cooker).  I actually have 4 (or 6, depending how you look at it) - a 4 qt crockpot for everyday use, a 6 qt programmable slow cooker for when I am making "bigger portions" or cooking for a party, a "Little Dipper" for hot dips for parties and then I have a 3-crock cooker for parties.
So yeah - I am a little dedicated/addicted to my Crock Posts/slow cookers.

If you love your slow cooker as much as I do, or you have one and aren't using it as much as you could be, here are 24 Crock Pot recipes that you are sure to love!
Crockpot Cinnamon Monkey Bread | Easy Weekend Breakfast! - want a delicious and easy breakfast breakfast recipe that will fill your house with the most amazing smells? Try my slow cooker cinnamon monkey bread recipe!
Crockpot Chicken Noodle Soup Recipe - this chicken noodle soup recipe is so easy to throw together and cooks in about 6 hours!
How To Bake Potatoes in the Crockpot - if you don't have the oven space for a dinner, or don't want to heat up your house, here is How To Bake Potatoes in the Crockpot
Crock Pot Apple Crisp With Cranberries - This Crock Pot Apple Crisp recipe is so easy to make and is just delicious. Serve it for dessert with vanilla ice cream or even for breakfast with yogurt!
Crockpot Cream of Tomato Soup - Make this easy tomato soup recipe in the crockpot or on the stovetop. The perfect recipe for a rainy day (especially if you pair it with a grilled cheese!)
Crockpot Cheese Steak Recipe - Cheese steak "purists" (and most people from Philadelphia, PA) will tell you that there is no such thing as a crockpot cheese steak recipe, but this is pretty close and won't stink up your house!
Crockpot Steel Cut Oats Recipe with Apples and Cinnamon - Put this crockpot steel cut oats recipe together at night before bed and wake up to the wonderful smells of apple & cinnamon and a hearty hot breakfast!
Crockpot Short Ribs - I used to always braise my short ribs, but after trying these, the crockpot is my new favorite way to make short ribs!
How To Make Applesauce in Your Crock Pot - This applesauce is easy, healthy, and super yummy. Once you learn how to make applesauce in the crock pot, you won't want to go back to the store-bought kind!
Crockpot Bean and Bacon Soup Recipe - This hearty bean & bacon soup cooks up your crockpot and is just so delicious!
Easy Potato Soup Recipe - This easy potato soup recipe takes just a few minutes to assemble and get in the crockpot. Warm up with this potato and bacon soup!
Slow Cooker Apple Butter Recipe - This slow cooker apple butter recipe is just so stinkin' easy! Just throw everything in your slow cooker and wait for the apples to slowly caramelize with the sugar and spices!
Crockpot Chicken Tacos - Looking for a new recipe for Taco Tuesday? Try these Crockpot Chicken Tacos! They are so easy to make and won't heat up the house!
Crockpot Italian Meatballs | Perfect For Dinner or Game Day! - these crockpot Italian meatballs are so easy to make and are the perfect recipe for your Game Day party!
Crock Pot French Toast Recipe | Easy Breakfast Recipe! - This crock pot french toast recipe is so easy to throw together and cooks up in a few hours. You can even put it together the night before and cook on warm
Slow Cooker Beef Stew Recipes - If you are looking for slow cooker beef stew recipes, this one is delicious! With just a few simple steps you can have a hearty stew for dinner!
Freezer To Crockpot Cooking | Mexican Recipes and Instructions - I did a whole series on preparing freezer meals that can just be dumped in the crockpot when you want o cook them. Make sure to scroll to the bottom of that post to see all 9 of the weeks/topics (beef, chicken, soups, vegetarian, etc)
How To Make Spare Ribs In The Crockpot
Crockpot Breakfast Casserole Recipe - throw this together the night before and wake up to a delicious breakfast waiting for you (and an amazing-smelling house!)
Crock Pot Beef And Beans Recipe - it's comfort food at its most basic and easiest!
Crockpot Pepper Steak Recipe - If you love pepper steak but don't want to pay the high restaurant price, you are going to love this crockpot pepper steak recipe!
Crockpot Meatloaf Recipe - This crockpot meatloaf recipe can help you put a filling dinner on your table and not have to wipe the sweat off your brow while doing it.
Creamy Crock Pot Mac and Cheese Recipe - This easy crock pot mac and cheese recipe is easy and creamy and won't dry out when you make it. You might want to double the recipe because your family will want seconds!
Crockpot French Dip Recipe - A rump roast slowly simmered in with onion and rosemary will make this crockpot french dip recipe a new favorite for you (and your house will smell wonderful)
What are some of your favorite crock pot recipes?
24 of the Best Crock Pot Recipes