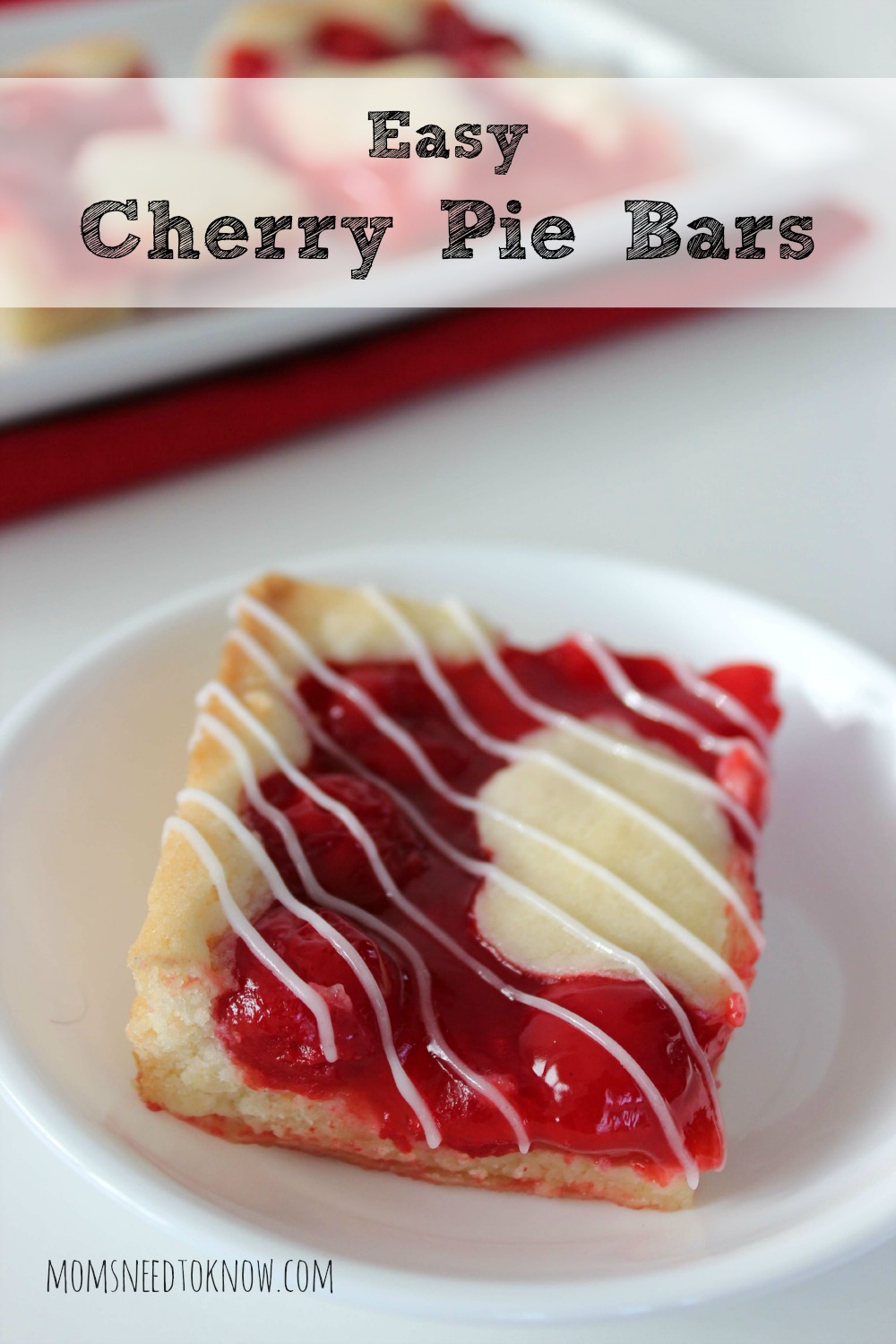 Now that the holidays are mostly over, it is time to get back to more "normal" recipes. Christmas cookies are fun to make but I was making so many of them, I was afraid that I was going to slip in to a diabetic coma!
Of course, that shouldn't stop me from posting one last indulgence for your sweet tooth and these Cherry Pie Bars are so easy to make and absolutely delicious!
This recipe is great for those of you who had a problem making my Cherry Thumbprint cookies and had a problem with them spreading, this recipe is the perfect solution. Since you are making them in a 13" x 9" pan, there is no spreading to worry about and you get pretty much the asme flavors!
Of course, you are free to omit the almond extract if you don't have it or don't like the taste of almond, but I really think that the addition of the almond extract really "lifts up" the flavor of these cherry pie bars!
Hennyway, to make these Cherry Pie Bars, you will need:
INGREDIENTS
1 cup softened Butter
1 3/4 cup Sugar
1/2 tsp Salt
3 Eggs
1 tsp Vanilla
1/4 tsp Almond Extract
2 1/2 cup Flour
21 oz Cherry Pie Filling
1 cup Powdered Sugar
1/2 tsp Vanilla
1 tbsp Milk
Making them is easy!
Just cream together the butter, sugar and salt and then mix in your extracts, then your eggs and flour and beat mixture until light & fluffy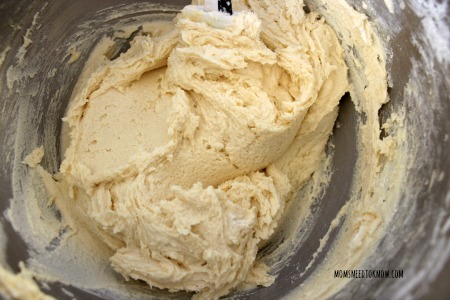 Spread mixture in to a lightly greased 13" x 9" pan to a thickness of 1/4" make sure that you reserve some of the batter for topping. Top with the cherry pie filling.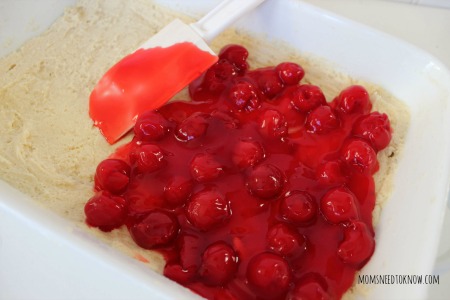 Top the cherry pie filling with clumps of the dough and bake! Once it is cooled, mix up your glaze and drizzle it on and enjoy!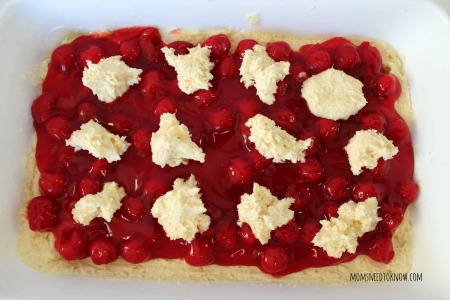 Scroll down for the complete directions!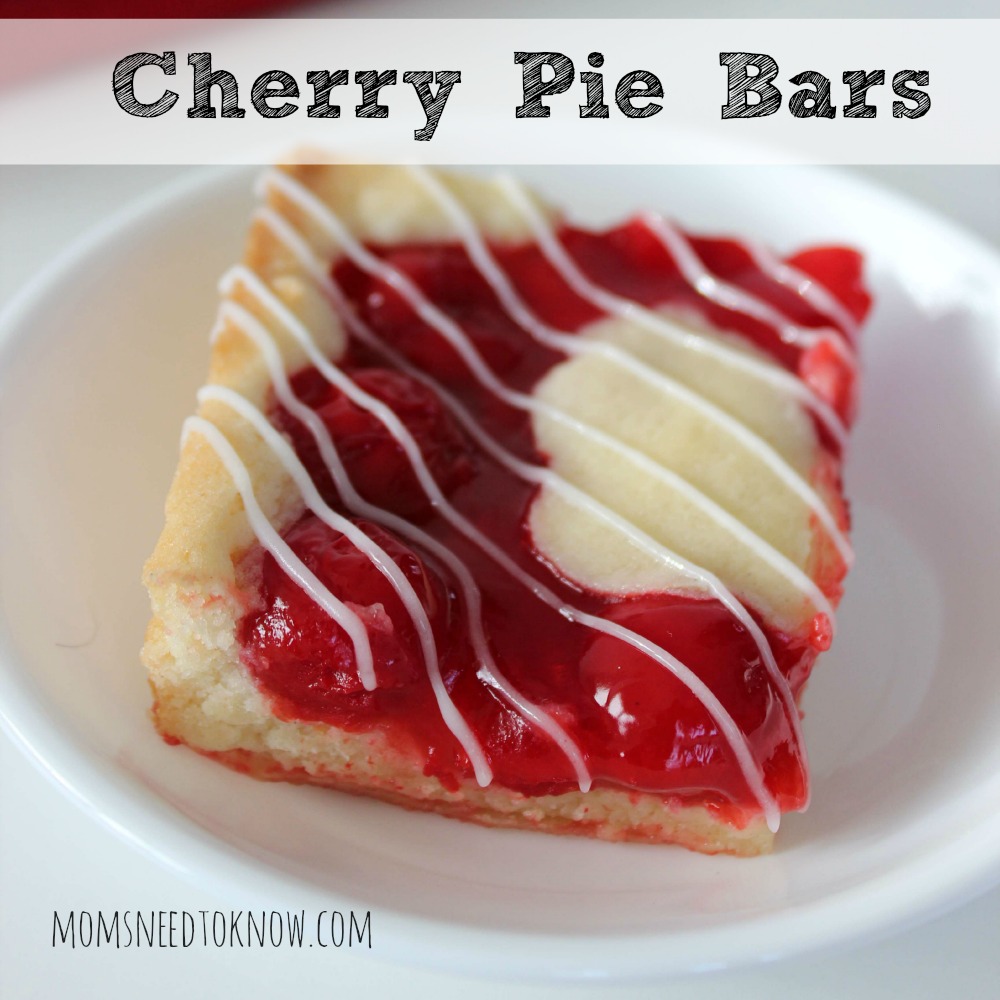 Easy Cherry Pie Bars recipe
By Mindi
An easy recipe that gives you all the flavor of thumbprint cookies, but bakes up in much less time!
Yield - 4 servings
Preparation Time - * minutes
Cooking Time - * minutes
Ingredients for the bars
1 cup softened Butter

1 3/4 cup Sugar

1/2 tsp Salt

:

3 Eggs, slightly beaten

1 tsp Vanilla

1/4 tsp Almond Extract

2 1/2 cup Flour

1 can (21 oz) Cherry Pie Filling
Ingredients for the glaze
1 cup Powdered Sugar

1/2 tsp Vanilla

1 tbsp Milk

:
Directions
Grease a 13"x9" baking pan.
Preheat oven to 350.
Cream butter, salt and sugar until fluffy.
Add in extracts.
Add eggs, one at a time, while beating.
Gradually add flour until combined.  Do not overmix.
Spread a thin layer (1/4") batter into prepared pan.
Top with pie filling.
Drop spoonfuls of batter over filling.
Bake 30 minutes or until golden brown.
Cool completely.
Whisk together powdered sugar, vanilla and enough milk to acheive desired consistency.
Drizzle glaze over top.
Allow to cool, cut in to bars and serve!