This chicken curry recipe does double-duty as a main meal (served over rice) or you can stick some toothpicks in the pieces and serve as hors d'oeuvres!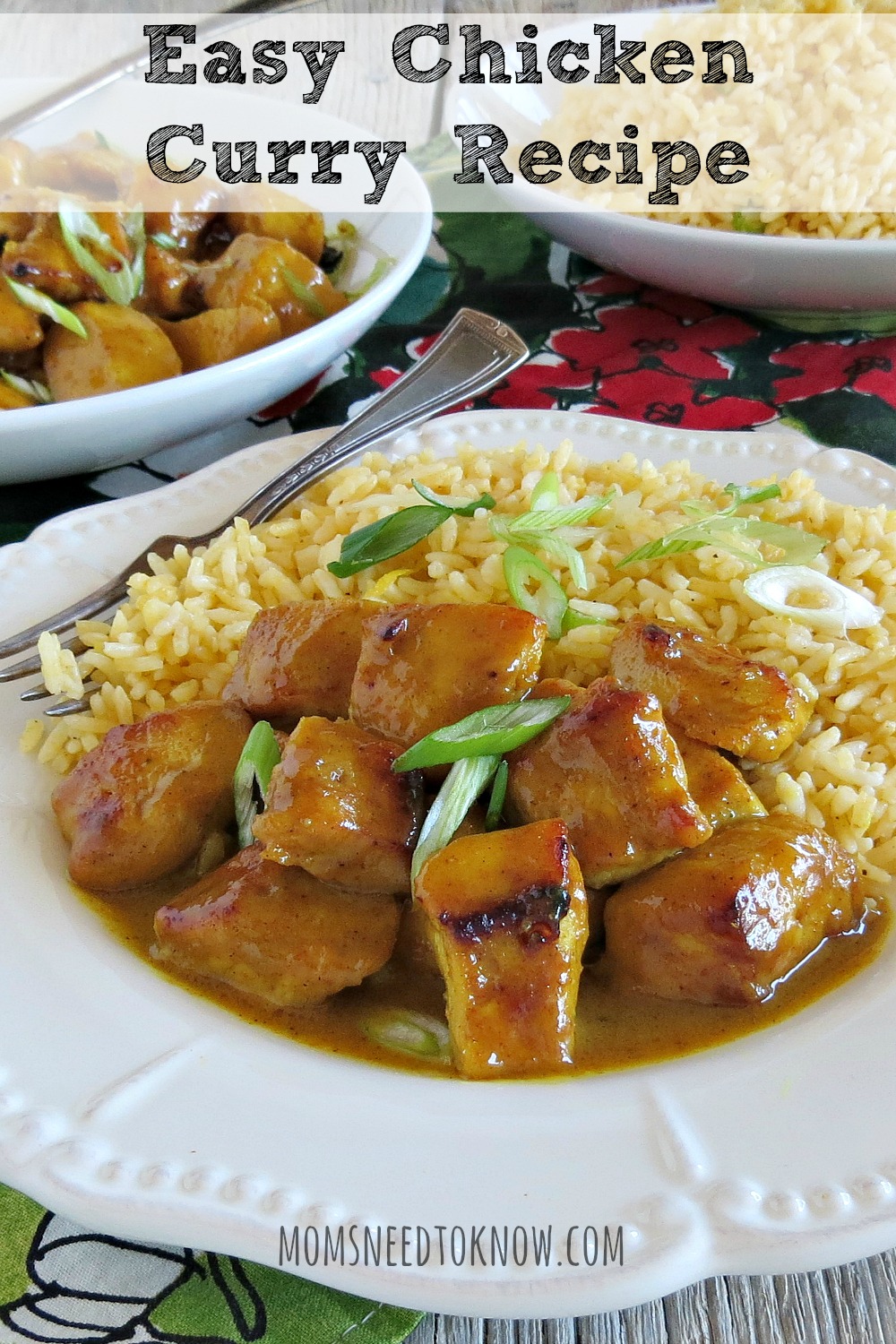 Ok - it's time for one of my absolute favorite recipes and one that is so simple that you will want to add it to your weekly menu planning!
First, let me say that neither my husband or I have ever been big fans of curry.  I didn't like it when I was little and then  I started liking it when I got older.
Later, during one of my pregnancies, just the smell of curry made me sick to my stomach (with my other 2 pregnancies, it was the smell of beef being cooked and hot sauce).
That is all behind me now and I am back to making this chicken curry recipe on a fairly regular basis!
The beauty of this recipe is that it can be served two different ways.  When my mother first started making it, she was only making it as an appetizer.  She would cook it in the oven and then invert the baking dish on to a serving dish and would stick a bunch of toothpicks in to it and serve it as  hors d'oeuvres.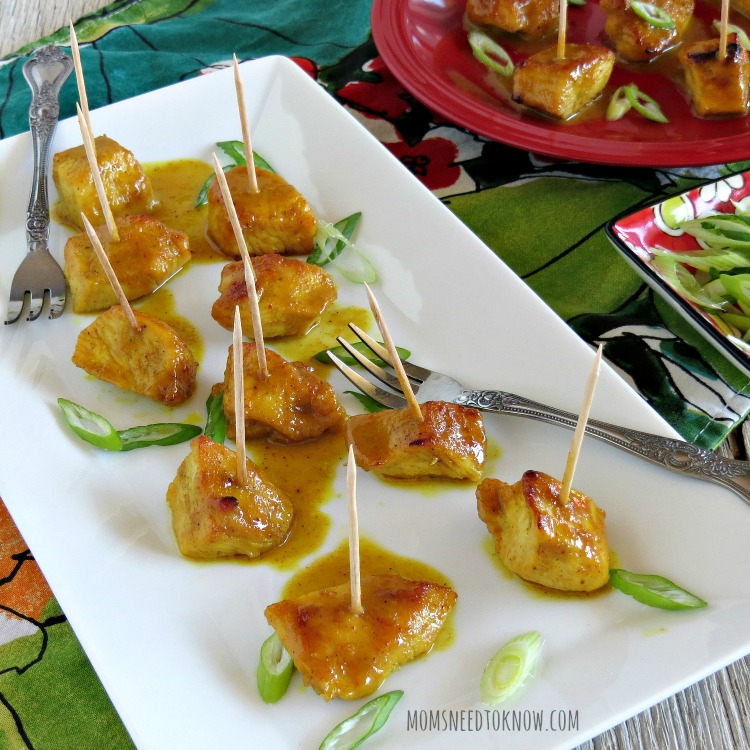 Well - when my children were babies and toddlers, we weren't having many parties here, but I still wanted to be able to enjoy my moms chicken curry recipe.  I started making it exactly like she did, except I would serve it over rice for  a delicious meal!
Over the years, I tweaked it a little from the way my mother made it.  She used to just bake the chicken in the sauce at 375 for about 15 minutes, pull it out of the oven, give everything a stir and then put it back in the oven for another 15 minutes.
That is still a delicious way to make it (and the way you are going to want to make it if your pan is not safe to put under the broiler - like a Pyrex dish), but now I make it a little differently.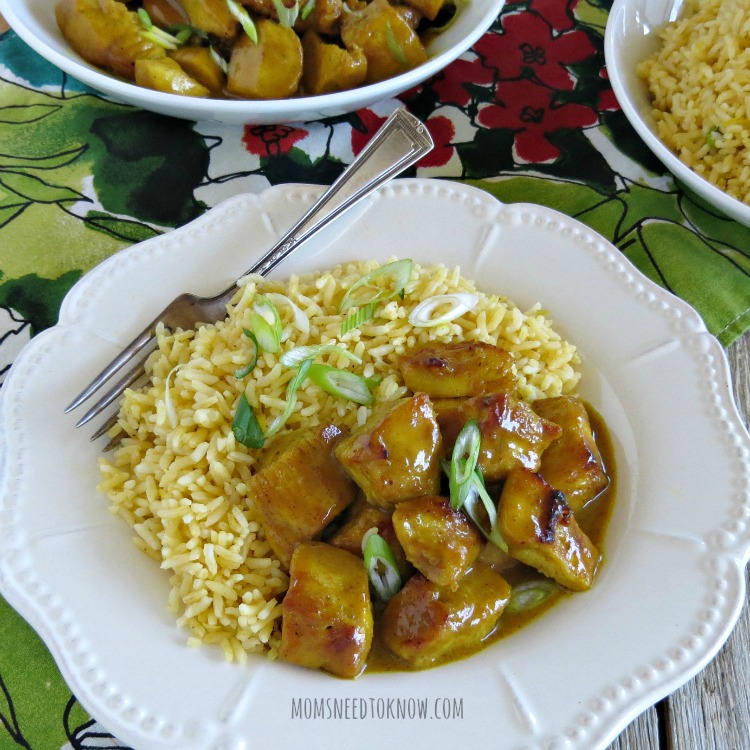 Thanks to my broiler-safe casserole dish, I now cook it for 15 minutes, give it a stir and then turn on my broiler and broil it for the last 7 minutes.  This gives it some nice color on the chicken as well as a little bit of crunch.
But again, if your dish isn't broiler-safe....just bake it and be done with it.  Nobody wants to clean up the mess of a glass dish that exploded in your oven under the broiler!
Scroll down for the recipe!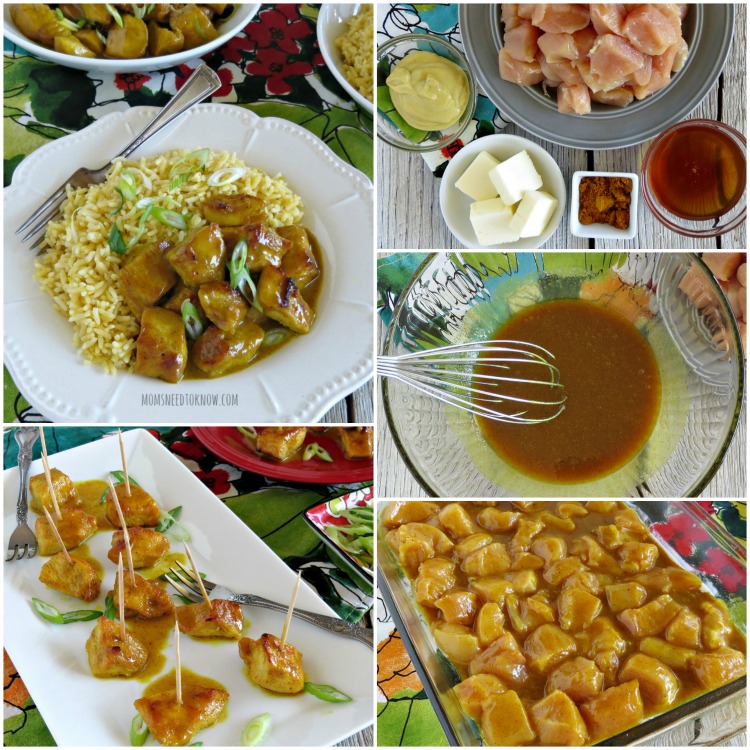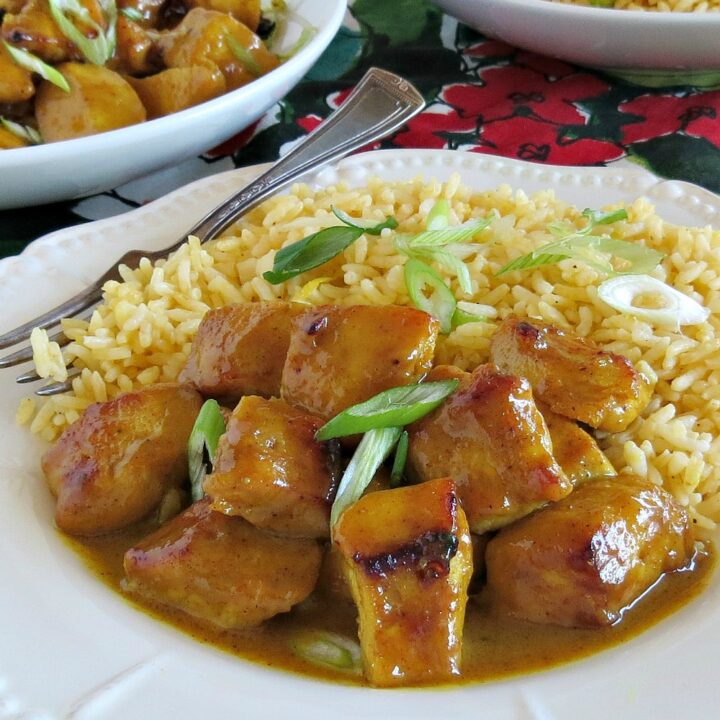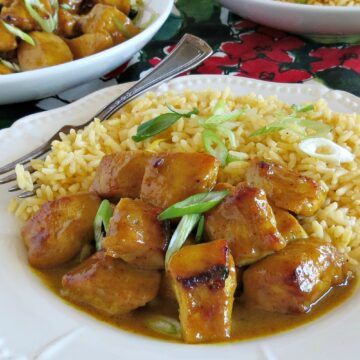 Ingredients
1

lb

boneless skinless chicken

cut in to 1' pieces

4

tbsp

butter

1/3

cup

honey

3

tbsp

dijon mustard

Dijonnaise is best

2

tsp

curry powder

1/2

tsp

salt

scallions for garnish

optional
Instructions
Preheat oven to 350

In a microwave-safe dish, melt the butter and honey together in the microwave

Remove from microwave and stir in mustard, curry powder and salt

Place the chicken pieces in a casserole dish. Add the sauce and stir to coat.

Bake at 350 for 15 minutes.

Remove from oven, stir chicken and sauce and return to the oven for another 15 minutes.

Serve over rice for a complete meal or on a platter with toothpicks as an hors d'oeuvre
Notes
For a little added crunch to the chicken, and if you have a broiler-safe casserole dish, after 15 minutes of baking, take the chicken out, stir it a little and then broil for 7 minutes!
Easy Chicken Curry Recipe