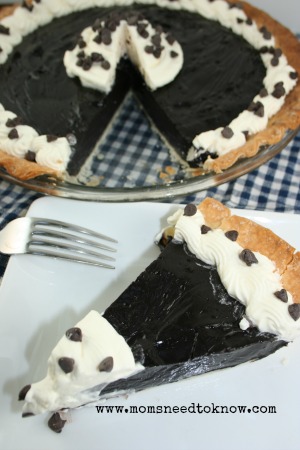 Chocolate pie is such an indulgence and this easy chocolate pie recipe is made more decadent by using Hershey's Special Dark Chocolate Cocoa Powder (which also accounts for the darker color)! Of course, you can use just "regular" cocoa powder, but I find that using the dark chocolate cocoa powder eliminates some of the "super-sweetness" of traditional chocolate pies. It is still an incredibly rich pie (especially when you top it with my whipped cream recipe and chocolate chips or chocolate shavings!). This pie will be a great addition to any holiday table or even just a sweet treat for your family!
Now - before you say it, yes - a chocolate pie recipe can be easy without using instant pie filling. It really doesn't take that much more time (especially if you think "cook 'n serve" pie filling is "home cooking' - it's just as easy as that!) and with my recipe, you know exactly what is going in to your pie!
Ok - lets get to my Easy Chocolate Pie Recipe!
Ingredients:
1 pie crust, baked and cooled according to directions (buy frozen, refrigerated or make your own pie crust)
1/2 cup Hershey's Dark Cocoa Powder (or use regular cocoa powder)
1 1/4 cup sugar (a little less if you are using regular cocoa powder)
1/3 cup cornstarch
1 tsp salt
3 cups milk
3 Tbsp butter
1 1/2 tsp pure vanilla extract
Instructions:
In a medium saucepan, mix together cocoa powder, sugar, cornstarch, salt and milk. Whisk until smooth.
Cook over Medium-High Heat, stirring often until milk starts to heat. Once the milk starts to warm, stir constantly, making sure to scrape sides and bottom of pan.
Bring to a boil, stirring constantly
Let mixture actively boil for 1 minute, continuing to stir.
Remove from heat and stir in butter and vanilla. Whisk to blend
Pour in to cooled and baked 9" pie crust
Cover with plastic wrap, making sure that entire surface of the filling is covered (this will prevent the filling developing a "skin" as it cools)
Chill in the refrigerator 4 - 6 hours or until firm.
Top with whipped cream and chocolate shavings or mini chocolate chips
Enjoy!
If you liked this recipe, make sure that you check out my Easy Coconut Pie recipe!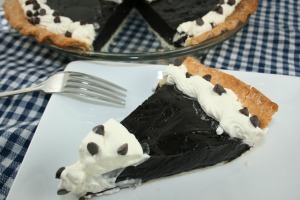 Ingredients
1

pie crust

baked according to directions (buy frozen refrigerated or make your own pie crust)

1/2

cup

Hershey's Dark Cocoa Powder

or use regular cocoa powder

1 1/4

cup

sugar

a little less if you are using regular cocoa powder

1/3

cup

cornstarch

1

tsp

salt

3

cups

milk

3

Tbsp

butter

1 1/2

tsp

pure vanilla extract
Instructions
In a medium saucepan, mix together cocoa powder, sugar, cornstarch, salt and milk. Whisk until smooth.

Cook over Medium-High Heat, stirring often until milk starts to heat. Once the milk starts to warm, stir constantly, making sure to scrape sides and bottom of pan.

Bring to a boil, stirring constantly

Let mixture actively boil for 1 minute, continuing to stir.

Remove from heat and stir in butter and vanilla. Whisk to blend

Pour in to cooled and baked 9" pie crust

Cover with plastic wrap, making sure that entire surface of the filling is covered (this will prevent the filling developing a "skin" as it cools)

Chill in the refrigerator 4 - 6 hours or until firm.

Top with whipped cream and chocolate shavings or mini chocolate chips