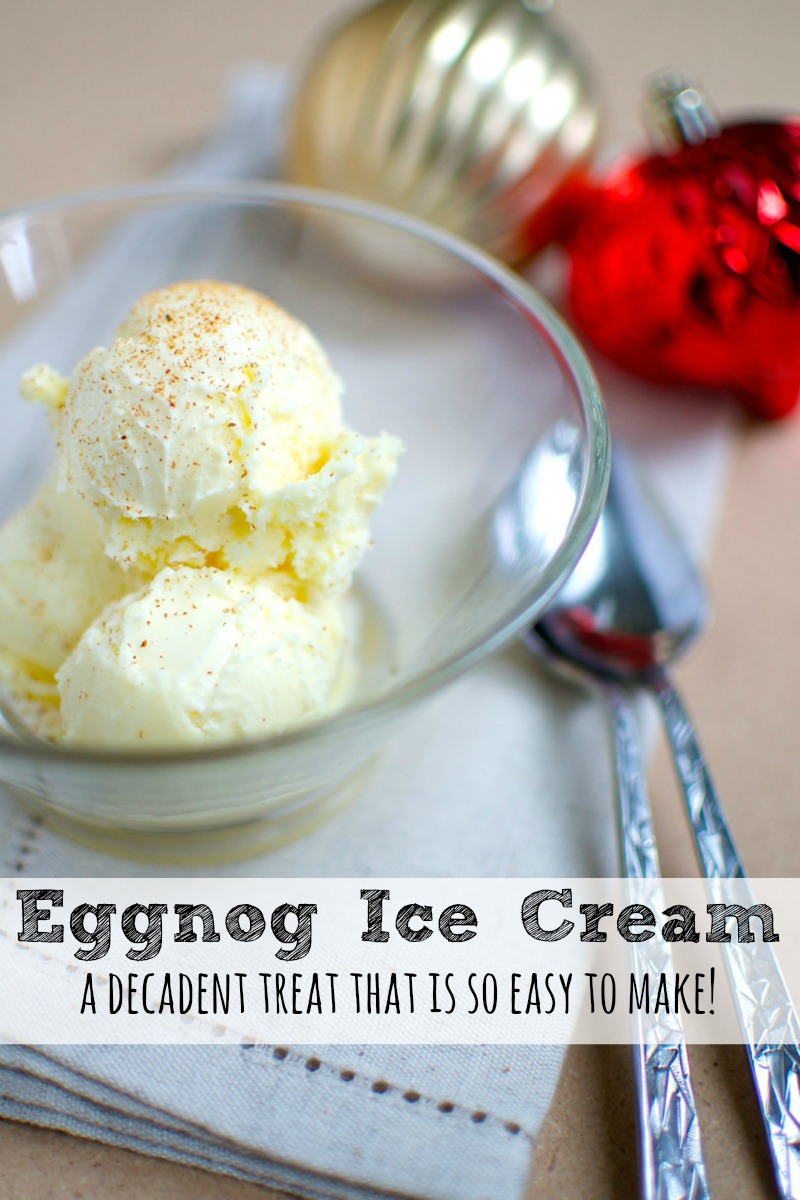 Eggnog Ice Cream Recipe
Egg Nog is one of my favorite things about the holidays but I simply can't drink it "straight". It is far too rich for me and every year, I think "this year will be different" and pour myself a nice glass of eggnog (which I make using my easy eggnog recipe) and end up spending the rest of the night regretting that decision. However, I have discovered that I can tolerate "egg nog flavor", even if I can't deal with the drink itself (make sure you check out my easy egg nog cookies recipe as well!)
During the cold holiday months, ice cream might be one of the very last foods you think of as a holiday dessert. This recipe may change that way of thinking with its seasonal eggnog flavors!
Ice cream making machines make excellent gifts, especially when accompanied by recipes such as this one. Your gift recipient will think of you when they make the recipe and throughout the warmer months when their machine is used for refreshingly cold ice cream, sorbet, and more! Or - you can just simply make this Eggnog ice cream recipe for your own enjoyment!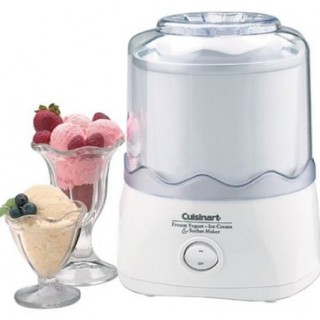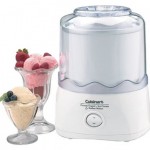 This is the ice cream machine I use: Cuisinart Ice Cream Maker. It requires a little planning, as you need to freeze the bowl before you can use it, but it is very simple, easy to use, and always churns out great ice cream. If you have a KitchenAid, you can also use the Kitchen Aid Ice Cream Maker Attachment. I have this as well but I think I like the Cuisinart Ice Cream Maker a little better!
Scroll down for the recipe!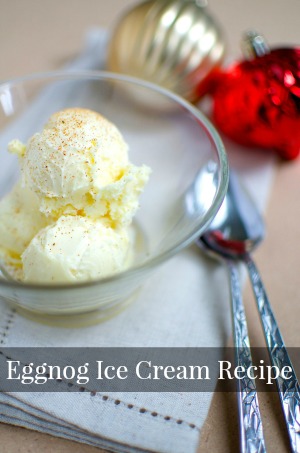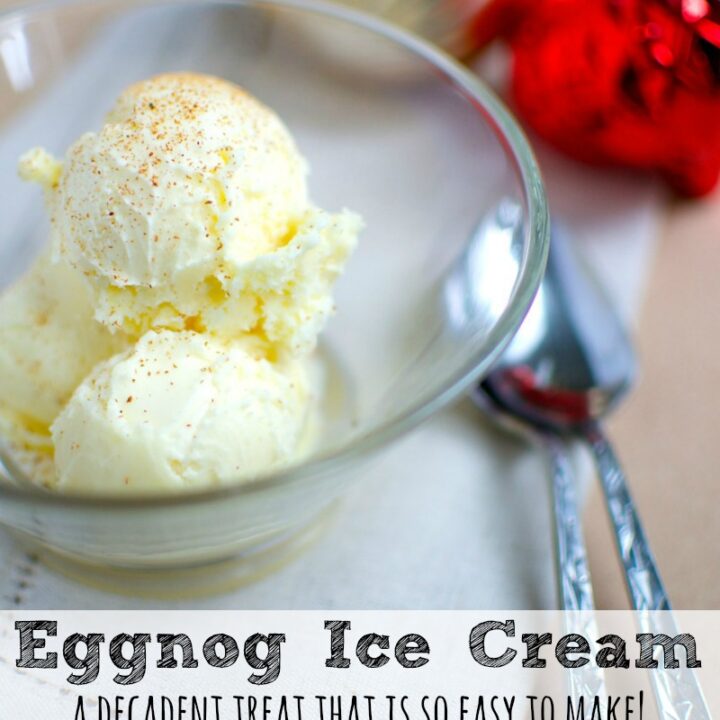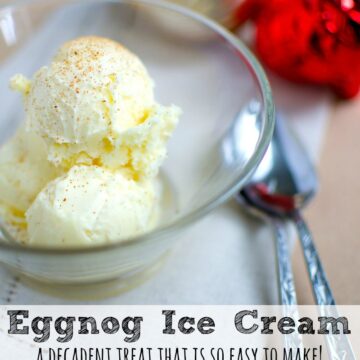 Eggnog Ice Cream Recipe
Ice cream might be one of the very last foods you think of as a holiday dessert. This eggnog ice cream recipe may change that way of thinking!
Print
Pin
Ingredients
4

egg yolks

3

cups

heavy cream

1

cup

sugar

1

teaspoon

vanilla extract

pinch

of salt

1

teaspoon

ground nutmeg

1/2

teaspoon

ground cinnamon
Instructions
In a medium bowl, combine the egg yolks and whisk to combine. Set aside.

Combine the heavy cream, sugar, vanilla extract, and salt in a sauce pot over low heat. Warm until the mixture just barely begins to simmer. Remove from heat.

Very slowly ladle small quantities of the warm heavy cream mixture into the egg yolks, whisking the egg yolks constantly. Continue to ladle the warm mixture into the yolks until half of the heavy cream mixture has made it into the yolks.

Stir the warm yolk mixture into the remaining heavy cream mixture in the sauce pot.

Return the mixture to low heat and warm for 3-5 minutes (stirring constantly), or until the mixture has thickened slightly.

Remove from heat and stir in the ground nutmeg and cinnamon. Transfer to the refrigerator to cool.

When the mixture is cold, add it to your ice cream maker and prepare according to the machine's instructions. Garnish with freshly-ground nutmeg if desired.