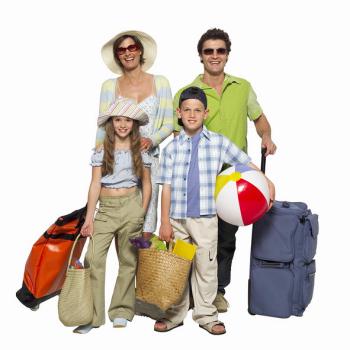 Taking a family vacation can be both fun as well as a nightmare. This series will help you get through the family vacation with both your budget and your sanity intact!
Oh please - make it stop. I can think of fewer things that I like less than a 14 hour car ride with my family. Needless to say, after several...ahem..."discussions" (where discussions = "I am flying and you can take the kids"), we have worked out some guidelines that finally work for us!
:: Reconsider car trips lasting more than 18 hours each way
With the price of gas these days, and unless you have 2 weeks vacation to spend, consider the cost of travel time, gas, wear & tear on your car vs. the cost of a flight. If your kids are young, you and your spouse may be able to get through a "marathon" driving session, switching off, but if your kids are older, you are going to need to pay for a hotel room. It always seems like driving is the cheaper option, but when you factor everything in, it just may not be!
:: For car trips lasting more than 10 hours, think about driving through the night
Every year, we pack our 3 kids (6, 9 & 11 now) in the car and drive to Savannah, GA or Kokomo, IN to see family. It's roughly an 11 hour drive. We usually end up leaving at about 7:00pm and taking "shifts".  The important thing is, we drive, the kids sleep through 75% of the trip and when we wake up, we are officially "on vacation". The first day kinda stinks for Brad & I (because we are tired), but we get through it!
:: Pack activities for the kids
Books, video games, travel board games...this is not news to most people.  But think of new games that you can play with your children:  the license plate game, the rhyming game, etc
If your car doesn't come equipped with a DVD player, you can buy a portable DVD player with screens that hook on to the front-seat headrests. If your children can agree on a movie, it can give you 1.5 - 2 hours of peace and quiet! We actually have a 2003 minivan that has a VHS player (yes - that's right...I said VHS), but we have a $50 DVD player that we can plug in the to dashboard that plays DVDs through the overhead screen
If your children are old enough to be using DSi's, iPads, laptops, etc...this can be an invaluable item.
:: Set clearly defined guidelines about when you will stop for breaks
A 2-4 year old who is just learning to be toilet-trained? Yeah - you stop whenever they SAY "I need to go" (unless the say that every time they see a green sign on the highway, which is a WHOLE other story).  If one of you just wants to "get there" and thinks that a hot dog while pumping gas is a perfectly acceptable meal, and the other wants to go in to a restaurant, sit down and be served a meal....then figure that out BEFORE you leave the house (especially to avoid fighting about the decision to stop in front of your children). Does he like to stop at every outlet mall and you want to stop to see the World's Largest Ball of Twine?  Plan your route beforehand, along with any possible diversions and agree on them before you hit the road!
:: Think about making the ride the main part of the vacation
If we got in the car, pledged to spend a certain number of hours each day driving in any direction, then a day there, then another few hours driving, then another few hours in a new city...I bet we could see some amazing parts of the country.  I'll never forget the time that Brad and I decided to come home from Savannah by way of Atlanta (where we spent about 30 hours, did the CNN tour and ending up being in a live audience of one of the shows just hours after the USS Cole Bombing), wound through the south then took the Skyline Drive as we made our way home.  That part of the trip was as much fun as anything else!
What are your best tips for traveling by car with the family?