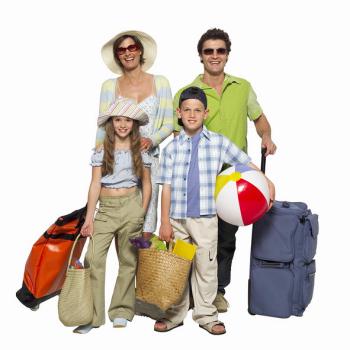 Taking a family vacation can be both fun as well as a nightmare. This series will help you get through the family vacation with both your budget and your sanity intact!
Of course, the easiest and fastest way to get to most destinations is by plane. If you are lucky enough to live in a major metropolitan area, you can usually score cheap plane tickets to the major family attractions. if you are choosing to travel by plane, here are a few tips for your travels:
Use Online Sites like Travelocity and Orbitz to check fares, but book directly through the airline
We learned this lesson the hard way.  When Brad had to suddenly bump up his trip to visit his dying father, the airline was willing to waive the change fee, but we got penalized about $60 because we booked through a third party.  In all likelihood, you won't have to change your flight, but if an emergency arises, that $50-$60 fee can add up for a family of 4! Yes - you can find the best rates for your trip through those sites, but in most cases, the rate is the same when you just head to the airline directly to book your ticket.
Just pay the $25 to check a bag
I know that this doesn't sound frugal, but it will save your sanity.  After too many trips of carefully considering and reconsidering every item that I put in to my carryon, then getting my boarding pass and finding out that I am in Zone 5 and needing to gate-check my bag anyway, I just decided to start checking my bag. You can still take a few carryons in your family and chances are that you STILL might have to gate-check your bag, but knowing that you don't have to count out the exact number of socks and underwear in order to get everything to fit in a carryon will give you some flexibility in your packing.  To me, that is worth $25!
Arrive early at the airport
Unless you live near the most efficient airport in the country, plan on arriving at LEAST 90 minutes (preferably 2 hours) ahead of your domestic airline departure. You never know when one of the machines is going to break down AND 2 agents called out sick and before you know it, you are standing in the Security line for 2 hours (30 minutes past your flight time) and then traipsing through the airport trying to get reticketed and end up arriving at your destination 5 hours later than you planned.
Ask me how I know this.....I can't imagine what it would have been like with my entire family in tow!
Pack snacks and make sure the electronics are charged
Of course, you can't pack juiceboxes and bottled water, but you can pack granola bars, trail mix, fruits, etc.  Did you know that a small can of Blue Diamond almonds costs $8 on the flight, but just about $3 at the grocery stores? Pack some snacks to take to avoid having to pay the airport or in-flight prices
As for electronics, the only thing that saved me when I took a 6 hour flight with my boys was that the iPad and their DS's were charged.  Make sure everything is completely charged before you leave the house (and don't forget the chargers so that you can charge them before the trip home!)
If your children are old enough to read by themselves, stock the Kindle, iPad, Android or laptop with free Kindle downloads and let them read for a while!
Remember that not everyone loves your children as much as you do
Flying these days is tough.  Everyone is stressed about how they herd us like cattle in to a metal tube and then shoot us through the air at a kajillion miles per hour.  Add to that a baby crying for 3 hours and you can guarantee that you will be getting the stink-eye from more than a few people.  This is not to say that babies and toddlers don't get cranky and babies DO cry.  But you need to have a contingency plan for when they do!  Yes - you have a right to take your child on a plane for your vacation...but the other 200 people on that flight have the right to take a plane ride without listening to your little Jeffrey and his mom!
What are your best trips for traveling by plane?