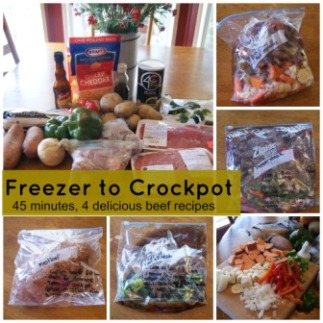 Welcome back to Freezer To Crockpot Cooking – Beef Week!
Don't forget to check out the other weeks in this series:
You had a few days to get all the ingredients for these recipes together and now it is time to prep your ingredients.
As a reminder, I suggest thawing these bags in your refrigerator overnight before dumping them in your crockpot the day you want to eat them. The chicken crockpot recipes that we made 2 weeks ago can be put in the crockpot frozen solid, but beef recipes tend to cook better in the crockpot when the meat is not frozen! Additionally, since these recipes take a bit more prep work, I would strongly suggest doubling the ingredients list and make 8 meals (instead of 4).
Let's begin by prepping our ingredients:
If you did not purchase pre-sliced beef strips slice your steak into ¼" wide by 1" long strips.
Dice 1 onion into small pieces
Slice 1 ½ onion into strips
Slice 3 bell peppers into strips
Cube 2 white potatoes
Cube 1 sweet potato
Cut 2 parsnips into coins
Slice carrots into coins or use pre bagged small carrots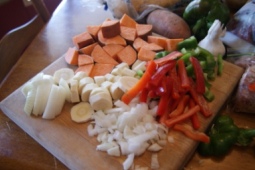 Now for the next step in prepping you will need a frying pan, a large bowl, 2 small bowls and a pot.
In 2 Tbsp. vegetable oil brown stew meat, set aside to cool.
In 2 Tbsp. vegetable oil brown your beef strips, set aside to cool.
Boil a pot of water, blanch all your potatoes, carrots, and parsnips for 2-3 minutes, drain and set aside to cool.
Beef and Broccoli Sauce- In a small bowl whisk ½ cup brown sugar, ½ cup soy sauce, 1 cup beef broth, and 3 cloves minced garlic
Pepper Steak Sauce- In another bowl whisk ½ cup brown sugar, ½ cup soy sauce, 1 cup beef broth, 3 cloves minced garlic, 1- 8 oz. can of tomato sauce
Meatloaf: 2 lbs. ground beef, ½ diced onion, ½ cup bacon pieces, 2 eggs, 1 cup breadcrumbs, ¾ cup ketchup, 1 cup grated cheddar cheese, 3 cloves minced garlic, and 1 Tbsp. worchteshire sauce. Mix Well, form into "football" shape.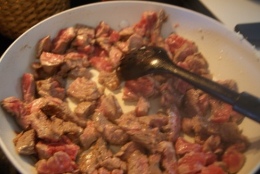 Next Step - Get the Instructions on the Bags
The next step is to write your cooking directions on each of your freezer bags before filling, grab a sharpie and you will need 4- 1 gallon freezer bags.
Bacon Cheeseburger Meatloaf
Defrost in refrigerator overnight
Cook on low for 6 to 8 hours or on high for 4 hours
Top with ketchup or a can of condensed canned tomato soup in the last hour of cooking.
Pepper Steak
Defrost in refrigerator overnight
Cook on low for 6 to 8 hours or on high for 3 to 4
Remove ½ cup of sauce from crockpot whisk with 1 Tbsp. cornstarch
Return mixture to crockpot, turn to high and cook an additional 3o minutes to thicken
Additional Ingredients: Rice for serving
Beef and Broccoli
Defrost in refrigerator overnight
Cook on low for 6-8 hours or on high for 3 to 4
Remove ½ cup sauce from crockpot whisk with 1 Tbsp. cornstarch
Return mixture to crockpot, turn to high and cook an additional 30 minutes to thicken.
Additional Ingredients: Rice for serving
Beef Stew and Root Vegetables
Defrost in refrigerator overnight
Cook on low for 10-12 hours or high for 4 to 6 hours
Finally we are going to bag our freezer meals - here are the lists of what to put in each bag: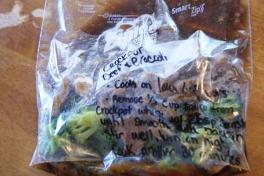 Bacon Cheeseburger Meatloaf
Your ready to go meatloaf
Pepper Steak
Pepper Steak Sauce
3 sliced bell peppers
1 sliced onion
1 lb. browned beef strips
3 cloves of garlic minced
Beef and Broccoli
Beef and Broccoli Sauce
4 cups frozen broccoli florets
1 lb. browned beef strips
3 cloves garlic minced
Beef Stew and Root Vegetables
1-1 ½ lbs. browned stew beef
cubed white potato
cubed sweet potato
½ onion cut into strips
2 cups carrots
3 cups beef broth
2 cloves garlic minced
And that's it! You now have 4 homemade and healthy healthy meals, ready to go in your crockpot on those busy days1
Need more slow cooker recipes that are great for freezer cooking? See all of the other weeks in this series: