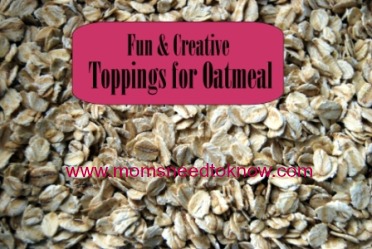 Toppings for Oatmeal
On its own, oatmeal is a rather boring and bland breakfast. But with how inexpensive it is compared to other breakfast foods, it's worth it to try and find some fun and unique toppings for oaatmeal. The basic recipe starts like this:
Basic Oatmeal
Ingredients:
½ cup rolled old fashioned oats
½ cup milk
½ cup water
Cook on the stovetop until the oatmeal is tender.
Now here are some fun different toppings you can try with your next bowl of basic oatmeal.
Maple and Brown Sugar – Pour a little maple syrup (the real stuff!) in your bowl and sprinkle a bit of brown sugar over the top.
Berry – Add in 1/3 cup of blueberries, strawberries, blackberries, or any kind of berries while your oatmeal is cooking.
Peaches and Cream – Instead of adding water, add in ½ cup of juice from a can of peaches and some diced peaches while you cook your oatmeal.
Peanut Butter Banana – While cooking your oatmeal, add in half of a diced banana and ¼ cup of peanut butter.
Chocolate Coconut – Add in a handful of chocolate chips while you oatmeal is cooking and sprinkle a bit of coconut over the top when it's done.
Apple Crisp – Add in some thinly sliced apples while you are cooking your oatmeal and a little bit of brown sugar.
Pumpkin Pie – Spoon ¼ cup of canned pumpkin into your cooking oatmeal and sprinkle a little bit of pumpkin pie spice in as well. For a real treat, top with whipped cream.
Peach Crunch – Add in some canned, diced peaches while cooking and top with some crushed gingersnap cookies before serving.
Full Breakfast – Once your oatmeal is finished cooking, sprinkle fried bacon over the top and place a fried egg in your bowl. That's a full meal all in one!
What are your favorite toppings for toppings for oatmeal?