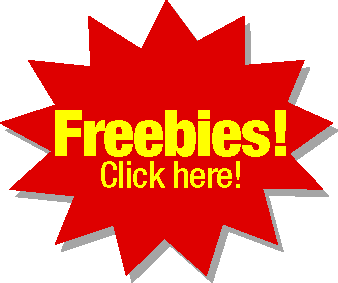 We all love free stuff.  Walk in to any Costco or Sams Club on a Saturday afternoon and see how people completely lose their minds over the chance to sample 1/12 of a Hot Pocket if you need proof!
The Internets are full of freebies as well...they are out there for the taking as long as you follow a few simple rules:
Be Sane
Get an email address that you use exclusively for freebies (Yahoo and Hotmail are great for this). While some companies will only send the occasional email, others will send you an email every 4 minutes! In many cases, the "unsubscribe" button will be honored. In far too many others - it won't and your email may even be sold. The last thing you want is to have your "regular" email filled up with even more ads for "male stuff" and notifications that you won the Irish National Lottery! You are basically setting up an email to collect the spam that comes from being a Freebie Hunter.
Be Cautious.
Never ever give a credit card number for your freebie. Heck - I typically refuse to give my phone number!  Free Samples are supposed to be FREE samples!
As for those Free Trials that say that your credit card won't be billed as long as you cancel within the first 14 days?  From what I understand, you may as well start dialing the phone as soon as you hit "submit", because it will take you that long to get hold of someone.  Unless you like disputing credit card charges, pass right on by these!
Be Aware
Look at the website before you sign up for the freebie. Are there a ton of Google ads on it? Any other ads other than for other products by that company (for instance, if the Chex Mix freebie had an ad for Yoplait...they are both General Mills Products and that's "ok"). The presence of "outside ads" is often an indication that there will be no freebie in your mailbox, and someone is just hoping to get a ton of traffic by saying that they are giving one out. (another exception to this would be the ads that are on well-known sites, such as walmart.com, etc)
As for the ones that say you will get a free item upon completion of a "short" survey? Skip 'em! Chances are that after you have completed the so-called "short" survey (all 27 pages of it), and you have given them all the info they wanted, you will be suddenly "disqualified" from the survey....no freebie for you!   
Be fair and reasonable.
There really is no need to get every freebie just because you can. This isn't a game of "she who dies with the most trial sizes wins". Companies give out freebies because they are hoping to turn you in to a new customer. If you don't have a dog, do you really need a sample of dog food?   If your "baby" is 22 years old, do you need a free sample of Huggies?
Along the same lines, pay attention to the companies and to whom they intend to give the freebies and please respect that.  If the freebie is for a hair-care product being marketed to Beauty Salon owners, don't sign up under Mindi's House of Beauty and think that the daily brushing of your children's hair "counts".  Once freebies like this pop up on the Internets and the company finds themselves suddenly with 1200 requests per hour, they figure it out anyway...you won't be gettting the freebie! 
These are just the rules that I use for myself.  You are free to conduct your freebie hunting in any way that you want.  If you want to decorate your house with free cattle industry and horse vitamin posters... have at it!
What advice can you give to the beginning freebie hunter?  Post them in the comments!
To keep up with the freebies I list, just click here!