We all know how wonderful composting is and tumbler composting is a great way to do it! The people at Mantis sent me a ComposTumbler - here are my results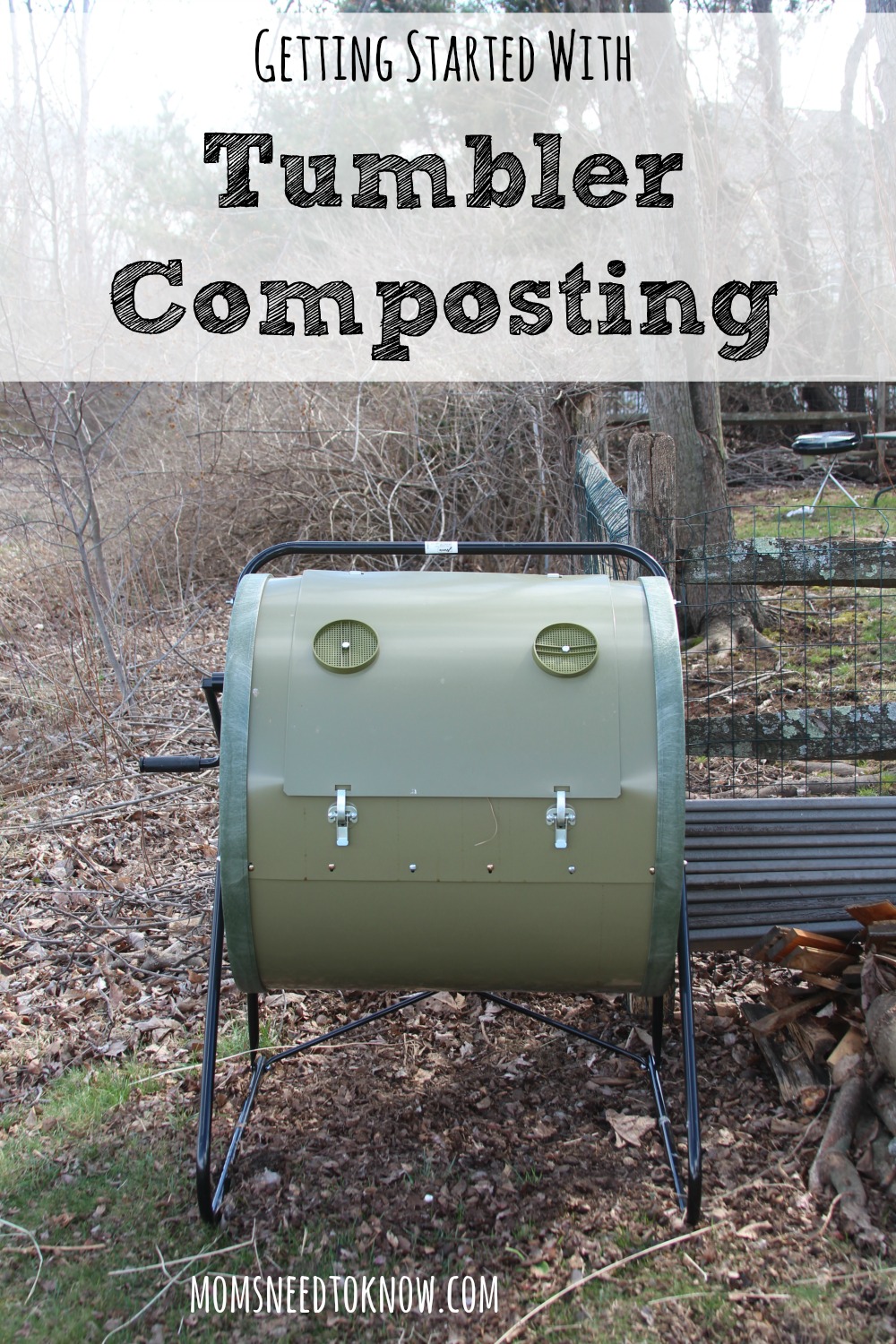 I have talked about how to get started with composting in the past, but now the Cherry family is entering a new phase in our "gardening life" - tumbler composting!
Growing up, my mother always composted.  She didn't have a bin but rather a section in the far corner of the back yard that was separated by chicken wire.  In the summer, it got kind of stinky in that section of the yard and the flies/fruit flies were horrible.
When Brad and I moved in to our house, I mentioned that I wanted to start composting in order to have all of that nutrient-rich matter for our garden beds.  I didn't like my mother's pile, but I saw what all that compost did for her tomato plants.
Eventually, Brad relented and we got a compost bin for the back yard.  After 2 years of throwing leaves, kitchen scraps, etc in the bin and bending over trying to turn the compost on a regular basis...we finally got two whole wheelbarrows of compost.
Whoop-de-do!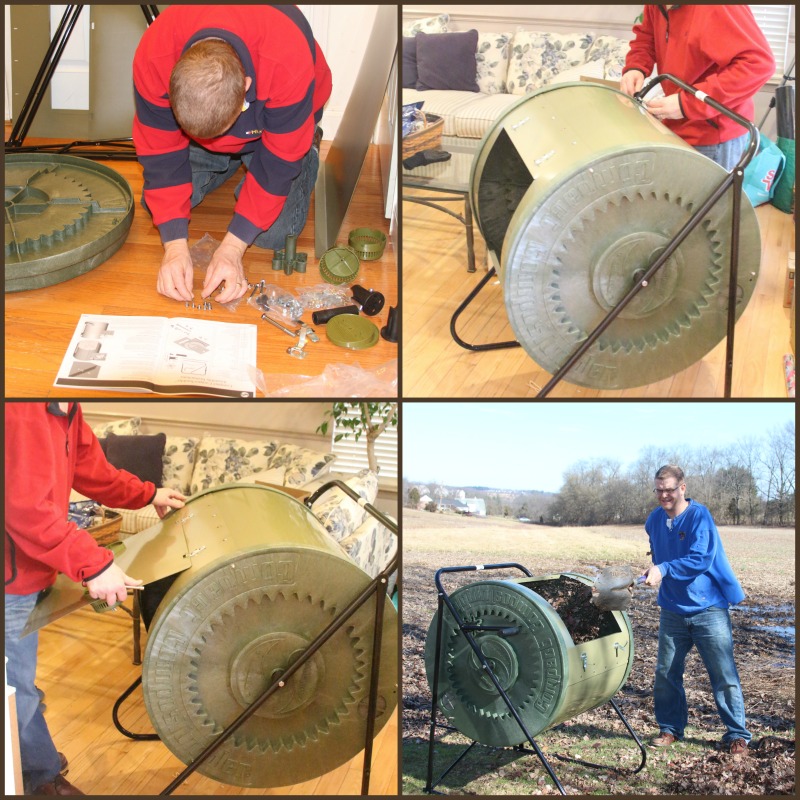 So when the people at Mantis offered to send me one of their ComposTumblers to try, I was intrigued, especially because 2 of their models say that you can get compost in as little as 14 days!
Mantis sent me the Compact ComposTumbler as well as a few other goodies (more on those later) and I quickly started supervising Brad setting up it up so that I could get started with tumbler composting!
The set-up was really very simple (although he had to do it in our living room because it was raining for 3 days and I didn't want to wait!) and once the rain ended, my "happy little green monster" (that's what he looks like to me) was set up in my back yard.
By now, you may be wondering - why should I start tumbler composting?  What is the advantage of it?
First - the advantage of having a compost bin of ANY type is that keeping the compost materials contained (instead of an open pile in the back yard like my mother had) allows the heat core to build up quickly.  Heat is what you need to turn those grass clippings and kitchen scraps in to backyard gold (compost).
But keep in mind that, no matter what way you choose to compost, the balance between carbon and nitrogen is critical to getting good compost and not a smelly sludgy mess.
Pros of tumbler composting:
Pest Control: while my old compost bin kept out the raccoons, there was one time that a mouse made it in to my bin and just about gave me a heart attack. I can't imagine what would have happened if a snake had got in there. With a tumbler, especially one that is lifted off the ground like the ones from Mantis, that isn't an issue.
Easier to turn your compost: although I eventually gave this duty to my boys, turning my compost pile with my old bin was a pain in the rear end. Tumblers like my Compact ComposTumbler uses a simple gear system that doesn't require me to be leaning over trying to shovel up compost through the tiny opening at the top.
Easier to harvest your compost: Unlike compost bins which usually require you to get down on the ground and reach in to the very bottom of your bin to shovel out your compost, with a tumbler, you can simply put your wheelbarrow underneath your tumbler, open the door and let your compost tumble out!
Quicker composting time: because turning your pile is so much easier, you are more likely to do it on a regular basis. As I am loading up my Compact ComposTumbler, I find that I just give it a spin each time I add to it, because it is so stinkin' easy to turn. The design of the tumbler also allows for aeration, which speeds up the composting process.
My tumbler even came with a fabulous manual with a ton of tips for composting, composting "recipes" and more!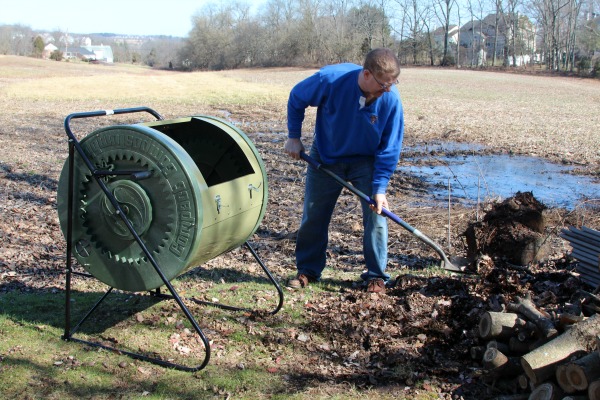 Cons of tumbler composting:
No worms: I've been yelled at for calling compost "worm poop", and I know that is a simplistic way of putting it, but worms are an important part of composting. When you have a compost pile on the ground (even if contained within a bin, since most bins do have some openings on the bottom), worms can get in there and really help to speed things up and add even more nutrients. And no - you can't simply find some worms and add them to your tumbler. It will get too hot in there and they will die.  But that heat is what makes your compost.
Needs to be completely full before the actual composting process starts: with a traditional bin (or the backyard pile), you can usually pull some compost from the bottom even as you are adding more garden & kitchen scraps to the top. With a tumbler, you have to wait until it is almost completely full, then seal it off and don't add anything else while it does the job.
We are still in the process of loading up our Compact ComposTumbler, but when we get to that point, my husband assures me that he has figured out a solution (which I think is going to be just using our old bin to hold any new stuff until the tumbler is done and we can harvest our compost and add the new stuff). Another option is to purchase a dual-chamber compost tumbler. This allows you to have one side going through the composting process, while still allowing you to add fresh yard & kitchen scraps to the other side.
Cost: Tumblers tend to be more expensive, to be sure...but they are also WAY more sturdy and should last you longer. The difference in quality of construction between my old bin and my Mantis one is like night & day!
So What are the Results?
I don't know - but I am excited to find out and will keep you updated!
Do you use a tumbler for composting? How do you like it?