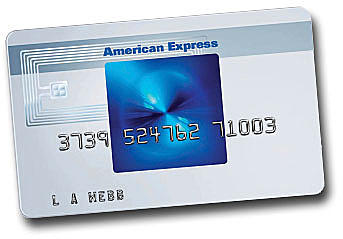 Back when Brad and I were digging ourselves out of debt, I swore that credit cards would never again enter our home....and they didn't for almost a year after we paid off everything but the house.  But what I learned was that, for us at least, it wasn't the credit card that was the problem....it was the discipline to live within our means.
Whenever we told people that we didn't OWN any credit cards, even though we have great credit, they were dumbfounded.  Didn't we know about all the rewards programs that we were missing?  Whether it be airline miles, points for various attractions/stores, or even cold hard cash, there were credit card programs out there that could provide great perks.  If I was planning on writing a check for a new laptop, why not put it on one of those "reward cards" and come home and pay the bill with the cash I was planning on using to buy the laptop?  It made sense to us and we got a reward card.  Luckily for us, the discipline that we learned while getting out of debt remains, and we continue to be debt-free (except the house), even WITH credit cards.
The newly-launched American Express Blue Cash Preferred card is one that gives you up to 6% cash back on purchases that you make at the supermarket.  This is currently the highest cash back rate available for grocery purchases. Whether when shopping online or in-store, the Blue Cash Cards offer an easy-to-understand rewards structure:
For Blue Cash Preferred, it's as simple as 6%-3%-1% (6% cash back at supermarkets, up to 3% at department stores and gas stations, and 1% on all other eligible purchases). At 6% cash back, Blue Cash Preferred offers consumers the most cash back at the supermarket available in the market today. (Blue Cash Preferred carries a $75 annual fee)
For Blue Cash Everyday, it's a simple as 3%-2%-1% (3% cash back at supermarkets, 2% cash back at department stores and gas stations, and 1% on all other eligible purchases) with no annual fee.
To celebrate the launch of the new American Express Blue Cash Preferred and Everyday cards American Express wants to help consumers realize the potential of meals/recipes that can be made with 6 ingredients or less purchased with the new card (while also getting 6% cash back) by conducting a search for the best recipes.
Want to see my 6-ingredient-or-less recipe?
I made this recipe the other night for my family. It was a new (to me) recipe and SO simple!
The ingredients?
2 lb Top Round Sirloin, sliced very thin (hint: place in freezer for 30 minutes before slicing to make the slicing easier)
Extra Virgin Olive Oil
2 medium yellow onions
2 large beefsteak tomatoes or 6 tomatoes on the vine
3 cloves fresh garlic finely minced or put through a garlic press
Cumin to taste ( I used about 4 tablespoons total)
Salt to taste
Jasmine rice, cooked according to package directions (optional)
You can check out the directions for this recipe on Moms Need To Cook
Thanks to the people at American Express, I have a $600 American Express Gift Card to give away to one lucky Moms Need To Know reader!
To enter to win (mandatory entry)
1. Leave a comment letting me know your favorite 6-ingredient of less dinner/main meal recipe (note: salt, pepper and water do not count towards the 6 ingredients...these are "freebies").  Let us know the ingredients and some quick directions.
To increase your chances of winning, there are optional entries available for you, which are:
:: Quick Message to Copy and Paste on Twitter or Facebook::
Enter to win the $600 Amex Gift Card giveaway sponsored by @mindicherry at http://wp.me/pgD6z-bg4
This giveaway will remain open until Saturday August 19, 2011 at 12:00pm (EST) at which time I will pick a winner using the And The Winner Is Plugin and notify the winner by email
(and don't forget to check out my other open giveaways!)
Full Disclosure:  I received compensation for this post.  The words and experiences are 100% mine and have not been edited by the sponsor.