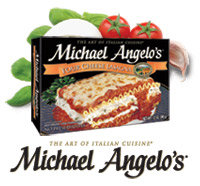 I was first introduced to Michael Angelo's last year when they sponsored our Back To School Bash. I am usually not a big fan of frozen meals (especially frozen Italian meals as that is one cuisine that I am REALLY good at cooking). I have to say that I was really pleased with the taste of the Michael Angelo's meals. Since then, not only are they available in more stores, they have added a bunch of new flavors (like shrimp scampi, chicken piccata and more!)
Michael Angelo's isn't your typical frozen Italian meal. Their entrees are shipped to stores within 36 hours of being made. This eliminates being warehoused in a freezer for who knows how long and giving the product a freezer after taste! And there are no artificial colors, flavors, fillers or chemical preservatives in any of their products!  If you are like me, the kids after school activities and sports can leave dinner in a time crunch! With running this site, I also find myself facing a quickly-approaching deadline, at a blogger event or traveling. I love knowing that there is an easy dinner in the oven that Brad can just pop in the oven!
Here is what Michael Angelo's uses in our meals:
Premium Grade A and Naturally Raised Meats
Imported, Italian Cheeses
100% Durum Semolina Pasta (they make it fresh)
Vine-Ripened Tomatoes from Cardella Ranch
Aromatic Garlic from Christopher Ranch
Fresh Spinach from Metz Fresh Farm
Italian Herbs and Spices
Grade A Fresh Vegetables
If you have yet to try Michael Angelo's meals, I strongly urge you to do so.  Brad and the kids love the meat lasagna and baked ziti with meatballs, but my favorite is the vegetable lasagna.  Unlike other frozen vegetable lasagnas, it is a fabulous creamy white sauce that just "rich enough" without being too heavy of a sauce.
Sign up for Michael Angelo's Online Community, The Family Table. Enjoy family recipes and share your experiences of their Italian Gourmet Foods with others! Be alerted when new coupons are also in the market. You can learn more about Michael Angelo's including their company history and commitment to quality on their website, Facebook or Twitter.
And now Michael Angelo's has given me a Dinner Package to give away! This giveaway includes:
9 Michael Angelo's Meal Vouchers -These will come in handy on a busy night when Mom or Dad still want to provide a nutritious meal to the family without compromising on quality or flavor.
Healthy Steps Portion Control Dressing Cruet -  Easily integrate more salad into your meals by making your own healthy dressings, that also shows you a serving size and sample recipes right on the container!
Cuisipro Herb Keeper – Allows the home cook to use fresh herbs to flavor recipes instead of added fat or sodium.
Misto Gourmet Olive Oil Sprayer – Helps the home cook to be mindful of your use of oil when cooking.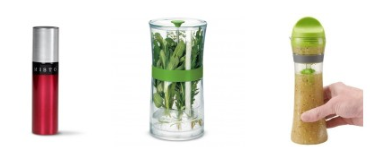 To enter to win (each counts as a separate entry, so leave a separate comment!)
1. Leave a comment letting me know which flavor of meal you most want to try.
To increase your chances of winning, there are optional entries available for you, which are:
:: Quick Message to Copy and Paste on Twitter or Facebook::
Enter to win a @Michael_Angelos prize pack at @mindicherry at http://wp.me/pgD6z-h6g
This giveaway will remain open until Wednesday, August 8, 2012 at 3:00pm (EST) at which time I will pick a winner using the Comment Contest Plugin and notify the winner by email
Visit my fellow Win Giveaways teammates and enter their Giveaways too!
Good luck!
(and don't forget to check out my other open giveaways!)
Full Disclosure: Michael Angelo's gave me a set for review purposes along with another to give away.