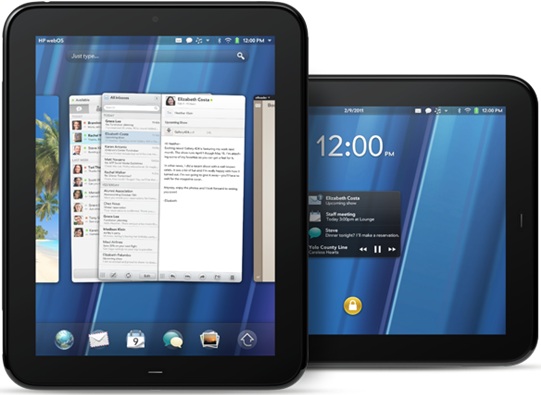 HP has entered the tablet market with a bang...with the HP Touchpad.  I have had the opportunity to use the HP Touchpad and have absolutely fallen in love with it!.
The HP Touchpad is the first tablet to run on WebOs.  If you have a Palm or a PalmPre, you are familiar with WebOS hopefully find it as easy and as intuitive as I do.  As a matter of fact, you can even sync your Palm or PalmPre with the Touchpad.
A few things that I love about the HP Touchpad:
The "card system".  I absolutely adore that I can have multiple windows open at once, including multiple email accounts. With just a quick finger swipe, I can scroll between my open applications, including Twitter, Facebook, my different email accounts, the internet, my calendar and even Angry Birds!  I don't have to close out 1 application to open another. I consider this a fabulous timesaver and a major advantage if you are a multitasker like myself!
The Touchpad's WebOS supports Flash.  This means that, unlike with some other tablets or smartphones, there aren't elements of websites that you aren't able to view.  EVERYTHING works!
For Bloggers, there is an App for WordPress that gives you the same functionality as if you were sitting at your laptop.  For me, this is HUGE, as it is so much easier to carry the HP Touchpad around when I need to "work on the go" than lugging my laptop and cord.
The notifications:  rather than have to look at the individual icons for the applications, all of my pending messages (email, Facebook, etc) are right in 1 place as soon as I turn on the Touchpad.
The Facebook and Twitter apps.  They are hands-down better than any other apps that I have seen for tablets and smartphones.  If you use Tweetdeck, the Twitter app (Spaz) for the HP Touchpad is almost exactly the same.  As for Facebook?  I find it much easier to navigate to find what you want than the apps for the iPad or even for my Droid.
We tend to be "electronics junkies" in this house and while Brad has an iPad and the kids love it for playing games and watching videos (they aren't allowed to use my Touchpad), I find that the Touchpad is the smarter choice for a small businessperson looking to take their business "on the go".
As a matter of fact, I love my new Touchpad so much that I have already ordered a case and wireless keyboard for it and will probably order the charging station for it within the next month and just keep it constantly set up on my desk as a "2nd laptop"!
Would you like to win one?
Thanks to the people at HP and Savings.com, I have a 16GB HP Touchpad to give away to one lucky Moms Need To Know reader!
To enter to win
1. Visit the HP Touchpad website and Leave a comment letting me know your favorite feature of the HP Touchpad.
To increase your chances of winning, there are optional entries available for you, which are:
:: Quick Message to Copy and Paste on Twitter or Facebook::
Enter to win the HP Touchpad giveaway sponsored by @mindicherry at http://wp.me/pgD6z-bbq
This giveaway will remain open until Saturday August 5, 2011 at 12:00pm (EST) at which time I will pick a winner using theAnd The Winner Is Plugin and notify the winner by email
(and don't forget to check out my other open giveaways!)
Full Disclosure:  I received compensation for this post.  The words and experiences are 100% mine and have not been edited by the sponsor.