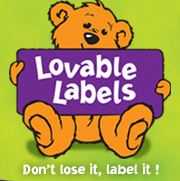 One of the fun parts of Back To School is NOT having to label everything. As the children get older, there is less that needs labeling (because they tend to take care of their stuff better), but when they are young and in school (or camp or day care, etc) EVERYTHING needs to be labeled. The problem is, there are so many different things that need to be labeled, and in different ways (fabric markers for clothing, Sharpies for plastic, zipper pulls for backpacks and jackets, etc) and well - if you have ever seen my handwriting, you would know that there is no guarantee that, even if the item is found, anyone would know to whom is belonged!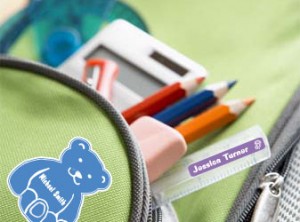 Lovable Labels has a Back to School Pack with over 165 different labels that you can customize so that none of your kids supplies, books, uniforms, shoes, etc will be lost. These stickers are dishwasher and microwave safe, waterproof, and UV resistant.
The Back to School Pack includes:
15 Sticker Labels
80 Slimline Labels
12 Shoe Labels
48 Press n' Stick Clothing DOTS™
2 Mini-Metal Tags (two 4" silver ball chains incld)
12 Square Labels
Through September 30, 2012, you can take $5 off your $25 Lovable Labels purchase when you use the code BTS201221
Lovable Labels sent me a Back To School pack and I had them made with Elizabeth's name on them and she couldn't WAIT to put them to use. She already has the mini-metal tags on her backpack and started putting the clothing dots on her "most important clothes". What is also nice is that the girls in her grade tend to buy the same styles of shoes (I can't count how many times I went to help out in her classroom and saw 3 different girls wearing the exact same pair of Bella Ballerinas), so we will be using the shoe labels as soon as we buy her some new shoes for Back To School!
And now Lovable Labels has given me a Back To School Pack to give away to TWO lucky winners!
To enter to win (each counts as a separate entry, so leave a separate comment!)
1. Leave a comment letting me know how you manage to keep track of all the stuff your kids need.
To increase your chances of winning, there are optional entries available for you, which are:
:: Quick Message to Copy and Paste on Twitter or Facebook::
Enter to win the Lovable Labels giveaway sponsored by @mindicherry and @mylovablelabels at http://wp.me/pgD6z-gZC
This giveaway will remain open until Monday, August 6, 2012 at 3:00pm (EST) at which time I will pick a winner using the Comment Contest Plugin and notify the winner by email
Visit my fellow Win Giveaways teammates and enter their Giveaways too!
Good luck!
(and don't forget to check out my other open giveaways!)
Full Disclosure: Lovable Labels gave me a set for review purposes along with another to give away.